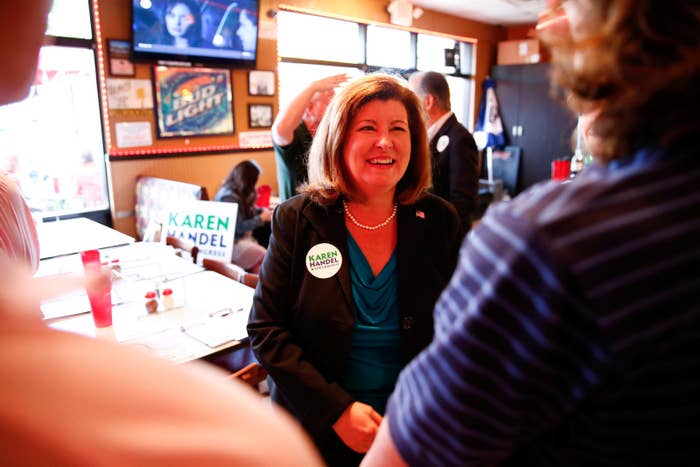 Republicans are fighting harder than they expected to defend two vacant House seats: One up for grabs Thursday in Montana, the other on the ballot next month in Georgia.

They aren't panicking. Yet.
But many acknowledged that Democrats have a good thing going with small-dollar contributors. And some in the GOP are nervously watching the record sums of money pouring in, wondering if circumstances — a motivated opposition, a potentially strained donor base — have left them even more vulnerable to losing their majorities in Congress as the 2018 midterms approach.
The battle in Georgia's 6th District is of particular concern.
Already, it's the most expensive congressional race in history. Nearly $35 million in TV and radio advertising has been reserved there, according to tracking by the firm Medium Buying. The windfall shocked Atlanta-area television stations to the point where one added a newscast and pre-empted reruns of The Andy Griffith Show to make way for the deluge of political ads.
The Congressional Leadership Fund, an outside group aligned with House Speaker Paul Ryan and tasked with preserving Republican rule, has committed at least $6.5 million to keep a seat once held by Newt Gingrich and Tom Price out of Democratic hands.
"The Dems are just tapping this mad small-dollar activist base," one national Republican consultant told BuzzFeed News before name-checking a few of the GOP's big-dollar donors. "How many times can you get a check from Paul Singer or Sheldon Adelson?"
The consultant added: "It's one seat in Congress. How much do you want to plow into it?"
It's a question without an easy answer.
Georgia's special election to succeed Price, now the Health and Human Services secretary, began with a jungle primary that put 18 candidates — 11 of them Republicans — on a single, nonpartisan ballot. Democrats rallied around Jon Ossoff, a 30-year-old newcomer. Outside Republican groups spent millions in the weeks leading up to the April vote just to keep Ossoff from cracking the 50% threshold he needed to win outright. Ossoff received 48%. He faces Republican Karen Handel, a former Georgia secretary of state, in the June 20 runoff.
"Resources were deployed early because of the the incredible financial edge Ossoff had from out-of-state fundraising — and this being a jungle primary," said one GOP operative who works closely with House campaigns. "Democrats have also been all-in in the 6th since the beginning. They hand-picked the candidate they wanted, sent staff down immediately."
Handel's emergence from the primary was a boost for Republicans in another way: It virtually assured investment from the U.S. Chamber of Commerce. Handel once led an Atlanta-area office for the Republican-leaning organization. And special elections can be a Chamber specialty. In 2013, for example, the group helped establishment favorite Bradley Byrne beat a Tea Party candidate in an off-year race for a vacant House seat in Alabama.
"Early money is smart money," Rob Engstrom, the Chamber's national political director, told BuzzFeed News. "We traditionally have played aggressively in special elections as we can closely connect politics back to policy and drive our agenda on the Hill."
Engstrom, like many Republicans, cautioned against reading too much into the dynamics or results of one special election. "We believe that special elections are, indeed, that — special." But others say the Montana and Georgia races will foreshadow what happens in 2018.
"I take a little bit of a different view," one GOP strategist said. "I think these special elections are important, not only for the symbolic reasons, but because we are in a midterm where every seat will matter. If we come up one short [in the House] next November and we say, 'If only we spent more on Georgia or Montana' — no one wants to be in that position and have regrets."
The strategist, who like others requested anonymity to speak candidly, added: "The House is a realistic objective for Democrats. Their donors are obviously already worked up. It's a good time for them in terms of small-dollars. The typical race won't be as expensive as Georgia, but it will be expensive. So House candidates in difficult races need to start raising money yesterday."
President Trump is another factor. Nationally his job-approval ratings are low, though he remains popular with the GOP base. His narrow win over Hillary Clinton in the Georgia 6th last fall signaled that the district could be a pick-up opportunity for Democrats after he picked Price to lead HHS. And Trump's recent firing of an FBI director amid an investigation of his campaign's ties to Russia raises doubts about his long-term political value.
"These races are a bellwether," said a Republican consultant who has worked with congressional candidates. "But it's also prudent to realize right now we're stuck in a microcosm of time where the worst that could happen to Republicans has already happened. When you have an incumbent president who's not well liked, who won't shut up, and who's essentially aided and abetted by an equally incompetent staff. If we lose Montana and Georgia, it will clearly be hung and should be hung on Trump's neck, because it's depressing the base."
GOP groups — including the Republican National Committee, the National Republican Congressional Committee, and the National Republican Senatorial Committee — outraised their Democratic counterparts in the year's first quarter. "They're going to have to spend every nickel in 2018 to hold on to the House and the Senate," this consultant said.
But the consultant is skeptical that the special elections will lead to donor fatigue. "You're talking about $20 million to $30 million spent between all the GOP committees and outside groups. That's a drop in the bucket when you think about it."
Several GOP operatives noted that the party's committees can use the threat of losing control of Congress as a selling point as they work their donor base.
"When faced with the thought of Speaker Pelosi," said Corry Bliss, executive director of the Congressional Leadership Fund, "there's nearly an unlimited amount of money that Republicans can raise the next two years."