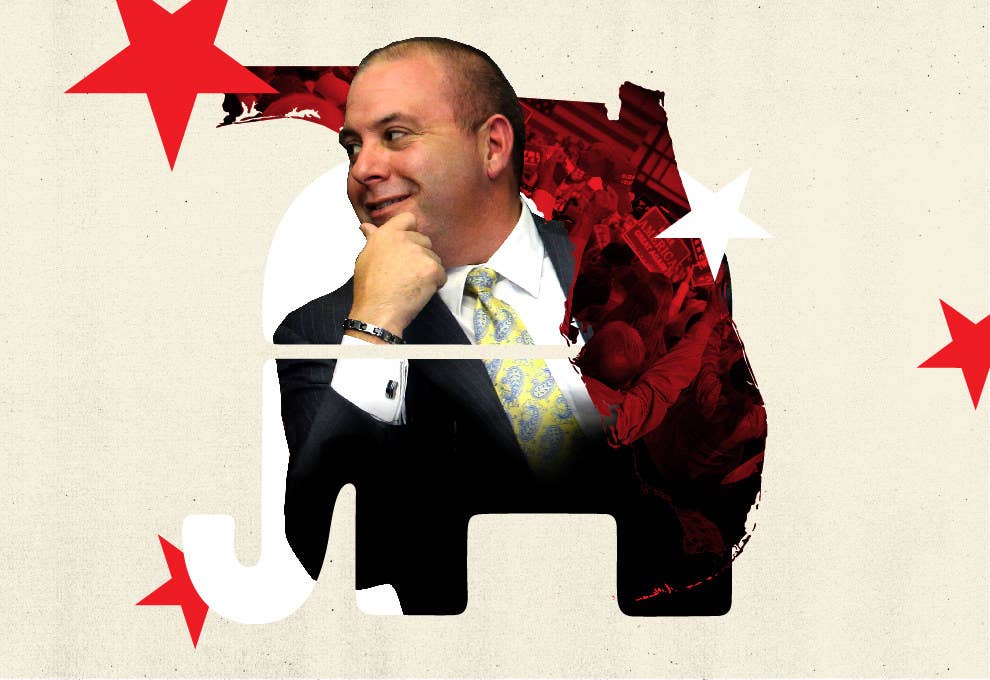 Blaise Ingoglia got so much shit for inviting Dinesh D'Souza to the Sunshine Summit.
Not that the chair of the Republican Party of Florida should have expected any less. Giving D'Souza — the right-wing author, filmmaker, conspiracy theorist, and convicted criminal — a keynote speaking slot was sure to provoke outrage. That D'Souza recently had belittled survivors of a deadly Florida school shooting made it all the more visceral.
The outrage came from Democrats and Republicans. Gov. Rick Scott, ostensibly an ally, but one with whom Ingoglia has a complicated relationship, made his disappointment clear.
Ingoglia didn't care. He said he hadn't known about D'Souza's tweets before the invitation. Besides, he thought, D'Souza had apologized. And if that wasn't good enough for the politically correct liberals, then all the better. Few things delight the right more these days than tormenting the left. Here, in the social media and meme-friendly parlance of political combat that has come to define the Donald Trump era, was an opportunity to own the libs!
"I want somebody like Dinesh to come to an event like this because he's very professorial, and he will give our grassroots the information he needs to combat some of the media narrative," Ingoglia said last month during an interview at the summit, a two-day state party fundraiser that drew more than 1,000 paid attendees to the Gaylord Palms resort near Walt Disney World.
"I think a lot of us wish he didn't say it," Ingoglia allowed, "but he's going to be a good addition."
Several hours later, D'Souza took the stage to a standing ovation and uncorked 45 minutes of polemically hot takes. (For the uninitiated: He blames modern Democrats for slavery, as if US political parties haven't changed in 150 years, and for the rise of the Nazis.) His many fans waited in line long after the program ended for autographs and iPhone photos.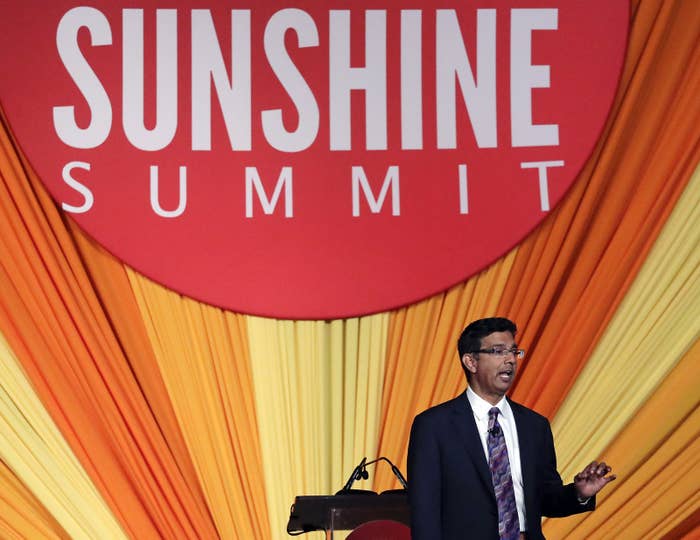 Few scenes could better capture the change the Republican Party has undergone in a huge electoral battleground. Under Ingoglia, the Republican Party of Florida — historically a lever of the establishment machine and controlled by governors like Scott and Jeb Bush — has turned into a kind of rogue outfit more suited to the antagonistic politics of the moment.
Ingoglia, a state lawmaker who prides himself as a grassroots warrior in touch with the primal desires of the base, unseated Scott's handpicked state party chair in early 2015. His uprising subtly foreshadowed the shift that soon would swallow Jeb and sweep in President Trump.
Like Trump, Ingoglia is a Queens native with a real estate background and a compulsion to entertain you. He's gone viral on YouTube. He's won more than $300,000 playing tournament poker. And he has big-league plans for his Sunshine Summit: a Florida version of CPAC, the annual national conservatives confab that has been mutating into a pro-Trump bacchanal.
"The Dinesh thing probably wouldn't have happened pre-Trump," said a veteran of a more genteel time in Florida Republican politics. "I think a lot of people were just totally appalled."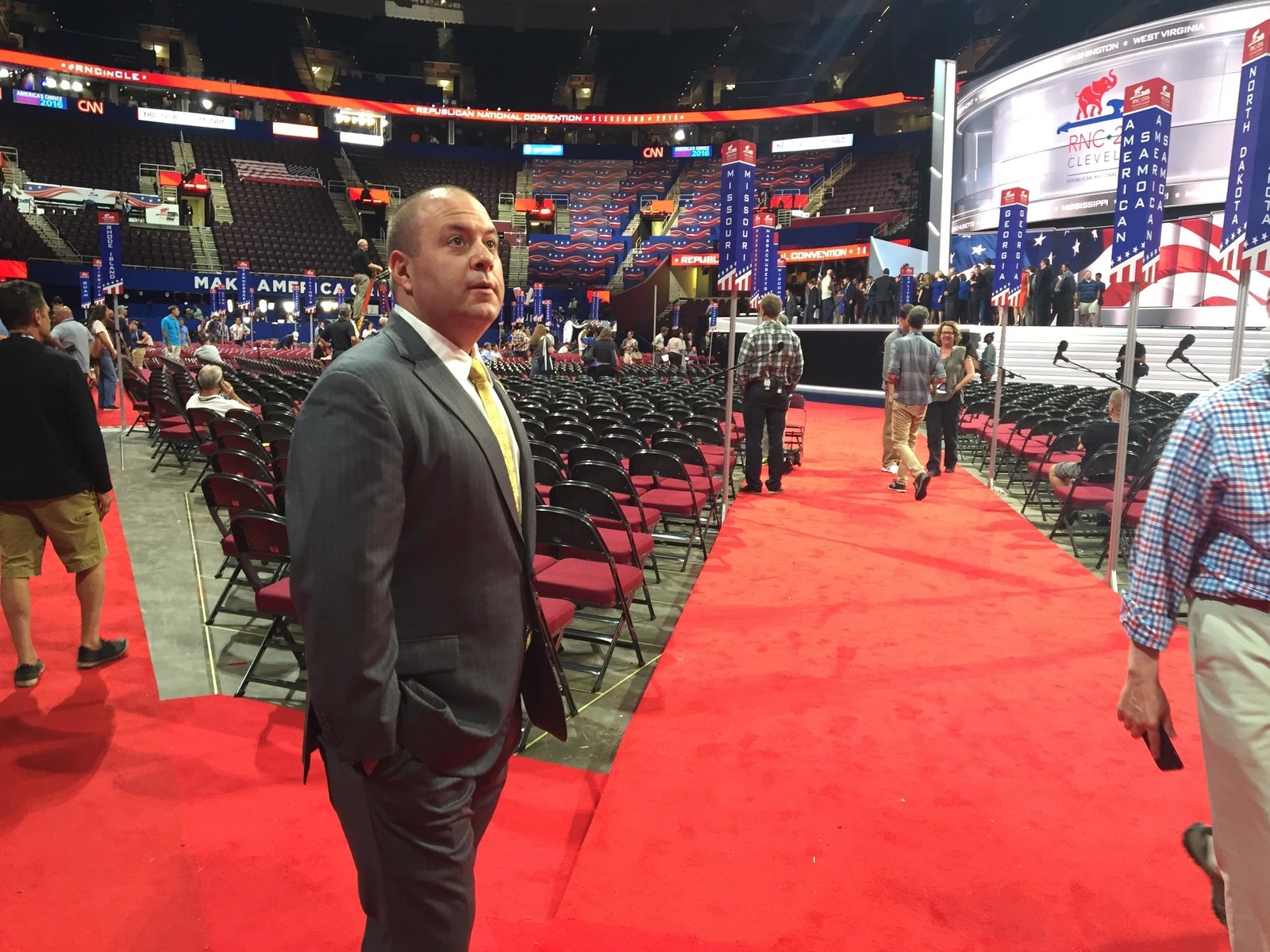 For his opening remarks, the 47-year-old Ingoglia burst on to the Sunshine Summit stage with swagger: "Put your hands together for the chairman of the Republican Party of Florida," a booming voiceover commanded before yielding to the opening guitar riff of "All Right Now" by Free.
"Good morning, everybody!" Ingoglia said cheerfully, drawing a polite but tired response.
"All right, this is a high-energy event," said Ingoglia, at once harkening back to both the "please clap" haplessness of Jeb Bush and the devastating "low-energy" label Trump tagged Jeb with when they were White House rivals. "Let's do that one more time. Good morning, everybody!"
The crowd sufficiently awake, Ingoglia proceeded. "It's a great day to be a Republican, right?"
It was for Ingoglia. The previous evening, his CPAC for Florida kicked off with a Fox News debate between Rep. Ron DeSantis and state Agriculture Commissioner Adam Putnam, the leading candidates in the August gubernatorial primary. Ingoglia spent the hours before bouncing from TV hit to TV hit, toweling sweat off his close-shaven head as he circled the spin room and radio row. Afterward, he marched back into the spin room to take a victory lap for the nationally televised debate he had brokered and to playfully photobomb a few party insiders.
Ingoglia was even more amped for day two. D'Souza, whom Trump had recently pardoned — "He was treated very unfairly by our government!" — was the marquee name. But this was a Blaise Ingoglia Production. A secret, super-hyped special guest would speak last. (It turned out, rather anticlimactically, to be Housing and Urban Development Secretary Ben Carson.)
As master of ceremonies, Ingoglia wrote himself into the program three times. In between his brief opening and closing remarks, he delivered a motivational-style speech featuring his top-10 rules for Republican success. Some of the advice rang false in front of an audience that has spent the last two years cheering for Donald Trump. ("Attack ideas, don't attack people." "Learn when to zip it.") But by the time he reached No. 1, Ingoglia was closing with Trumpian flair: "Never ever be No. 2. In order to succeed, you must work your ass off. Second place isn't good enough."
The full bill was an ensemble that trended Trumpy. Kayleigh McEnany, who parlayed her cable appearances into a gig with the Republican National Committee, spoke, as did Dan Bongino, a Secret Service agent turned NRATV host. Charlie Kirk, the 24-year-old founder of Turning Point USA, a conservative advocacy group focused on college campuses, addressed an audience that skewed elderly. Rep. Matt Gaetz, the unabashed Trump defender from the Florida panhandle, wisecracked about feeling like he was in the green room at Fox News.
There also were a few more-conventional, CPAC-before-Trump guests: Sen. Rand Paul (who praised Trump's golf game); anti-tax lobbyist Grover Norquist (who praised Trump's tax policy); and the CPAC poobah himself, Matt Schlapp (whose wife works in Trump's White House).
But equally telling about the Sunshine Summit's appeal and the state party's cachet was who wasn't there: Scott. Despite his campaign to unseat Democrat Bill Nelson this year in one of the country's hottest Senate races, the governor was conspicuously absent at his party's own event, and instead represented by a small information table so oddly placed on the sidelines of radio row that it was easy to miss.
"I would love for the governor to be here," Ingoglia told BuzzFeed News when asked if he was disappointed by Scott's snub. "But I understand the decision-making process for them. They have to raise money. They're taking on an incumbent. He has things to do. We get it."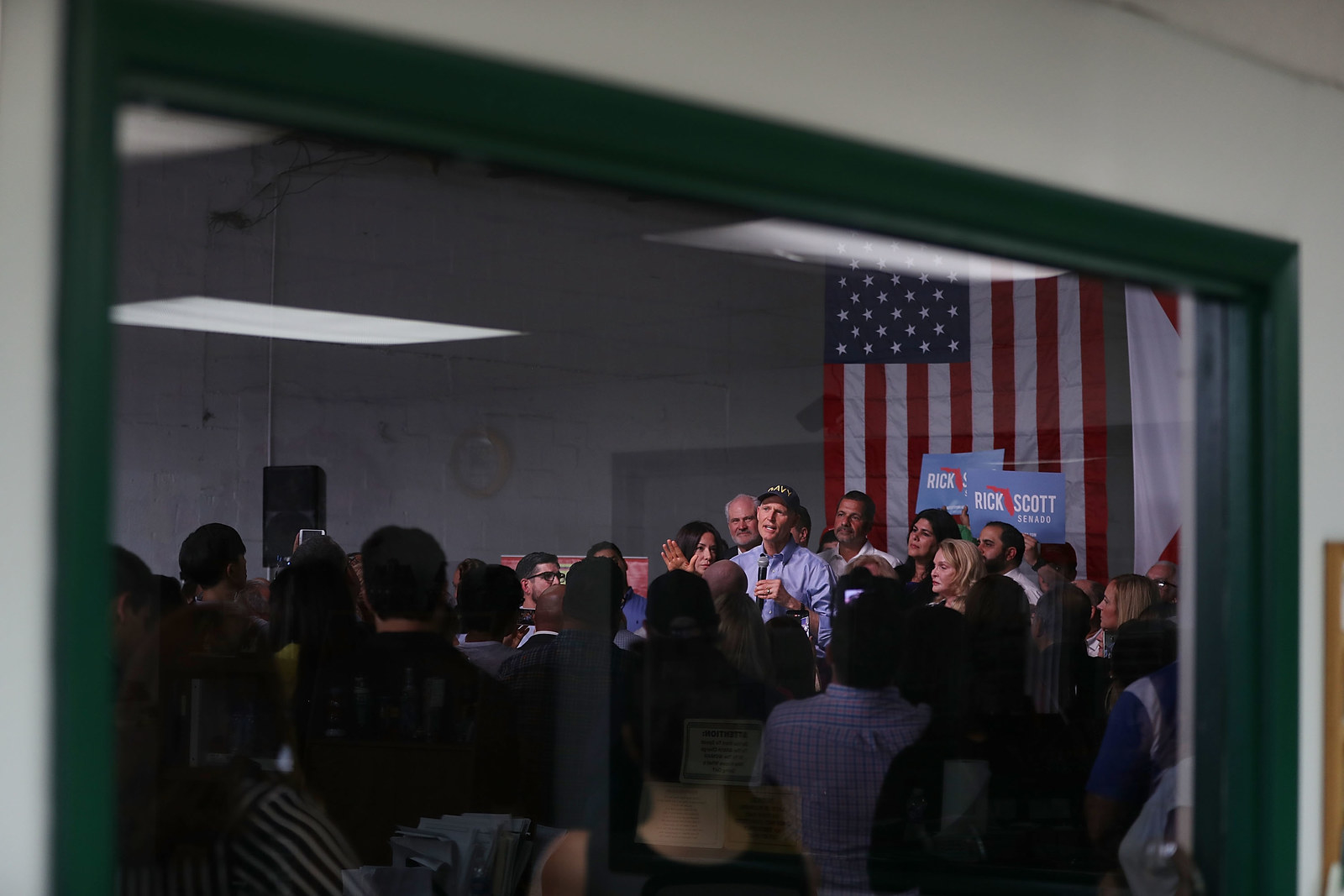 For all the friction between Scott and Ingoglia, the governor and party chair have similar political backstories. Scott jumped into the 2010 gubernatorial primary as the self-funding business executive outsider and beat the Republican establishment's pick, then-attorney general Bill McCollum.
Ever since, Scott and Ingoglia have been on a collision course.
Ingoglia talks of growing up poor in Queens, moving to Florida in 1996 "with only $1,600 in his pocket," and making it big in real estate. He settled in Hernando County, a rapidly growing slice of the Tampa–St. Petersburg metro area, and started his own mortgage and home-building companies. He also tried his luck at motivational speaking and tournament poker — and it turned out he was talented at both. He won more than $260,000 on the World Poker Tour in 2006. A year later, he went on the road for the Learning Annex's real estate expo. Other speakers included George Foreman, Tony Robbins, and Donald Trump.
"I didn't know him personally," Ingoglia said of the then–reality TV star who a decade later would be president. "We both spoke at this thing … a whole bunch of motivational speakers getting on stage, telling people how to make money in real estate, stuff like that."
Ingoglia's public speaking chops and frustration with higher property taxes pushed him into conservative politics. In 2007 he launched a series of seminars — which he named Government Gone Wild, after the franchise of smutty spring break videos still popular at the time — to gin up outrage over how Hernando County commissioners spent public money. (Ingoglia maintains @GovGoneWild as a personal Twitter handle.)
The housing bubble was about to burst, and the federal government's subsequent bailout of big banks helped trigger the rise of the tea party movement, which thrived on the populist tactics Ingoglia already was using. So it was no surprise when Ingoglia tapped into that tea party anger to nationalize Government Gone Wild's focus. "You can start seeing trends," he said, "and you can see where it's going before it's going. It's nothing different than a stock trader who understands the trends very, very early on and buys the stock early on before everyone else knows about it."
By then, he was a rising star on the local political scene. In 2008, he bankrolled a campaign to unseat two county commissioners. He also caught flak for what many felt was a racist comment — that one day Barack Obama's face might appear on food stamps. (Ingoglia told BuzzFeed News that local reporting took the remark out of context and that he was making a joke about Obama's economic policies. He pushed back on what he said were attempts to portray him as a racist by noting he has minorities in his family and in his company.)
Nevertheless, Ingoglia kept climbing the GOP ladder: Hernando County Republican chair in 2009, assistant treasurer of the state party in January 2011, vice chair of the state party eight months after that. Meanwhile, Government Gone Wild was pivoting to video and going gangbusters. The March 2011 installment "Brother, Can You Spare A Trillion?" featured Ingoglia railing about the national debt like it was an infomercial. "It is important," Ingoglia stressed, "that you watch this whole video and forward it to your family and friends." It was the fifth-most-watched political video on YouTube that year, just behind Obama's speech announcing the death of Osama bin Laden.
As this was happening, the Republican Party of Florida was in chaos. Jim Greer, former governor Charlie Crist's handpicked chair, had been accused of (and later pleaded guilty to) stealing state party funds. Rather than seek a second term as governor, Crist had run for Senate, first as a Republican, then as an independent — and, after losing that fall to Marco Rubio, Crist became a Democrat.
Scott eventually took the customary control of the party. And during his 2014 reelection campaign, he backed Leslie Dougher's bid to be interim chair. Dougher won. But the 106–69 vote hinted at growing dissent among grassroots activists tired of governors calling the shots.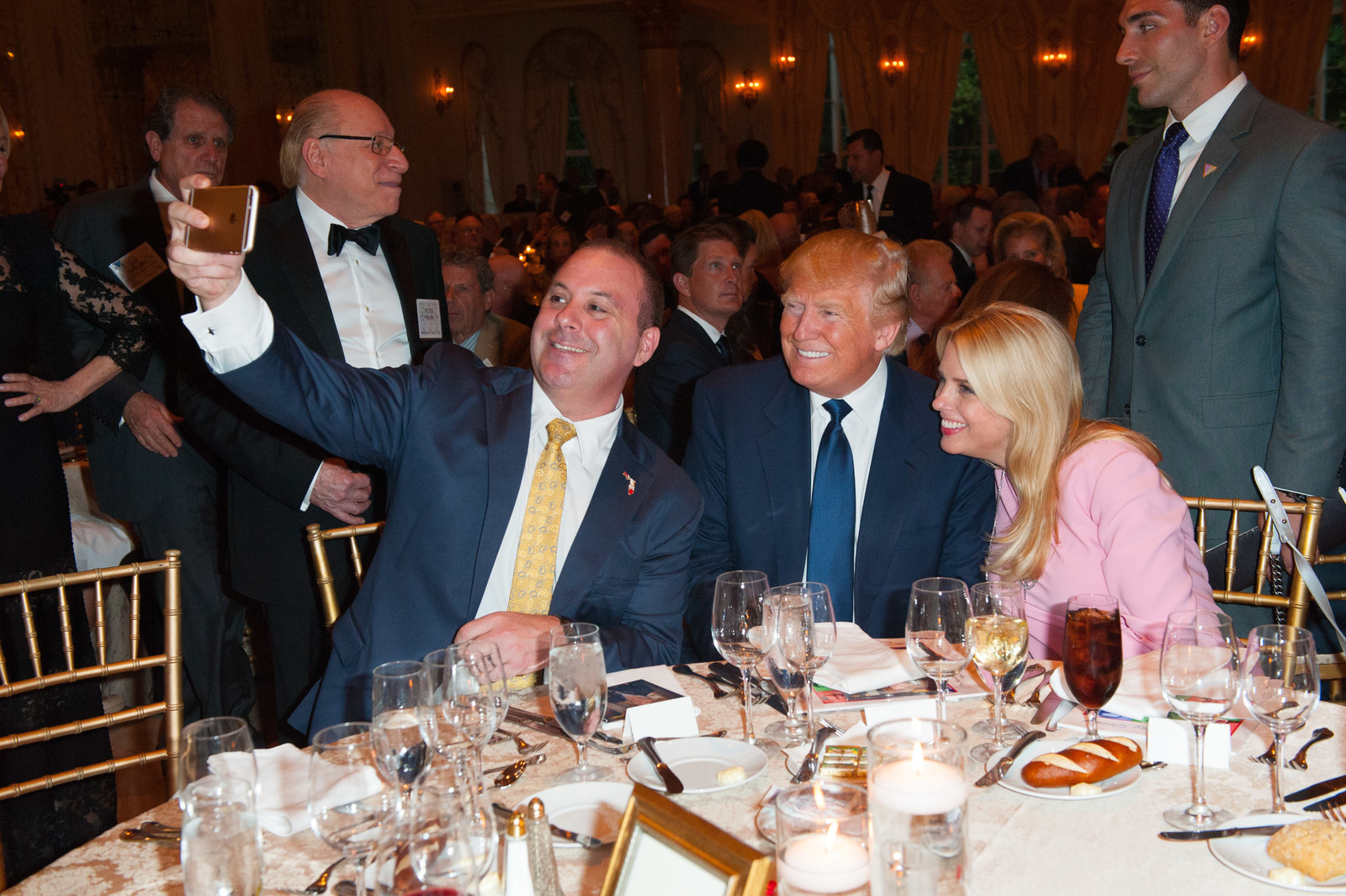 For years Florida's rank-and-file Republicans had tried to outsmart the establishment and install a chair who would value local organizing over a titular party head's needs. And for years they had failed. So, few gave Ingoglia much of a thought, let alone a chance, when he announced he would challenge Dougher, who had Scott's endorsement for a full chair's term in 2015.
"It wasn't so much that they didn't like the governor, but there's all this carryover from the Greer era," said one Florida Republican strategist. "Charlie Crist forced Greer on the executive committee. Not only did this guy embezzle money and go to jail, Crist became a Democrat!"
Ingoglia ran as pro-grassroots, not anti-Scott, and won. Then the establishment struck back. Scott and Florida's Senate Republicans withdrew their political operations and money from party headquarters in Tallahassee. The moves left Ingoglia with a monster fundraising hole — and without key allies.
"Blaise kind of got handed a raw deal," the strategist said. "The governor didn't come back, and the fundraising just dipped. With Blaise, the grassroots are in the forefront, but you can't do everything you want because the governor isn't engaged and raising money for the party."
But the lack of buy-in from top officials and some of their donors has given Ingoglia some opportunities to remake the party to his taste. Scott, governor of the country's third largest state — and largest presidential swing state — isn't lording over the state party, so it's Ingoglia who has been able to put on the big show.
He organized the first Sunshine Summit, in November 2015, as a successor to the state party's Presidency conference, which in recent cycles had attracted White House prospects looking for an edge in what used to be one of the earliest primaries. But the party had pushed its 2016 contest back to March — a move designed as a winner-take-all delegate boost for favorite sons Jeb Bush and Marco Rubio. Ingoglia found another way to compel the other candidates to appear: Those who attended the Sunshine Summit would automatically qualify for the primary ballot. Those who didn't would have to pay a $25,000 filing fee or circulate petitions. The strong-arm tactic annoyed campaign operatives, but every active Republican hopeful, except soon-to-be-dropout George Pataki, made the trip.
The summit's success convinced Ingoglia it could be a moneymaker, even in midterm cycles. "Everyone running for office statewide now, we have great relationships with them, and the reason being is that they've seen firsthand what we've been able to do in reforming the party," he said. "It used to be when we had events like this, the elected officials didn't show up. Now, all the elected officials show up, all the statewide candidates show up, even local candidates show up, because they know this is the place to be."
Of course that response left out the fact that Scott — who did not respond to questions about Ingoglia that BuzzFeed News sent to his campaign spokesperson — was a no-show at this year's Sunshine Summit. And Ingoglia chose his words carefully when asked about the tension. "So, first of all," he said, "I would just say unequivocally I support the governor, especially in his race for Bill Nelson's seat."
How's their relationship? "Good. When we see each other, we talk. We shake hands. We're cordial."
The awkward dynamics have left a power vacuum for Florida Republicans. This obviously is no longer the party of Jeb Bush, whose old-school conservatism was vanquished by Trumpism. It's tough to call it the party of Rick Scott, who despite being an early Trump supporter and offering a template for outsider campaigns could not be bothered to mingle with a pro-Trump crowd at the state party's biggest event of the year. Ditto Rubio, who has been a gentle Trump critic at times and only appeared at the Sunshine Summit via a brief video.
Ingoglia and his admirers point to this as a triumph of the grassroots — that no individual is bigger than the party. But that might not be sustainable. Ingoglia has "missed opportunities to forge new alliances and strengthen old ones," said one Republican operative who otherwise has been impressed with the grassroots focus Ingoglia has brought to the party. "He's a passionate guy from New York, and sometimes passionate people, especially from New York, don't give up grudges easily."
If this isn't proof enough that the Republican Party of Florida has become the party of Donald Trump, though, here's more, from Ingoglia: As of now, he does not plan to seek a third term as party chair in January, but there's at least one person who could help him change his mind.
"If the new governor wanted me to stay, and if the president asked me to stay to shepherd the party through his election," said Ingoglia, "then it's a different conversation." ●