Brad Parscale had no way of knowing where that first phone call would lead.
A real estate executive from New York was on the other line. She had heard good things about the web design work Parscale was doing in San Antonio and wanted to keep in touch. When she called again about a year later, she dangled an invitation from the Trump Organization: Would he consider bidding on a project for one of Donald Trump's companies?
Parscale — a 6-foot-8 former college basketball player with the hipster beard of a craft beer brewer — jumped at the chance. He bid low. He won the job. He won more jobs.
Then came the call in early 2015. Donald Trump was running for president. He needed a website quick and cheap. Parscale didn't much care for politics, but he agreed to build one for $1,500. Next, Trump needed someone to coordinate his digital advertising during the primaries. So Parscale did that, too — often late into the night, hunched over a laptop in his living room. He wondered if Trump would fire him in favor of someone with real political experience.
Trump never did. Instead, the campaign established a big San Antonio office that at its peak housed more than 100 employees, contractors, and Republican National Committee specialists — an office that spent millions of dollars on Facebook ads and, on some fundamental level, understood the aesthetic and appeal of Donald Trump. Gary Coby, then the RNC's director of advertising, thought he would be in Texas for five days. He was there for 40. And Parscale soon outgrew his digital director title to become the most influential Trump campaign adviser whose name you've never heard.

"Brad," said one campaign veteran, echoing a thought shared privately by other Republican operatives who worked closely with him, "really became the campaign manager."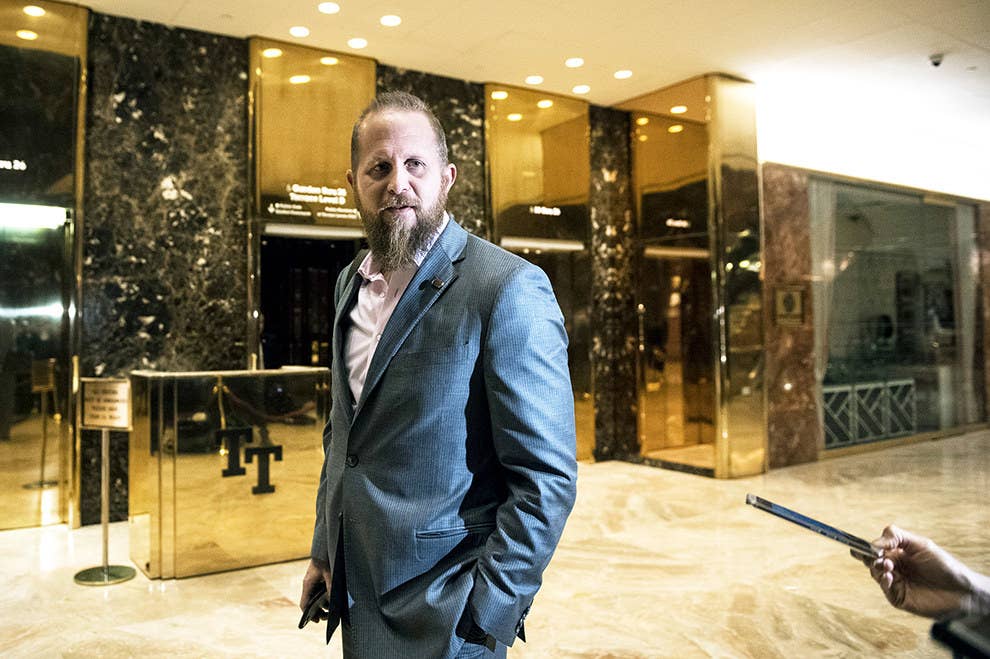 Where others have strikingly attempted to cash in and flaunt their status, Parscale, 41, has positioned himself as an unflinchingly loyal soldier in the Trump family's political streetfight. Trump's daughter-in-law, Lara, now works for Parscale's firm, which Trump's re-election campaign has already paid $1.5 million. America First Policies, a pro-Trump nonprofit, counts Parscale as a top adviser. And when Trump's sons met with RNC officials recently to strategize for 2018 and 2020, Parscale was there, too.
He isn't in the White House, hasn't been on the cover of magazines like Steve Bannon or Kellyanne Conway. He hasn't started (or left) a Washington lobbying firm like Corey Lewandowski. He keeps his home in San Antonio, far from the uncertainty and chaos that threatens to derail Trump, but he nevertheless remains connected to the most important principals.
But when he learned BuzzFeed News was writing a profile on him, Parscale passed on several opportunities for an in-person interview. He agreed, eventually, to offer several on-the-record statements over the telephone. He seemed particularly concerned that the piece would pump up his role and diminish the role of others — Trump's especially.
"Maybe my job made 0.1% of difference, but Donald Trump did 99.9% of the work, and anyone who tells you different doesn't know Donald Trump," Parscale said.
"Donald Trump won the campaign, and I was empowered by Jared Kushner and lucky to be around people like Kellyanne Conway and Steve Bannon," he added. "I think I took Mr. Trump's and Jared's confidence in me and did the best job possible. And I had a great team."
"The family trusted him to make sure they weren't being screwed."
It's no small feat that Parscale was there from the beginning and survived each campaign regime change — from Lewandowski to Paul Manafort, from Manafort to Bannon and Conway. The Trumps, including son-in-law Jared Kushner, the one constant among the senior leadership team, saw value in Parscale's similar outsider's backstory, in his ability to think differently and work cheaply, and in his devotion to the family. "Brad," said Eric Trump, in a statement the Trump Organization provided to BuzzFeed News, "is an amazingly talented and loyal person who I have known for many years. He was an instrumental player on the campaign team and is deeply passionate about the issues that face our country."
Parscale made himself indispensable by developing a deep understanding of the Trump brand. He believed in the message, knew how to promote it on social media — one Democratic operative compared Parscale's branding of Trump to the over-the-top stylings of action movie mogul Michael Bay — and he convinced the Trump family that what he did mattered. And there's nothing that matters more to Donald Trump than loyalty to the brand. As one campaign veteran put it to BuzzFeed News: "The family trusted him to make sure they weren't being screwed."
Because he has yoked his own fortunes so tightly to an impulsive president of the United States, any threat to the Trump White House or the Trump family is a threat to Parscale. When Kushner took fire recently for his reported conversations with an ally of Russian President Vladimir Putin, Parscale helped strike back. ("He is highly intelligent, cares about this country, and truly a loving person," he said of his patron during an appearance on Fox News.)
Parscale might have stumbled his way into the Trump inner sanctum — the safest and, at the same time, riskiest place for a Trump acolyte to be. One thing's for sure: Now that he is there, he doesn't want to leave.
It's the kind of story — young political outsider becomes the unlikely tech wizard of a winning US presidential campaign — that during the Obama years would have rated a magazine cover or, later, a sweet Silicon Valley job.
In April 2009, Fast Company trumpeted Facebook co-founder Chris Hughes as "The Kid Who Made Obama President." Hughes, then 25, was the online organizing director who had "unleashed Barack's base — and changed politics and marketing forever." (The cover infuriated Obama aides who had been closer to the heavy machinery, but it was just the most famous instance of the self-promotional cycle that follows a political victory.) And plenty of people from the Obama campaigns went on to the kind of tech companies that oscillate between "cool" and "facing challenges."
There hasn't been any of that for Parscale, though. In part, this is because he is highly distrustful of mainstream media. He has done few national interviews outside the friendly confines of Fox News and, with the exception of a recent batch of campaign fundraising emails sent in his name, has rarely promoted his insider's role beyond his 31,000 Twitter followers. Silicon Valley isn't exactly a bastion of Trumpism, either.
"This was very much a kind of campaign like The Apprentice."
It used to be much easier for Parscale to stand out, whether he wanted to or not. He grew up a computer nerd trapped inside a jock's body. In elementary school, a teacher noticed the legs of his desk dangling three inches above the floor. Young Brad was balancing the top of it on his knees. He eventually would play organized sports, including baseball and football before concentrating on basketball in high school and college.
His father, Dwight, was a lawyer and businessman who dabbled in politics in Topeka, Kan. He flirted with runs for Congress and attorney general — as a Democrat. (The way he explains it, factions of Kansas' dominant Republican Party spilled over into Democratic primaries.)
Brad "never showed any interest in politics," Dwight Parscale told BuzzFeed News in a telephone interview. He instead focused on basketball, because "when you're 6-foot-8, it's hard to be a bad basketball player." And Brad was good enough in high school and during stops at two junior colleges to earn a spot on the team at University of Texas at San Antonio. When a knee injury cost him his scholarship, he transferred to nearby Trinity University, where he played until a back injury sidelined him.

But computers were as big a part of Brad's childhood. Maybe bigger. He attended his first computer camp when he was 6 or 7 and "took to it like a fish takes to water," Dwight said. "From then on, he was a very demanding child. He always wanted the newest and best computers, which his mother and I of course happily provided to him."
That included what the elder Parscale recalled as an early Gateway model that set the family back $5,000. When it arrived at their home, Brad, then in his early teens, promptly took it apart, piece by piece. About a year later, he skipped dinner one evening to investigate a glitch he had discovered in a Microsoft program.
"He called their tech support people," Dwight said. "We go to bed, and in the morning he's still down there going crazy — still on the phone. He said, 'We figured out the problem.' I said, 'You stayed up all night to do that? And he said, 'Yeah, why wouldn't I?'"
After Brad graduated from college, he and his father both landed with a company called Play Inc. and set wheels in motion for a video software spinoff, Electric Image. Dwight was the CEO, Brad the vice president of sales. This was 1999. Within four years, Dwight said, "all the bubbles had burst."
He also understood that a contract with Trump could open more doors.
So Brad returned to San Antonio, where starting over was a grind. "My first year," he told BloombergBusinessweek last year in one of his rare national interviews, "I tapped on shoulders in a bookstore to get my first customers, people who were buying web books, and asked if they needed help."
He had a good thing going when Trump came calling in 2011. He also understood that a contract with Trump could open more doors. "I knew that I had to have a very competitive price to compete in the New York market since I'd only been to New York once in my life," Parscale said last December at a post-election forum hosted by Google in Washington.
His $10,000 bid got him in with Trump International Realty. Website work for Trump Winery, son Eric Trump and wife Melania Trump followed. Giles-Parscale, the new firm he had formed with business partner Jill Giles around the time of the first Trump contract, soon became known around town for its world-famous client.
Parscale was proud of what he was accomplishing in San Antonio and was among the co-founders of Tech Bloc, a group of local tech industry executives. They saw in Parscale a young up-and-comer who, given his exposure to a national celebrity, could promote an agenda that included restoring ride-sharing services blocked by city regulations. Local papers kept close tabs on the fight. In October 2015, when Uber announced it was back on line in San Antonio, Parscale hammed it up in the company's "Rider Zero" PR splash.
Of course, by then, he was working for Trump's presidential campaign, diving into an extremely divisive year in American politics — one that would bring his firm nearly $90 million in business but possibly ruin forever his warm existence in progressive San Antonio.
It's tough to know how, precisely, someone wins an election.
A working theory of the Trump campaign was that there was a bloc of voters — namely white, working-class voters unhappy with the country's direction, principally in the Midwest and in the Florida panhandle — who with the right identification and targeting could be persuaded to get out and vote for Trump. In a post-election analysis, the New York Times' Nate Cohn wrote that Trump "flipped millions of white working-class Obama supporters to his side."
What persuaded these people to come out and vote that way is likely unknowable. Despite a decade of obsession over Obama digital and organizing programs, the public perceptions of Hillary Clinton and Donald Trump might have had the most to do with the outcome. Or maybe not. But Parscale definitely ran a digital operation, and one that looked different from most of the ones that preceded the Trump campaign's.
At first, it was pretty thrown together, with heavy improvising.
"Most of the major vendors — like Twitter, Google, Facebook — didn't know I existed," Parscale recalled while speaking at last year's Google forum. "I got random phone calls in the night: 'Hey are you the guy doing the digital stuff for Trump?' … I didn't have any data scientists. I didn't have the great people I had later in the campaign. I had to do, pretty much, home-based marketing efforts to try to maximize our effort across social media platforms."
When the RNC and Trump campaigns merged operations, Trump had minimal infrastructure, having thrived to this point on free and extensive media coverage that separated him from a large pack of primary rivals. And the RNC was a symbol of the Republican establishment Trump had railed against. There was plenty of skepticism on both sides, but "Brad set up a really good program, and the RNC was ready for whoever walked through our front door with the nomination," Gerrit Lansing, the RNC's chief digital officer last year, told BuzzFeed News.
A key difference in San Antonio, said the RNC's Coby, who became the Trump campaign's director of digital advertising and fundraising, "is probably half the room, or maybe a third of the room, were non-political people. That was unique. A lot of times that brought a unique perspective."
"There was a certain Michael Bay sensibility that resonated with some Trump voters."
Post-merger, Parscale had more staff and resources available to him. More responsibilities, too. His position at the intersection of digital and data, combined with his relationship with the Trump family, earned him more authority over where resources should be deployed on the ground and on the air. "I think Brad had a uniquely large seat at the table for budget allocations," said Katie Walsh, who was the RNC's chief of staff last cycle.
Walsh, like others, described Parscale as something of a peacemaker who managed competing egos. But Parscale also staged competitions between small tech companies to determine which social media ads the campaign would use — a tactic BloombergBusinessweek later compared to Trump's reality show, where each week he fired the worst-performing contestant.
The unusual arrangement frayed some nerves. "This was very much a kind of campaign like The Apprentice," said one campaign veteran who worked closely with Parscale and requested anonymity to speak candidly. "A lot of people had a lot of roles that were not very defined. Depending on how things were going, your roles could expand or shrink."
The team included Cambridge Analytica, a data firm with reported ties to Bannon and to Republican mega-donor Robert Mercer, who invested heavily in Trump's candidacy. Cambridge made waves before Election Day when a top executive suggested the firm had mined psychographic data — essentially personality profiles of voters — to find Trump voters. But those familiar with the firm's methods have raised doubts about their effectiveness. And a detailed BuzzFeed News examination found both that Cambridge's claims and its enemies' conspiracy theories were unfounded.
Katrina Pierson, who served as a national spokeswoman for the Trump campaign, likens Parscale to Karl Rove, the direct mail maven who became George W. Bush's political guru. But "Karl Rove," she told BuzzFeed News in an email, "is the analog version of Brad Parscale."
Republican operatives who weren't aligned with the campaign — that would be most of them — are skeptical about how much credit Parscale deserves for Trump's win. Few on the outside saw any signs of a professional operation and speculate Parscale got lucky by being in the right place at the right time. Voters were angry and craving an outsider.
Others, though, say Parscale was an outsider who was not set in the ways of traditional campaigns. And if Trump won because he tapped into the plight of the white working-class, well, Parscale helped reach those voters with his digital content and his advocacy for more digital spending.
"What I see it is a triumph of the campaign as its own distribution channel," one veteran Republican digital strategist told BuzzFeed News. "With social media, you don't have to get the media to write the story you want, you have the candidate. Republicans did a good job reaching those people and activating those people. They were able to activate them because they have a message.
"In some ways it was very amateurish, but it was effective."
"In some ways it was very amateurish, but it was effective."
So much of Trump's content on Facebook, Instagram, or Twitter — whether the candidate or campaign created it — would have looked out of place in a television ad.
Parscale's favorite ads from the campaign include a 30-second video, posted to Facebook days before the Iowa caucuses, that featured Trump speaking straight to camera and railing against politically correct culture. (It has collected more than 1 million views and is a good example of Parscale's early and heavy investment in the social media site.) He's also proud of an animated spot that depicted Democratic nominee Hillary Clinton as a "Wall Street puppet" and a similarly themed, but more cinematic, piece (with ominous music and busy visuals).
But Parscale, in a sign of how much faith the family had placed in him, eventually graduated to TV, where the biggest money still is in political consulting. One of his productions, a two-minute closing argument-style spot, aired as part of a reported $4 million push.
"If you pull up any of the content that they put out, it can only be described as baffling, sort of hackish," one Democratic operative said. "There was a certain Michael Bay sensibility that resonated with some Trump voters. But just because it didn't resonate with me doesn't mean it didn't resonate."
The Trump campaign paid Parscale and his firm more than $90 million, including ad placement costs. All of it cycled through San Antonio, where for months, dozens working on the race worked, ate, drank, and lodged. Parscale believes he has been a good and loyal citizen.
But San Antonio doesn't seem to be in a reciprocating mood.
Parscale hasn't been welcomed back as a conquering hero. The hometown pride that materialized when Parscale began designing business websites for the Trump family disappeared when he was a key adviser to a presidential candidate who questioned the fairness of a Mexican-American judge. People of Mexican descent account for about 57% of San Antonio's population. And the Tech Bloc circles Parscale once ran in are largely progressive. Last year, Parscale even built the re-election campaign website for the city's Democratic mayor, Ivy Taylor. (A rival tried to make her connection to Parscale an issue in this spring's nonpartisan primary. Taylor finished first in that contest and will compete in a June runoff.)
One of Parscale's fellow Tech Bloc co-founders blew off a request for comment: "I don't know Brad's work well enough to comment." Another colleague had nothing but positive things to say about Parscale — but that colleague declined to speak on the record because he feared the backlash that might erupt if his name was attached to praise. And Jill Giles, Parscale's business partner since 2011, declined to be interviewed for this story. "She's not available for comment," a Giles-Parscale receptionist told BuzzFeed News after fielding a request and relaying it to Giles, who also did not respond to an email.
Parscale hasn't been welcomed back as a conquering hero.
There has been a small comfort here and there. The San Antonio Business Journal, the one local media outlet Parscale finds friendly, named him Business Person of the Year.
But Parscale feels misunderstood and underappreciated. He complains about being labeled a racist — he believes his high-and-tight haircut and long beard are particularly damning to strangers who stereotype — and says he has received death threats. Two years ago, he was a tech firm owner who worked for the safe, even trendy (e.g. a winery) brands of Donald Trump's children. Now, he's helped elect a president with a sub-40 approval rating and a talent for eliciting absolute horror from progressives. Success brought loss, too.
The cold shoulder from people he counted as friends must particularly sting. It's hard for him to figure where, or if, he fits in San Antonio, where he once spoke of leading the charge to build a better airport. He spends much of his time on the road, bouncing between New York, Washington, and Florida, where he is scouting office space to expand his political consulting business. He will maintain his presence in Trump's orbit while looking to attract other clients — a strong prospect for anyone coming off a winning presidential campaign and heading into midterm elections.
For now, though, this is it. Parscale is at the mercy of a presidency that some days looks like it's falling apart. The FBI is investigating ties between Trump associates and Russia. Parscale, like his boss, uses Twitter to decry a "witch hunt" and to push back on mainstream media coverage of the saga. Recently, he saw his own name dragged briefly into the coverage. CNN, citing unidentified sources, reported that the feds were looking into Kushner's supervision of the campaign's data analytics program, and the San Antonio Express-News quickly localized the story around Parscale. In his Fox News interview defending Kushner last week, Parscale denied that Russia had any role in the operation. There is no doubt he is standing tall with the Trumps, trusting that his loyalty will continue to be rewarded — and that the reward will be worth the costs.
"He loves San Antonio, but he also has kind of taken to what he's doing," Dwight Parscale said of his son. "He is close to the Trump family. Unbelievably loyal. They've been good to him." ●