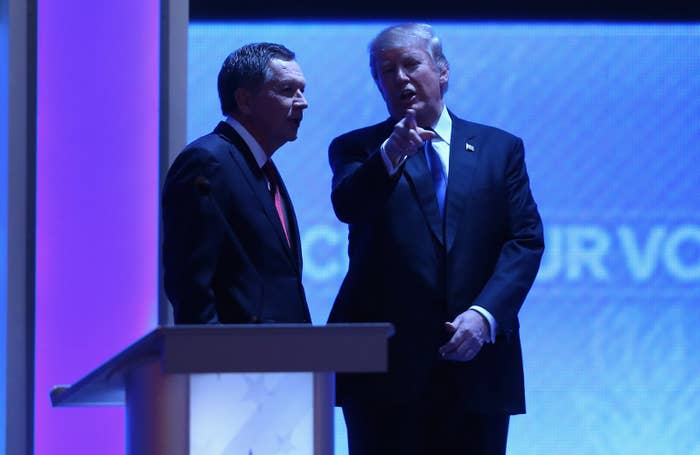 President Donald Trump's feud with Ohio Gov. John Kasich is escalating.
Bob Paduchik, the co-chair of the Republican National Committee, blistered Kasich — a Republican who might primary Trump in 2020 — in an op-ed that landed Friday at cleveland.com, the website for Ohio's largest newspaper, The Plain Dealer.
"Recently, Kasich's campaign has ramped up its fundraising efforts and sharpened its criticism of President Trump, creating the harbinger of another Kasich presidential candidacy," wrote Paduchik, a veteran Republican operative who directed Trump's 2016 general election campaign in the state.
"To people who know him, this was 'Kasich being Kasich.' This pathetic need for attention often accompanies gratuitous insults of other elected officials, CEOs and even a police union lobbyist. It's the antithesis of his 'two paths' message and his campaign-crafted persona, and the people who have to deal with him recognize it immediately."
The piece — an attack on a Republican governor from the upper ranks of the Republican Party — was shared on Twitter by Corey Lewandowski, one of Trump's close political advisers.
"This is simply an initial shot being fired in the potential 2020 primary," Henry Barbour, an RNC committee member from Mississippi, told BuzzFeed News. "I don't think anyone should be surprised an RNC leader supports the sitting Republican president."

Kasich's chief strategist, John Weaver, said Trump's team is worried about Kasich's potential challenge.
"Cowards hear footsteps first," he tweeted.
Paduchik's column depicted Kasich as a sore loser and "Antagonist in Chief."
"It's 2018 but Kasich is still running for president in 2016," he wrote. "And he is insanely jealous. Kasich cannot come to terms with the fact that President Trump is so popular, he can come to Ohio and draw crowds measured in the tens of thousands. Donald J. Trump can motivate legions of volunteers and countless voters with a single rally appearance. ... I am certain it's hard to run for president and lose twice. Most people take the humbling experience of failure as an opportunity to grow, but Kasich has taken the path less traveled. Sad."
The op-ed follows a Twitter back-and-forth this week between Trump and Kasich. Both had endorsed Troy Balderson in a special House election this month in Ohio. But Trump and his allies were incensed when Kasich, on the Sunday before the vote, asserted on national TV that Balderson had not invited Trump to a rally in the district the previous evening. They believe Kasich's remarks weakened Balderson, who has declared victory over Democrat Danny O'Connor in an extremely tight race that has not yet officially been called.
"The very unpopular Governor of Ohio (and failed presidential candidate) @JohnKasich hurt Troy Balderson's recent win by tamping down enthusiasm for an otherwise great candidate," Trump tweeted. (Recent polls have shown Kasich with higher approval ratings than Trump in his state.)

Kasich volleyed back, tweeting an image of Russian President Vladimir Putin laughing.
"So the 'president*' didn't like the laughing Putin and sent out his flying monkeys," Weaver, using quote marks and an asterisk to identify Trump, wrote in a message to BuzzFeed News. "I am so scared. Yawn."
Kasich ran unsuccessfully in the 2016 Republican primaries, skipped that summer's convention in his own state, and later wrote in Arizona Sen. John McCain on his presidential ballot. He has remained a persistent Trump critic and has been open about his interest in another run — either in the 2020 Republican primaries or as an independent.
The RNC, acting as a political arm for the White House, has sought to discourage challengers by disbanding its committee on primary debates. Brad Parscale, Trump's reelection campaign manager, has previously taken aim at Kasich on Twitter.