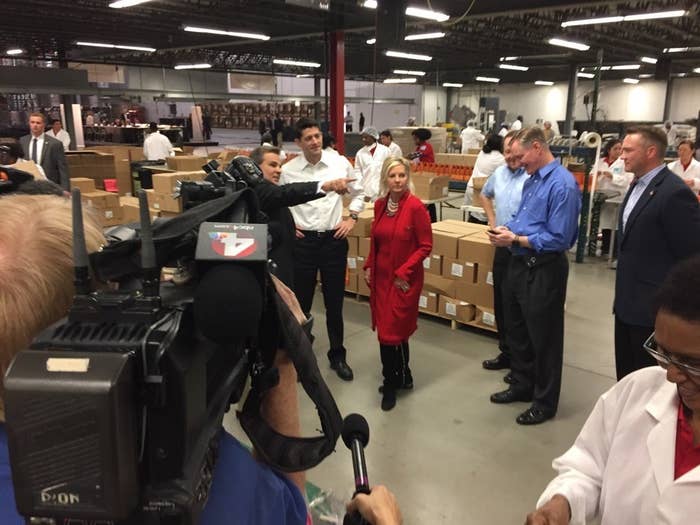 NEW ALBANY, Ohio — Paul Ryan came to Ohio to talk about taxes.

First, he toured a factory, a commercial packaging plant in this suburb north of Columbus. He shook hands. He watched fragrant mist chug down a conveyor belt. He admired a display of BaitCloud, a fishing aide that prides itself on "scent, sound, and visual attractants." Then, at a roundtable, he attempted to start a national discussion on tax policy and keep momentum going after a risky but nonetheless Republican morale-boosting vote to dismantle Obamacare.
Ryan did all of those things Wednesday afternoon — as though nothing else was going on this week besides the future of the U.S. tax code. Ryan refused, despite prodding from an unexpectedly large horde of local and national media, to break his silence on President Trump's bombshell decision the day before to fire FBI Director James Comey.
"The people in the press, they're here because they want to listen to me talk about tax reform," Ryan joked as he began a roundtable forum with business leaders. "So I want to tell my friends in the press: I'll be making statements later about the questions that they all have."
(And, as expected, those statements came on Bret Baier's Fox News show, where Ryan defended Trump's authority to fire Comey.)
Ryan pretending like everything was fine — that his message wasn't being drowned out by cries of scandal — was almost as bizarre as the Trump administration's announcement and handling of the news Tuesday. And it showed, once again, that no matter how much Ryan tries to carve out a place in the party for his traditional Republican principles, the bang and clatter of the Trump administration always threatens to overshadow him.
Reporters only were permitted to observe 14 minutes of the roundtable. Ryan spoke for roughly half of that time and spoke generally about his vision for a tax code overhaul.
"Families are dealing with a tax code that is extremely complicated," he said at one point, vowing to pursue a simplified plan that reduces the number of tax brackets.
"Here's what really is going to help get this economy going, and that is businesses," Ryan added a minute later.
Outside, the crowd of anti-Ryan demonstrators included Ohio Democratic Party Chairman David Pepper, who Tuesday night offered what amounted to a Twitter high-five to the state's Republican governor, John Kasich. A Trump critic since losing to him in last year's GOP presidential primaries, Kasich said he was "extremely troubled" by the Comey firing and called for "full and fair investigations into Russia's effort to influence our election."
That Ryan's appearance would draw protesters was a given. Progressive groups have organized to hound Republican lawmakers wherever they roam outside Washington. Many of their signs — a mix of homemade, professionally printed, and one electronic billboard featuring Ryan's mug towed by a flatbed truck — took the speaker to task for the health care bill and offered pre-emptive strikes against his tax talk. "Greed over people," one read.
But a few of the posters keyed off the news Ryan was working so hard to ignore. "Stop Putingate CoverUp" read one sign, channeling concerns that Comey was fired as his agency stepped up investigations of the Trump campaign's ties to Russia. Another said simply: "I'm scared."
Inside, the atmosphere was standard fare as far as political photo ops go. Ryan, wearing a white button-down shirt with sleeves rolled up and no necktie, strolled the factory floor of Accel Inc., accompanied by two local Republican congressmen, Steve Stivers and Pat Tiberi.
As the strong smell of soap wafted — Accel works with brands such as Bath & Body Works and Victoria's Secret — Ryan initiated a few awkward handshakes and listened as company officials described their products and processes.
He waved off questions about Comey as workers placed stickers on small, plastic-wrapped bags of beauty products rolling down an assembly line. Moments later, the Wisconsinite, who prides himself as an outdoorsman, seemed particularly taken with the BaitCloud.
"That's really cool!" Ryan gushed.
He was far less impressed with the persistent reporters.
"Mr. Speaker, was it wrong for the president to fire the director of the FBI middle of the Russia investigation?" asked one.
Another wondered about "the responsibility to ensure an impartial investigation."
Ryan walked away, the open-press portion of his tour finished.