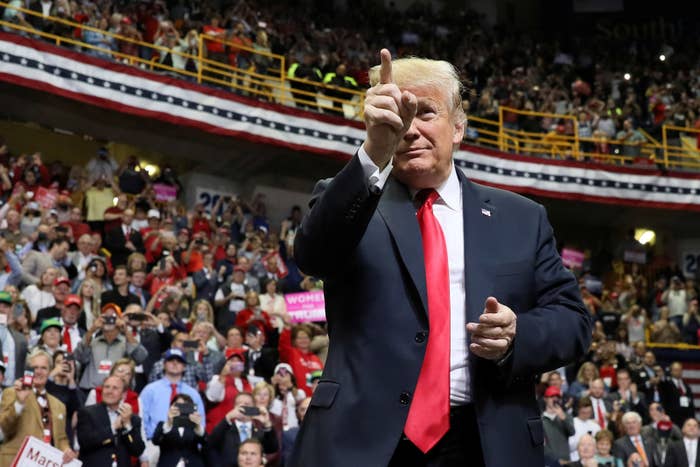 President Donald Trump acknowledged to supporters on a teleconference Monday that the results of Tuesday's midterm elections will reflect on him — for better or for worse.
"The election tomorrow is very vital, because it really is summing up what we've done," Trump said. "It's going to show confidence for what we've done. I've seen all of the newspapers, many of them saying it's a referendum on what we've done. So, I don't know about that. I can tell you, though, that's the way they are going to play it. If we don't have a good day, they will make it like it's the end of the world. Don't worry — if we do have a good day, they won't give us any credit."
Republican control of Congress is at stake this week, with many forecasts showing a potential Democratic takeover of the House. Trump has given himself a major role in the campaigns, storming the country for Republican candidates, and setting himself up for credit or blame depending on the outcome. Some expect he will deflect blame, or accentuate the positive if, for example, the party maintains its Senate majority.
But Trump left little question that he knows this election is largely about him.
"Even though I'm not on the ballot, in a certain way I am on the ballot," Trump said. "It's very important to go out and vote. Get your friends, get everybody, go out and vote. Because tomorrow, whether we consider it or not, the press is very much considering it a referendum on me and us as a movement. This is the greatest movement in the history of our country."
The president's daughter-in-law, Lara Trump, hosted the call, which was billed as a "telephone town hall," despite the fact that listeners were not able to ask questions. "In this election, President Trump may not be on the ballot, but his agenda surely is," she said at the outset.
Lara Trump, who hosts a series of digital videos billed as "real news" for the president's reelection campaign, was joined by friendly Republicans: House Majority Leader Kevin McCarthy, Senate Majority Leader Mitch McConnell, and Republican National Committee chair Ronna McDaniel. She also interviewed her husband, Eric Trump. ("Your dad is delivering results for the American people, and that means a lot," she told her husband, loosely in the form of a question.)
Brad Parscale, Trump's 2020 reelection campaign manager, told listeners that Trump has done more than any previous president to influence the results of a midterm election.
"By announcing his [reelection] campaign early, by spending over $20 million in rallies and TV commercials, and doing things, this president is all in," Parscale said. "Past presidents barely raised a couple of million dollars, would hit a couple of rallies, and a lot of times just let their party fail in the midterms."
Parscale added that Trump's large arena rallies — the president is closing with three today: in Ohio, Indiana, and Missouri — have set the tone for the Republican Party.
"I think the rallies," Parscale said, "have always been a thing that has created kind of this environment that has allowed the president to really change the country and agenda, and it's changed the party to the party of Trump. It's built the army of Trump, [as] I call it, which is the people listening in on this phone call right now."