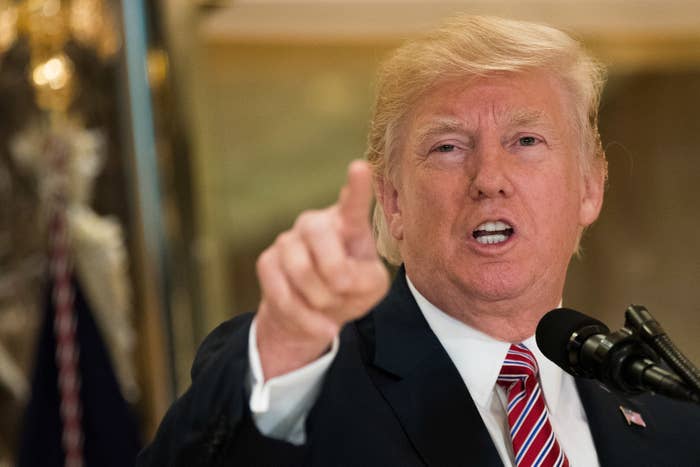 Expectations are now sky-high that President Donald Trump will endorse a Republican primary challenger to Sen. Jeff Flake of Arizona — perhaps as soon as next week.
The buzz has been out there for months: Flake has been one of Trump's most persistent critics in the GOP, and the White House political team has spoken with potential rivals.
The buzz grew this week, when Trump announced plans for an Aug. 22 campaign rally in Phoenix. And it will grow even more after a Thursday morning Twitter missive in which Trump encouraged the candidacy of Kelli Ward, who for now is Flake's only declared opponent.
"Great to see that Dr. Kelli Ward is running against Flake Jeff Flake, who is WEAK on borders, crime and a non-factor in Senate," Trump tapped out to his followers. "He's toxic!"
Flake has been unabashed in his criticism of Trump. His recently published book, Conscience of a Conservative, is a scathing repudiation of the president's brand of Republican politics.
Asked for a response to Trump's tweet, Flake spokesperson Will Allison replied: "You don't serve Arizona by cutting backroom deals in Washington, D.C. That's why Senator Flake will always fight for the people of our state."
And the National Republican Senatorial Committee, which backs incumbents, responded with a strong statement of support for Flake: "The NRSC unequivocally supports Senator Flake in his reelection bid," said the group's chairman, Sen. Cory Gardner of Colorado.
Republican sources have told BuzzFeed News that the White House is showing increased interest in the race. But Arizona operatives aren't sold on Ward. Her failed primary challenge last year against Sen. John McCain is not fondly remembered — and she since upset party leaders by raising doubts about McCain's prospects for recovery after a recently diagnosed brain tumor. (She also suggested she should succeed McCain if he can't finish his term.)
There are at least two other GOP prospects seen as alternatives: State Treasurer Jeff DeWit, and former Arizona Republican Party chairman Robert Graham. Another whose name has been mentioned, former Rep. Matt Salmon, has been courted by Trump allies, Politico reported later Thursday.
"I'm currently in Taiwan," Salmon, who now works in government affairs at Arizona State University, emailed in response to questions from BuzzFeed News. "I'm not interested in running against Flake. I love my job at ASU."

The Washington Times, citing unidentified sources, reported on Wednesday that Trump was leaning toward declaring his support for DeWit at next week's rally. A spokesperson for DeWit, who had a national role in Trump's campaign last year, would not comment on the record but pointed BuzzFeed News to Phoenix-area reports in which DeWit called the Times story "fake news."
Other sources who spoke to BuzzFeed News before Thursday's tweet were skeptical that Trump would issue an endorsement next week, though they also noted that the president is known for doing the unexpected. (An endorsement of DeWit or Graham before either has a campaign infrastructure ready to handle donations or respond to inquiries would be unusual, too.)
There's also the Mercer factor: GOP mega-donor Robert Mercer, a major Trump backer, recently donated $300,000 to Ward's super PAC. And Eric Beach, the founder of a pro-Trump super PAC, is advising Ward's campaign.
The Times story reported that Trump had soured on Ward — a notion that Ward emphatically denied to BuzzFeed News. "Our private discussions with the White House have been extremely positive and any report that say otherwise is utterly false, or fake news," she said in an emailed statement on Wednesday. "I will defeat Senator Flake next year and make sure the president has a conservative ally from Arizona who is committed to moving his America First agenda forward."
Graham has not returned telephone calls seeking comment. Arizona-watchers believe DeWit, Graham, or any other potential primary challenger will be hesitant to jump into the race if Ward remains a candidate. Trump's tweet, combined with Mercer money, is hardly discouraging for Ward, and could make the primary less appealing for other prospects.
Alexis Levinson contributed reporting.