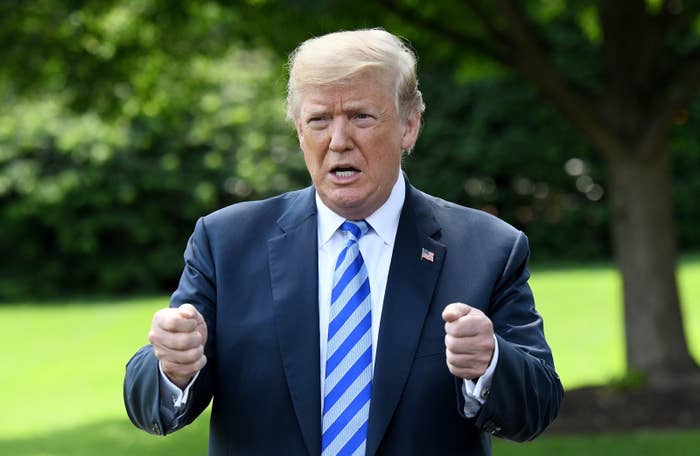 President Trump, in a Monday conference call meant to celebrate his first 500 days in office and boost enthusiasm for this year's midterm elections, gleefully rallied around a criticism Hillary Clinton leveled against his supporters in the 2016 election.
"You remember Hillary Clinton calling everybody deplorables? We were the deplorables," Trump said on the call with grassroots Republican activists. "Well the deplorables, we're the hot ones right now. They're all trying to figure out how do we get the deplorables on our side, right? So we're all deplorables together."
Republicans from across the country and several news organizations, including BuzzFeed News, were on the monthly call, which Trump does not typically participate in himself. White House political director Bill Stepien, who kicked off the conversation, told listeners he was alongside Trump in the Oval Office.
Trump, in the 15-minute call, also renewed his attacks on Sen. John McCain, the Arizona Republican who has been away from Congress because of a deadly form of brain cancer. Trump remains upset that McCain, whom he did not mention by name, cast a critical vote against a health care overhaul bill last year.
"We had it done except for one vote, and that one vote was a very sad situation — thumbs down," said Trump, recalling McCain's gesture from the floor during the dramatic early-morning vote.
"We had it except for that one horrible vote at 3 o'clock in the morning," Trump added a minute later. "You remember that. We all remember it well."
Trump warned his backers against complacency this year.

"They are angry — the other side is really, really angry," he said. "They're energized, and not for good. They're energized for a lot of bad things to happen."