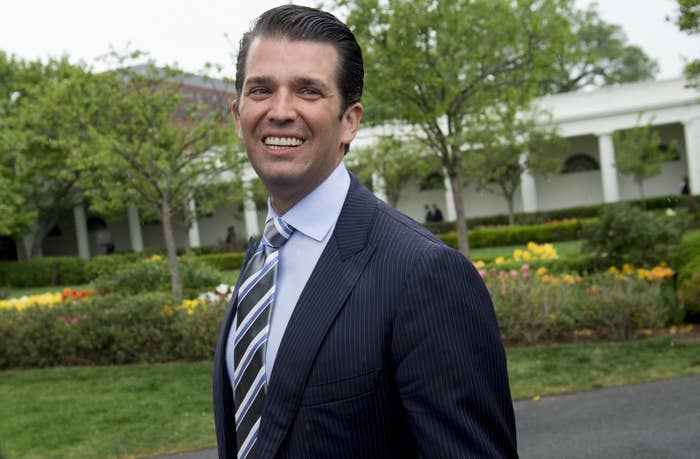 Donald Trump Jr. has brushed it off innocently as political opposition research.
But his pursuit of a tip, presented to him as a gesture of the Russian government's support for his father's White House bid, has further aroused suspicions of collusion with a foreign adversary. Beyond that, it's not the way that opposition research — the dark but long-ago accepted art of digging up dirt on rivals — really works.
In a series of June 2016 emails Trump Jr. made public Tuesday, following leaks to and reports by the New York Times, an intermediary wrote about the existence of "some official documents and information that would incriminate" Democratic presidential candidate Hillary Clinton. Trump Jr., joined by his brother-in-law Jared Kushner and by Paul Manafort, then the campaign's chief, met with a Russian lawyer at Trump Tower in New York but said nothing came of it.
"The information they suggested they had about Hillary Clinton I thought was Political Opposition Research," Trump Jr. said in a Tuesday statement he released along with the emails. "I first wanted to just have a phone call but when that didn't work out, they said the woman would be in New York and asked if I would meet. I decided to take the meeting."
Federal authorities are investigating Russian meddling in last year's election.
"I appreciate that hindsight is 20/20 and we don't yet know all the facts," Alex Conant, a top adviser to Sen. Marco Rubio's presidential campaign last year, told BuzzFeed News. "But if an agent of a foreign government ever reached out to offer clandestine assistance to my candidate, I like to think that I'd immediately alert the FBI."
Said another Republican strategist: "Jr.'s citing of oppo is BS."
Typically, political campaigns assign a lower-level staffer or two to search for damaging information about rivals and investigate tips relayed by outside sources. Well-funded primary campaigns can afford a full-time researcher, though often these duties are absorbed by rapid-response or other communications aides. (Rubio's team, to name just one example, employed a research director and others who specialized in the practice.) Other campaigns, especially those stretched for cash, might rely on super PACs or other allied groups to do the dirty work. But Trump, who kept close counsel with his adult children and a small but ever-changing inner-circle of advisers, had none of that.
Sources familiar with the internal operations of the Trump campaign described to BuzzFeed News a bare-bones staff and a nonexistent research department prior to the Republican convention. They also said the kind of lead the intermediary mentioned in his email to Trump Jr. — "ultra sensitive" and something he said might not be suitable to share with Rhona Graff, one of Trump's closest assistants — is above the pay grade of a research aide. But in this case the Trump campaign lacked anyone with experience to advise Trump Jr. on how to respond to the overture or with best-practice knowledge of how such information should be vetted.
In the campaign's early days, according to one source granted anonymity to speak candidly about the inner workings, it would not have been unusual for those in the high command to chase down tips. That includes Manafort, who was at the helm around the convention. Trump instead tore down his primary rivals with slashing attacks on Twitter and at the debates. As for the general election, it wasn't like GOP-aligned groups hadn't already compiled volumes of opposition research on Clinton.
Once Trump clinched the nomination, the Republican National Committee stepped in to provide full-scale research services. That, according to sources, was a heavy lift.