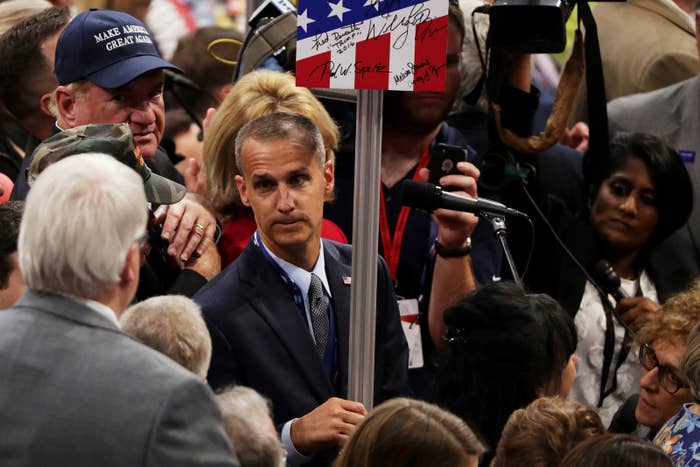 Corey Lewandowski, the former Trump campaign manager who maintains an influential role in the president's political orbit, will headline a fundraiser next week for US Rep. Jim Renacci, a candidate in Ohio's competitive Republican primary for governor.
An invitation obtained Tuesday by BuzzFeed News advertises Lewandowski as a "special guest" for the Aug. 3 reception and dinner at a yacht club just outside Cleveland.
A Renacci spokesman confirmed the event. Lewandowski did not immediately answer a request for comment.
Trump has not endorsed in the 2018 race to succeed term-limited Gov. John Kasich. But Lewandowski's involvement with the Renacci fundraiser is the latest evidence that the congressman could be the White House favorite.
Vice President Mike Pence told a Cleveland-area audience last month that he was "for Jim Renacci before it was cool." The Renacci campaign sent a video of Pence's remarks to its email list, asserting that "it is safe to say that there is only one candidate in the race for governor of Ohio that the administration views as truly with them." (The vice president's representatives denied the praise was meant as an endorsement.)
Renacci also has won the support of Bikers for Trump and Citizens for Trump, two grassroots organizations that have been supportive of the president.
"All I know is I'm a big supporter of the president," Renacci told BuzzFeed News here Tuesday night as he waited for Trump to arrive at a campaign rally, which Lewandowski also attended. "In the end I think the president is supportive of me and the way that I'm working with him, so we'll see what he does. [An endorsement] is going to be up to the president and the vice president … but they're all friends of mine. They know I'm ready to work with them."
Renacci is an underdog in the GOP primary. He has the lowest name-recognition in a four-candidate field that also features Ohio Attorney General Mike DeWine, Secretary of State Jon Husted, and Lt. Gov. Mary Taylor. But he is the only contender who enthusiastically embraced Trump's campaign last year after Kasich failed to win the presidential nomination.
Next week's fundraiser will follow Lewandowski's speech to the City Club of Cleveland, which has been criticized for providing a forum for the controversial political operative. (He was, for example, accused of grabbing a reporter last year, but simple battery charges were dropped.)
Renacci helped arrange the City Club gig for Lewandowski, who in recent weeks has helped push the health care legislation on Capitol Hill.