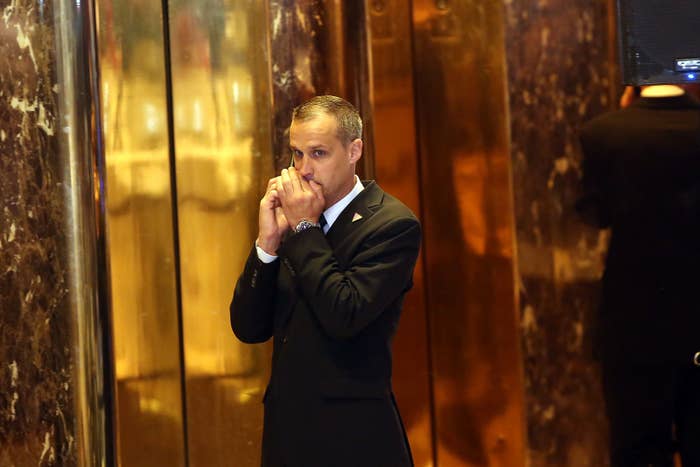 Corey Lewandowski said Thursday that he worries an investigation of Russian interference in last year's presidential election will sprawl beyond ties to President Donald Trump's campaign — a development that could unearth other damaging, if unrelated, information.
In other words, he worries that what happened in the 1990s to former President Bill Clinton — a Democrat who was impeached, though not removed from office — could happen to Trump.
"If you look at Ken Starr, who was under the Clinton years, he started his investigation of Clinton under the guise of Whitewater," Lewandowski, who was Trump's first campaign manager and remains a close political adviser, told reporters here after a speech at the City Club of Cleveland. (Starr was the independent counsel who began his work by looking into the real estate dealings of Bill and Hillary Clinton, Trump's opponent last fall.)
"Bill Clinton was not impeached over a land deal. Bill Clinton was impeached by the Congress for lying about Monica Lewinsky under oath. That investigation just went on and on and on, and my concern is that that is not what is necessary for the American people."
Lewandowski's remarks came two hours before the Wall Street Journal reported that Special Counsel Robert Mueller had empaneled a grand jury in the Russia probe. Additional reports by Bloomberg and CNN suggest the investigation will include Trump's business ties to Russia. Trump and his allies have expressed concern that Mueller's work could go beyond the question of whether Trump or his associates colluded with the Russian government last year.
"I think the Mueller investigation should be limited directly to the scope of what it was designed for, which is: Did anybody collude or cooperate with Russia to impact the outcome of an election?" Lewandowski said. "And there should be a finite period of time where that decision is brought before the Department of Justice and the respective people, and the decision should be reached, and then once that is done, the investigation should end."
Lewandowski said that, in his time with the campaign, Trump never asked him to work with Russia.
"If anybody colluded, coordinated, or cooperated with Russia to impact the outcome of the US election," Lewandowski said, "that person should go to jail for a very, very long time."