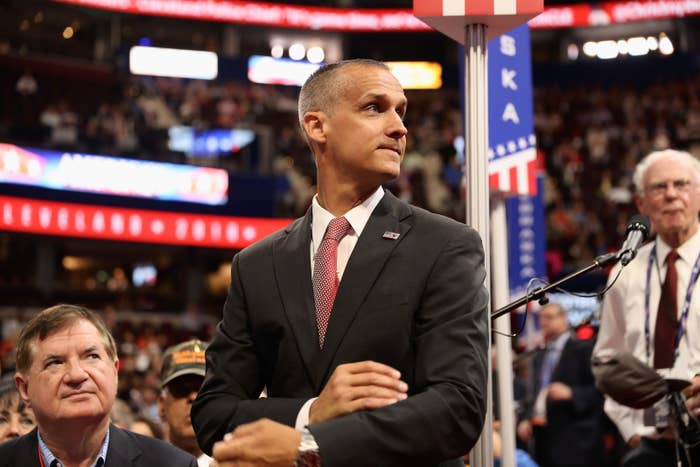 Corey Lewandowski, a close political adviser to President Donald Trump who is facing scrutiny over his business interests, denied after a speech in Cleveland on Thursday that he is actively working with an Ohio-based payday lending company.
But the denial only came when Lewandowski was pressed by reporters — not by audience members who demanded answers during the City Club of Cleveland's time-honored Q&A session.
The New York Times reported this week that Lewandowski's new consulting firm was pursuing a contract with Community Choice Financial. The link raised eyebrows, because days earlier Lewandowski had used an appearance on NBC's Meet the Press to urge Trump to fire Richard Cordray, the former Ohio attorney general who — as director of the Consumer Financial Protection Bureau — has a role in regulating the payday lending industry.
The call to dump Cordray came out of nowhere — in response to a question about the ousting of White House Chief of Staff Reince Priebus — and prompted host Chuck Todd to ask whether Lewandowski had a client or business interest affected by federal financial regulations.
Lewandowski, who was Trump's first campaign manager, said then that he did not. On Thursday, he danced around pointed questions from two City Club attendees.
Asked by one questioner if Community Choice is one of his clients, yes or no, Lewandowski dodged by saying that, regardless of Cordray's status as CFPB chief, "I don't make one dime on that decision." He then went on to bash Cordray, who is being mentioned as a potential Democratic candidate for governor in Ohio if he leaves the federal agency.
A few minutes later, another audience member pressed Lewandowski to directly answer the Community Choice question and another he had sidestepped. Lewandowski got testy in his response: "If you want to have a discussion back and forth, we can do that, but let me tell you how that works. When you get the podium, you get to talk as long as you want."
Several in the crowd groaned loudly as Lewandowski again declined to answer definitively.
Afterward, Lewandowski took questions during a 20-minute meeting with reporters. Asked then about Community Choice, Lewandowski began with his "I haven't been paid a dime" line.
Pressed further, Lewandowski acknowledged that the payday lender was a client of his previous firm, Avenue Strategies, but said a draft contract between Community Choice and his new firm, Lewandowski Strategic Advisors, was never executed. "Correct," Lewandowski replied when one reporter asked if that meant the company was not currently a client of his new firm.
But has he offered advice to Community Choice?
"I give advice all the time to all kinds of people," Lewandowski said. "I give advice — free advice — all the time. And when people call me, you know what I do? I answer their telephone calls."
Pressed once more on whether he was a consultant to the company, Lewandowski bristled. "I could do it in a different language if you're having a hard time with English, but here's what I'm telling you: They were a client under my previous firm. I left the firm in May."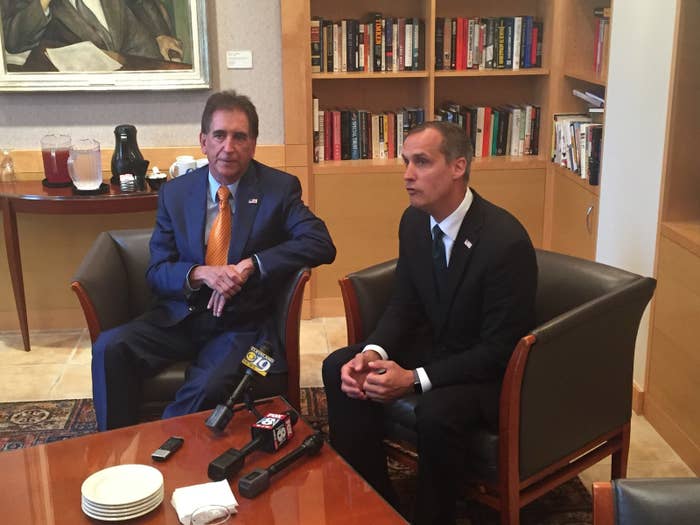 Lewandowski, who was not paid for his City Club appearance, does have political business in Ohio. He was scheduled to headline a Thursday evening fundraiser for Rep. Jim Renacci, one of four Republicans running for governor next year. Renacci, a four-term congressman and wealthy former businessman who emphasizes his private-sector experience, was one of the few prominent Republicans in the state to back Trump enthusiastically last fall. Lewandowski's fundraising assist is one of several signals of support from Trump's political orbit.
"I would love to see Jim be the next governor of Ohio, because career politicians have had their opportunity for a long time to fix things," Lewandowski told reporters.
The City Club prides itself as a champion of free speech and civil dialogue. Presidents George W. Bush and Barack Obama addressed the nonpartisan organization while in office. Vermont Sen. Bernie Sanders, runner-up for last year's Democratic presidential nomination, spoke there earlier this year. But Lewandowski's booking prompted outrage from progressive City Club supporters who wondered why a forum was given to a political operative who is known for making misleading statements, and for an accusation that he once assaulted a reporter.
Most of the 190 attendees were polite. Lewandowski shared tales from his time on the Trump campaign. Among the better tidbits: The effort by staffers to make McDonald's runs — "two Filet-O-Fish, two Big Macs, and if we had a really good day what we call malteds [or milkshakes]" — and have the food back on Trump's plane by the time a rally was over.
Lewandowski also offered some gentle critiques of the Trump administration, noting the lack of major legislation signed, and a lack of staff positions filled. "The administration does not move fast enough," Lewandowski said. "That is a failure of this administration."
He said Gen. John Kelly, Trump's new chief of staff, "is exactly what this White House needs. You have put a person in place who is a leader of men and women, who has been to the battlefield." He also said a change should have come three months ago.