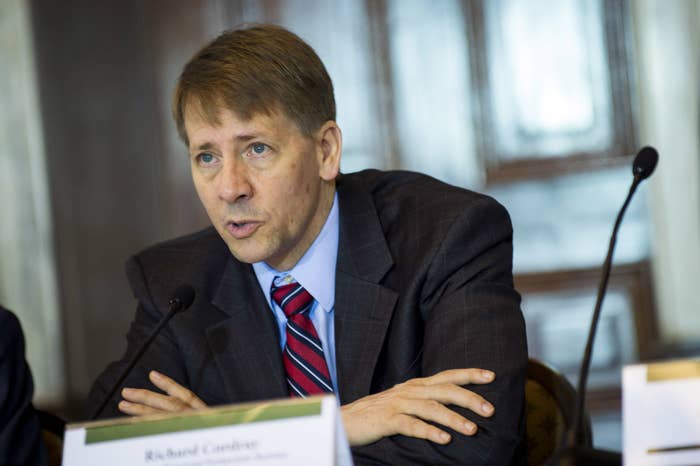 A Republican donor is aiming to influence Ohio's competitive Democratic primary for governor by attacking the establishment's preferred candidate — from the left.
Restaurateur Thomas "Tony" George is behind the nonprofit Citizens Policy Institute, which has produced a 30-second television ad blasting Richard Cordray, the state's former attorney general and the former head of the US Consumer Financial Protection Bureau.
"Why do Republicans like Rich Cordray so much?" a voiceover asks in the spot, which was first reported by Politico. "He has an A+ rating from the NRA. And he hurt consumers by quitting his job as America's consumer watchdog so Trump could appoint his replacement."
The ad is titled "Republican Lite."
George, who has contributed the maximum $12,700 to Republican Lt. Gov. Mary Taylor's campaign for governor and $250,000 to an allied political action committee, confirmed his involvement Wednesday in a telephone interview with BuzzFeed News.
"Look, we've got a group of diverse business people concerned about the future of the state of Ohio as well as local politics," George said. "We wanted to get active in a formal way."
Asked how much the group was spending, George replied: "Lots."
Though his political donations have gone to candidates in both parties over the years, George was a prominent Cleveland-area supporter of Donald Trump in 2016. He said he plans to vote for Taylor in next week's Republican primary, but he also acknowledged he has been friendly with Dennis Kucinich, the former member of Congress who has emerged as Cordray's chief rival for the Democratic nomination. The NRA line featured in the Citizens Policy Institute ad is one that Kucinich has hammered relentlessly in an effort to paint Cordray as too moderate.
George and Kucinich have common ground: Like Kucinich, George, a Syrian American, has met with Syrian President Bashar al-Assad and is opposed to the recent US airstrikes in Syria. (George met Assad in 2004.)
"Our president was misled by faulty intelligence by our country," George recently told a Fox affiliate in Cleveland. "President Bashar al-Assad would never use chemical weapons on his own people. Not at this point in a civil war and bring the wrath of the whole world on his back."
Kucinich is under fire in the race for accepting money to speak to a group that sympathizes with the Syrian government and Assad. George told BuzzFeed News he respects Kucinich's thinking on Syria: "Dennis's position on Syria is he wants peace. Everybody wants peace."
Tuesday's Ohio primary has quickly become one of this year's most closely watched Democratic races. Despite the support of state-elected officials and national party figures like Sen. Elizabeth Warren, Cordray has struggled to fend off a challenge from Kucinich. The two-time presidential candidate, known for his liberal views but most recently a commentator on Fox News, has pitched himself to voters as the true progressive in the race. He has secured the backing of Our Revolution, a political group that Bernie Sanders founded after his 2016 presidential bid. The Vermont senator, meanwhile, has said he won't endorse either candidate, marking a divide in a party where Sanders and Warren often work in lockstep on policy and progressive politics.
An April poll of Democratic primary voters showed Cordray leading Kucinich by about 14 points, though more than half of respondents said they remain undecided. An earlier poll had shown them tied. Kucinich has high name-recognition in Cleveland, the state's largest media market, where decades ago he served as mayor.
Many Democrats worry that nominating Kucinich would clinch the general election for Republicans, who are deciding between Taylor and frontrunner Mike DeWine (whose defeat of Cordray in the 2010 race for attorney general also is mentioned in the Citizens Policy Institute ad).
Members of George's family have donated to Kucinich, campaign finance records show. George said his group's involvement is not intended to elevate Kucinich in the primary. "That has nothing to do with it," he said. "It has to do with Cordray's faults."
Asked about the ad, Cordray spokesperson Mike Gwin responded via email that the campaign is "focused on getting out the facts on Rich's long track record standing up for Ohio's workers — the reasons that he's backed by AFL-CIO, SEIU, Ohio Legislative Black Caucus, and dozens of other groups that care about the rights and treatment of Ohioans."
Representatives for Taylor and Kucinich declined to comment.
"I appreciate your reaching out, but why would WE have any comment about this? It has nothing to do with us," Andy Juniewicz, the Kucinich spokesperson, wrote in an email.