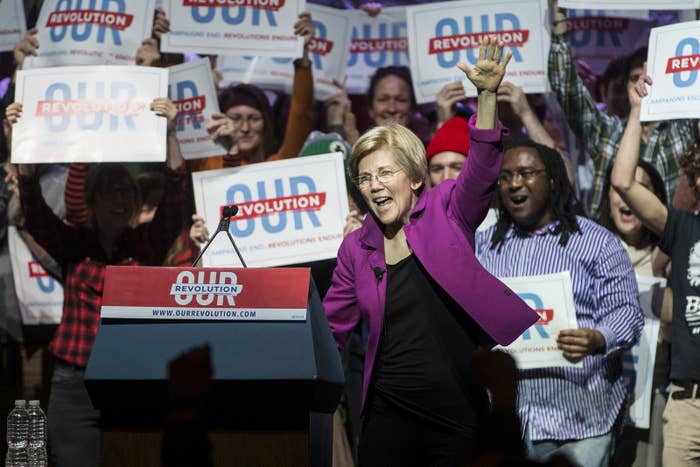 How badly do Republicans want to dent Sen. Elizabeth Warren's prospects?
Frontiers of Freedom, a conservative educational foundation, is launching a six-figure advertising campaign to derail the Massachusetts Democrat and potential 2020 presidential candidate in her bipartisan push to allow for over-the-counter hearing aid sales.
To do so, the group is aiming to discourage supportive Republicans by linking them to a New England liberal. Commercials will air in three GOP congressional districts, including Rep. Marsha Blackburn's in Tennessee. Blackburn was an original co-sponsor of the Over-The-Counter Hearing Aid Act of 2017 in the House.
"Liberal Massachusetts Senator Elizabeth Warren is at it again," a narrator says in the spot targeting Blackburn. "But this time she has help — help from our Republican congresswoman, Marsha Blackburn. Warren and Blackburn have introduced hearing aid legislation that will eliminate states' rights, expand the size and power of the federal government, resulting in higher prices for consumers. We expect these bait-and-switch liberal tactics from Elizabeth Warren, not Marsha Blackburn. Call Marsha Blackburn and tell her to represent our Tennessee values, not those of a liberal Massachusetts senator."
The ad campaign is another example of Republican-allied organizations aiming to weaken Warren ahead of her 2018 re-election bid and any future run for the White House. (America Rising, a GOP opposition research group, already has made Warren a top target.) But in this case, a low-key policy issue is at the center of the fight, and Frontiers of Freedom is going so far as to signal that Republicans who work with Warren do so at their political risk.
Besides, Blackburn, Frontiers of Freedom is airing ads in districts represented by Buddy Carter of Georgia and Michael Burgess of Texas. Like Blackburn, they are members of the House Energy and Commerce Committee that will tackle the bill. Carter also is an original co-sponsor. Burgess presides over the Health subcommittee.
Proponents believe Warren's legislation would make hearing aids more accessible and affordable to those with mild or moderate hearing loss who otherwise wouldn't seek out a fix. Warren has GOP support in the Senate, too — of the four listed co-sponsors there, three are Republicans: Chuck Grassley of Iowa, Johnny Isakson of Georgia, and Susan Collins of Maine.
But critics on the political right point to language that would establish more federal regulations that supersede existing state laws.
"It's unacceptable Republicans could support legislation that limits consumer choice and expands the role of federal oversight" Frontiers of Freedom President George Landrith said in a statement to BuzzFeed News. "Republicans should focus on ways to limit federal authority and empower state governments rather than take marching orders from Elizabeth Warren in her mission to grow the size of government."