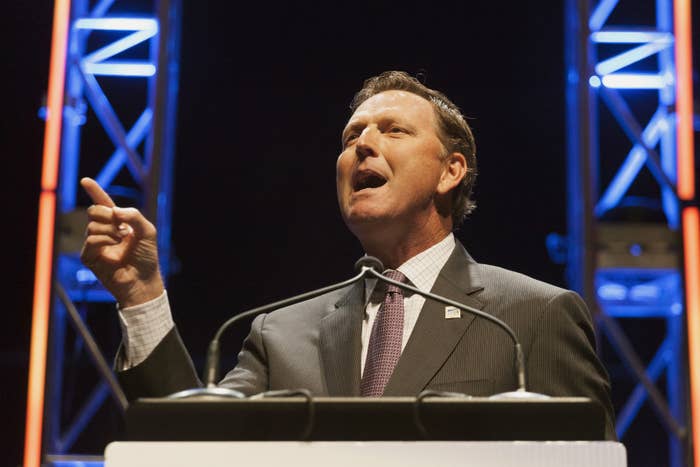 Bob Vander Plaats, the Iowa evangelical leader whose coveted endorsements make him a key figure in his state's Republican caucuses, is asserting himself more nationally as a moral authority — even if it means crossing President Donald Trump.
He has written well-timed op-eds in the last two months: one for the New York Times criticizing Trump's since-reversed family separation policy, another for USA Today on the decline of civility.
Vander Plaats, the president and CEO of the Family Leader, a Christian conservative group, backed Texas Sen. Ted Cruz during the 2016 caucuses (a move that did not go unnoticed by Trump, who suggested on Twitter that Vander Plaats did not like paying for hotel rooms). After Trump sealed the Republican nomination, Vander Plaats pledged to vote for and be a friend to him. During a panel discussion that fall with other religious leaders, he also promised to speak up when he thinks Trump is wrong.
"The Scriptures say you can trust the rebuke of a friend," Vander Plaats told BuzzFeed News by telephone last week. "But an enemy multiplies kisses, meaning they'll just walk you down a path you shouldn't be on."
The tough-love approach makes Vander Plaats the rare prominent evangelical willing to criticize Trump, whose messy divorces, crass language, and boorish behavior are an awkward fit for social conservatives. For example, Jerry Falwell Jr., president of Liberty University and son of the late televangelist, has been an unabashed Trump defender, even in the Stormy Daniels case. Daniels, a pornographic film actor, has said Trump had an extramarital affair with her soon after the birth of his youngest son — and that she was offered money to keep quiet.
"I don't know if it's true, so it's hard for me to make a comment on it either way," Vander Plaats initially replied when asked if the Daniels story bothered him.
And then he did just that.
"I think it's definitely important for him, if it is true, to acknowledge it and say it was in the past, apologize for it — not only to those he hurt or impacted but also his family, but then say to the country, 'Here's the new Donald Trump,'" he continued. "Believe me, I'd be the first one to say we have enough stuff in our closet that no one wants to see, but we are all human. So I think the act of leadership is to apologize, repent from it, and say there's a new direction in your life."
Vander Plaats then conceded: "That's not his style."
So why does Vander Plaats have so little company among his peers?
"We have had two role models for families recently in the White House: Barack Obama and Michelle and their daughters, and George W. and Laura Bush and their daughters — and they believe their policies were either disastrous or less than desirable," he said. "So they may be willing to look past some of the things in Trump's past and say he's advancing our policies."
Vander Plaats stressed that he, too, appreciates many of Trump's moves, including the nomination of conservative judges, support on religious liberty issues, and moving the US Embassy in Israel to Jerusalem.
But the way Vander Plaats sees it, he's filling a void in today's political climate.
"I think our country today just could benefit from real leadership — leadership that unites not divides, and leadership that addresses some of the real issues our country faces," he said. "I've been very complimentary of a lot of President Trump's results and policies, and I push back more on the rhetoric of division."
He was harsh in his New York Times op-ed about families being separated at the US border with Mexico after entering the country illegally. ("We can have justice with mercy. It is possible to be 'tough on illegal immigration' without being cruel to illegal immigrants.") And though his USA Today piece on civil unrest was not directed at Trump, he acknowledged the temptation to "blame the president for his Twitter account."
Also of concern to Vander Plaats and other Iowans is a Trump-ignited trade war and the president's plans for a $12 billion bailout to farmers affected by it.
"They're willing to give him a lot of rope right now — to say, 'OK, we're going to trust you.' You just wonder how long that lasts," Vander Plaats said. "The last thing they're interested in is bailouts. And the bailout, even if it's $12 billion, you divide it up, and it's $3,500 per family — when the bank is calling your home loan, $3,500 doesn't make a difference. They would love to see fair trade, not dependent aid."
A White House spokesperson did not respond to requests for comment.
Beyond the op-eds, Vander Plaats, like Trump, has embraced Twitter as a communication tool. He used it last summer to urge the president to fire Anthony Scaramucci and, more recently, to shame Mike Huckabee, who won the 2008 Iowa caucuses with Vander Plaats's help, for an incendiary tweet. Huckabee had posted a photo of five tattooed Latino men as a proxy for the violent MS-13 gang that Trump often cites in his demand for tough immigration laws — and called them the "campaign committee" for House Democratic Leader Nancy Pelosi.
"Where did my friend and pastor @GovMikeHuckabee go? I want him back," Vander Plaats tweeted. "I'll assume someone hijacked his twitter account. He's way better than this!"

Huckabee didn't respond. "I'm sure he and I might have a chuckle," Vander Plaats said.
But in a statement to BuzzFeed News, the former Arkansas governor was unapologetic. "If Bob wants to show sympathy for MS-13 and defend Pelosi's comments about them," he said, "that's his prerogative."
(Pelosi said "calling people animals is not a good thing" in the days after Trump made a comment about MS-13, which some interpreted to include all undocumented immigrants after he was asked about the gang; Pelosi did not mention MS-13 in her comments.)
Scaramucci, reached by telephone, said he didn't recall Vander Plaats's call for his ouster, which came after only 11 days after the White House's then–communications director trashed his colleagues in an expletive-laden interview.
"He probably didn't like the curse words I used," Scaramucci said. (Indeed, Vander Plaats had written separately on the Family Leader's website that Trump should "lead by first washing out Mr. Scaramucci's mouth with a bar of soap.")
Given his differences with Trump and his influential perch in Iowa, where he's picked the winners of the last three Republican presidential caucuses, Vander Plaats would be an obvious sounding board for anyone interested in primarying Trump in 2020. He said no one has sought his advice, though Nebraska Sen. Ben Sasse, who has been speculated as a possible Trump rival, raised eyebrows by headlining a Family Leader dinner last year.
"He had a phenomenal message and he was very warmly embraced," Vander Plaats said. "But it was not about 2020. It was not political rhetoric. It was, frankly, just the pillars of leadership this country needs."
Vander Plaats does not believe Trump, who enjoys deep support among Republican voters, is vulnerable to a primary challenge. He thinks Ohio Gov. John Kasich, who has shown interest in running, is too far to the left. Those on the right, such as Cruz and Sasse, would risk inciting the wrath of Trump's base — something Vander Plaats notes would be counterproductive.
"Right now," he said, "it's a fool's errand."
But that doesn't mean he doesn't see potential trouble for the president.
"If 2018 and 2020 are going to be a referendum on results, I frankly think that the Trump administration has a lot to stake their hat on," Vander Plaats said. "If 2018 and 2020 are a referendum on rhetoric, that's where you run the risk of a blue wave."