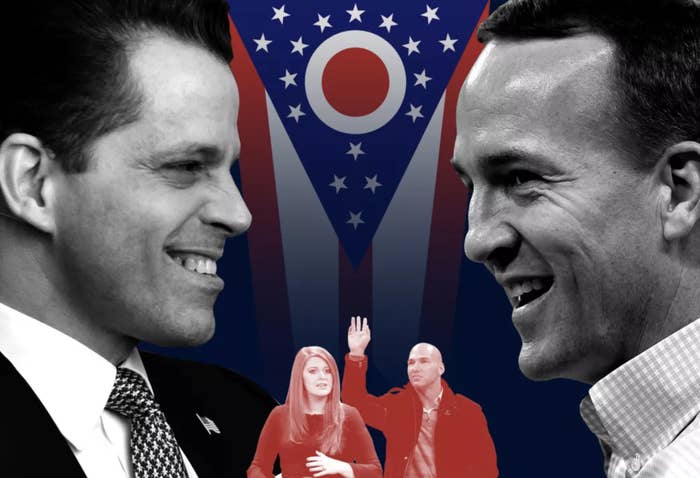 Christina Hagan, a state lawmaker who positioned herself as a conservative outsider, lost the Republican primary Tuesday in Ohio's 16th Congressional District to Anthony Gonzalez, a former NFL wide receiver and political novice who had deep backing from the party's establishment.

Gonzalez carried a majority of voters on Tuesday night.
Hagan wrapped herself tightly in the Trump movement. She campaigned with former White House advisers like Anthony "the Mooch" Scaramucci and Sebastian Gorka. She printed red and white yard signs that matched the colors of Trump's "Make America Great Again" baseball caps and proclaimed her as "PRO-TRUMP" in bold type. And she spent election eve bouncing between Tucker Carlson on Fox News and the Breitbart News radio show.

While there was never reliable public polling on the race, Hagan's familiar ballot name — she has her father's old seat in the state legislature — and her ability to draw attention by tapping into Trump World made her a strong rival to the better-funded Gonzalez. And old-school Republicans who feared a Hagan upset in the closing days made a big final push: a $300,000 television ad buy to promote Gonzalez, paid for by the US Chamber of Commerce.
All of this made the Ohio 16th one of the cleanest examples of a fractured party in the Trump era: a primary between two ambitious young Republicans (Gonzalez is 33, Hagan 29) with such pronounced differences in style and tone and, thus, different target audiences.
The seat there is open this fall because Republican incumbent Jim Renacci decided to run for Senate. Demographics favor Republicans — Trump won the district by 16 points two years ago. But Democrats see a pickup opportunity, especially after a Trump-aligned Republican lost a special House election in Pennsylvania, in a district Trump won by 20 points.
Gonzalez's Trump-cautious approach could help the party in the fall. It took him nearly 10 seconds to answer in February when asked by BuzzFeed News why he thought Trump won in 2016.
"You know, I think … that's a good question," Gonzalez said finally. "I think he gave voice to something that had been largely ignored or had sat below the surface for a while. You can call it the silent majority. I think that's a fine term. But who was that? It was all of us who felt like one way or another this country just stopped working for the everyday person."
Gonzalez isn't anti-Trump by any means. He has praised the president's policies and does not openly criticize him. But he was not nearly as reverential as Hagan was during the primary. When he was asked at one Republican function about his congressional role models, he singled out Nebraska Sen. Ben Sasse, a conservative who's known for being tough on Trump at times. And instead of pro-Trump surrogates, Gonzalez surrounded himself with pals and mentors from his football-playing days. Former Indianapolis Colts teammate Peyton Manning was a top donor, and former Ohio State Buckeyes head coach Jim Tressel headlined a Gonzalez event.
Hagan offered far-right rhetoric on most issues, from guns to immigration. On the latter, she angered many party insiders with a tweet that appeared to be a racial dog-whistle intended to emphasize her opponent's ethnic last name. (Gonzalez is a Cuban American.) While she and her allies promoted her as the obvious choice for die-hard Trump supporters, help from Trump directly never came. The closest they got was the Mooch, at a February fundraiser.
Gonzalez now faces likely Democratic nominee Susan Moran Palmer in the general election.