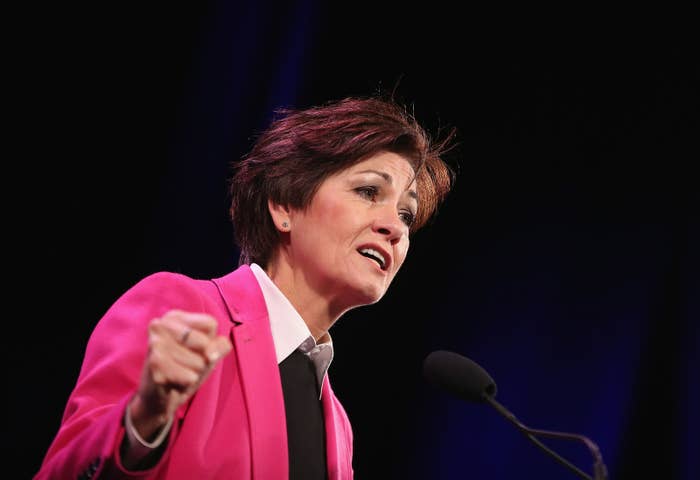 AUSTIN — Two conservative governors are the new faces of a nonprofit organization's push for criminal justice reform — traditionally a low-priority issue for national Republicans.
Iowa's Kim Reynolds and Kentucky's Matt Bevin headlined a Justice Action Network event Thursday scheduled to coincide with the Republican Governors Association's annual meeting.
JAN bills itself as bipartisan and has been aligned with groups ranging from the Koch brothers' network on the right to the American Civil Liberties Union on the left. The nonprofit advocates for reforms to sentencing guidelines and civil asset forfeitures and for programs that fight recidivism rates.
While such changes have been embraced in several states and in the more compassionate conservative or libertarian wings of the GOP, they receive little attention at the federal level from President Trump, who ran as a law-and-order candidate, or from the Republican-controlled Congress.
Holly Harris, JAN's executive director and a veteran of GOP politics, told BuzzFeed News she has been frustrated by the lack of urgency and believes Reynolds and Bevin can help.
"Washington," Harris said, "moves at a snail's pace."
JAN on Thursday unveiled two videos — one starring Reynolds, the other starring Bevin — that will be used to promote the organization's agenda in the coming months.
Harris sees Reynolds, the former Iowa lieutenant governor who was elevated to the top job this year after Terry Branstad accepted the China ambassadorship from Trump, as a particularly powerful spokesperson. The Reynolds video includes footage of the governor discussing her battle with alcoholism — she has been sober for 17 years, following arrests for drunk driving — with graduates of a high school equivalency program at a women's prison.
"I've really faced some pretty significant hurdles in my life," Reynolds told the women. "I'm a recovering alcoholic and thankful for every single day of sobriety that I have."
Reynolds will stand for election next year and faces a likely primary challenge in the politically important first-caucus state where the future of Trumpism could play out in 2020. And that makes any signal about what kind of Republican she is — in this case, one who is treating criminal justice policy (and not the way Trump has) as one of her signature issues — worth watching.
She saw the video for the first time Thursday and dabbed her eyes with a tissue after it played.
"Something at that point just hit me," she explained, "and I thought it was so important for me to say, 'I received a second chance too.' I had a family and a community and a strong faith that helped me get through some very difficult times in my life. And if I could do it, they could do it."
Bevin's video showcased his support of a law designed to lift employment hurdles for convicts.
"I certainly don't speak for the White House, or for the president or for the administration," the Kentucky governor said during the panel discussion. "But I will say this: I'm highly encouraged by the degree of conversation that I've had, and I know for a fact based on personal conversations with the president and people on his staff that this is meaningful to him."
Bevin angered some reform advocates early in his term by rescinding his Democratic predecessor's executive order automatically restoring voting rights to nonviolent felons. Bevin said then that he preferred that such issues be addressed by the legislature. Earlier this year, he began ordering restored voting rights on a case-by-case basis, according to the Louisville Courier-Journal. Bevin also has signed a bill allowing for some felony expungements.

In an interview after Thursday's event, Bevin said he believes he and Reynolds can help persuade their Republican colleagues to do more on criminal justice issues.
"History has always turned upon people rising to the occasion, when it is perhaps least palatable," Bevin said. "Those moments, while not obvious at the time — you look through the lens of history, and they are powerful, life-changing moments."
This story has been updated with more information about how Kentucky has handled felon voting.