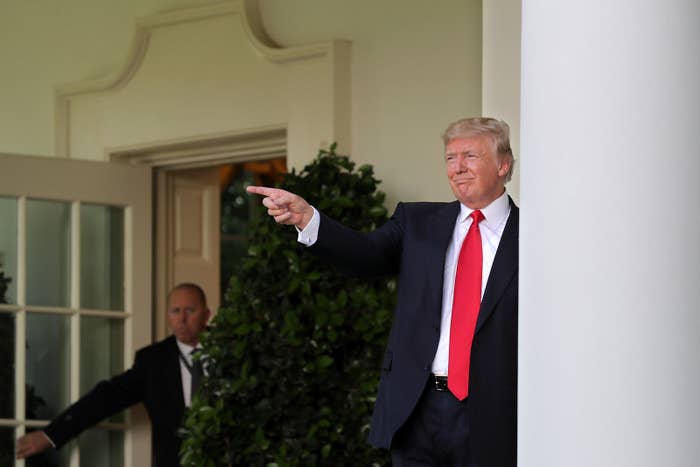 America Rising, a Republican opposition research group with deep ties to the party's mainstream establishment, is fundraising off Donald Trump's victory.

In a fundraising email touting efforts to tear down Democratic Sen. Elizabeth Warren, up for re-election in Massachusetts next year but also viewed as a potential White House contender in 2020, executive director Colin Reed stressed the need to start now.

"That's why in the spring of 2013, my group started going after Hillary Clinton, widely viewed by most Americans as the next president, with opposition research and strategic communications," Reed writes. "Our early planning and research helped hand Hillary Clinton the most surprising political upset of all-time and elect Donald Trump President of the United States."
It's a throwaway line in a fundraising email — but it still illustrates the difficult territory that Republican operatives and groups must navigate with an unpopular president who Republicans still support. And taking any credit for Trump's election — even if in an indirect way — is notable, given America Rising's history.
As a firm that specializes in digging up dirt on Democrats, America Rising traditionally has been candidate-neutral on the GOP side. But it traces its roots to Mitt Romney, the 2012 Republican presidential nominee who was a forceful Trump critic last year. One America Rising co-founder, Matt Rhoades, managed Romney's campaign. Two others, Tim Miller and Joe Pounder, left the group during the 2016 cycle to work for Trump rivals Jeb Bush and Marco Rubio, respectively. Pounder later returned to America Rising. Miller became a leading Republican critic of Trump.
A fourth co-founder, Raj Shah, now works at the White House as a research director and deputy communications director.
America Rising will keep its focus on Democrats, but the fundraising email is one of several moves that show how a group that once had fewer incentives to align with Trump now can't avoid doing so. This is new territory for a Republican group, formed in 2013, that has never co-existed with a Republican president. And Trump's 2020 re-election campaign already is up and running.
"We're very proud of the fact that America Rising spent four years holding Hillary Clinton accountable, helped defeat her, and [that] a Republican was elected president," Pounder told BuzzFeed News in an email. "We fundamentally see Elizabeth Warren the same way we viewed Clinton: The leader of the Democrats who needs to be stopped. We're not only focused on the 2018 map at America Rising, but also 2020."
An affiliated nonprofit, America Rising Squared, has invested more explicitly in Trump's presidency. That group produced ads and crafted messaging to support several of the Trump's nominees, including Supreme Court Justice Neil Gorsuch, Attorney General Jeff Sessions, Labor Secretary Alexander Acosta, and Education Secretary Betsy DeVos.