Meet The Man Who Quit His Job To Make Vines
Ian Padgham explains how he cracked the new social network. And why he decided to go pro.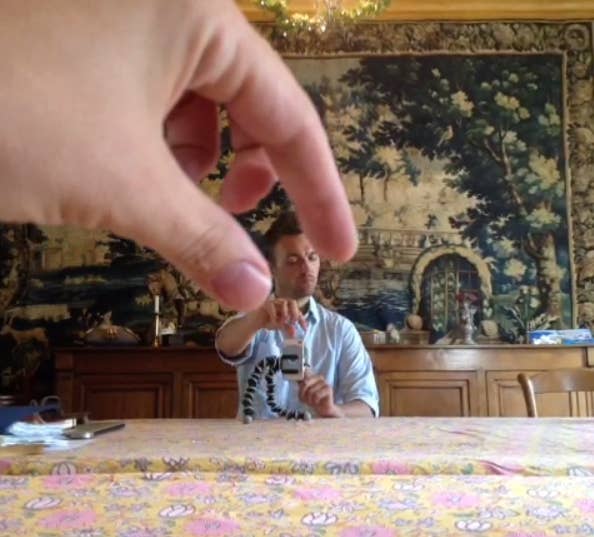 With nearly 300,000 followers, Ian Padgham is one of the most popular non-celebrites on Vine. His daily posts are a mix of silly humor and stop-motion whimsy and have won him a large audience and frequent mentions as a top Vine user to follow. Until last Friday, he was working full-time as an in-house video producer for Twitter but after multiple offers from brands, Padgham has decided to head out on his own to make Vines professionally. BuzzFeed recently spoke to Padgham about the strange appeal of Twitter's still-young video app, his approach to making Vines, and exactly what he's thinking as he prepares to leave his job.
First off, when did you find out about Vine?
Ian Padgham: I found out right as it came out. I think I might have seen it the day before (since I was working at Twitter), but essentially from day one I was up and rolling.

What about Vine clicked for you?
IP: Well, there's a lot of stuff. Certainly the simplicity, not having many options is a bonus. Also, being a full-time video maker, it's delightful to produce a video and post it in a matter of minutes. You don't have to spend days or weeks thinking it over. You just tap the screen, do something fun, and experiment.

So the simplicity is what appealed to you?
IP: Definitely. There's something astounding about the way the human mind works when given limitations. Vine is so simple, it has so few options, but then you see all of the incredibly magical content that people have been able to create with so little. I think it speaks to our creativity and our ability to see less as more, to produce great things out of what looked like nothing.
You got popular on Vine quickly. Did you at some point say to yourself, "I want to crack Vine and get really popular on it"?
IP: Well, I had a couple early comedy videos — one was a staring contest and another was about growing beards — that kind of caught on. It was exciting to see them in articles during the first few weeks of Vine.

It gave me a little bump in followers in the beginning, but then as more celebrities and musicians used the app I was quickly left behind. Will Sasso and Adam Goldberg were doing things and I kind of had this moment where I was like, "Well, I had my six seconds of fame..." and I kind of decided to give up.

So you kind of took it up really quick and then dropped it really quick?
IP: What brought me back to it, of all things, was the guys from RobotChicken came to Twitter for a talk. And someone asked Seth Green and his team, "What's the secret of getting into voice acting in Hollywood?" And the answer was, to summarize, it's not about how good you are or where you're from. Success in life is about hustling, being out there, doing everything you can, and always trying to do whatever comes your way. Never hold yourself back.

And at that point, I don't think I'd done a Vine in a couple weeks. And for whatever reason, it totally struck a chord. So they we're doing a Q&A and asked if anyone had a final question, so I kind of raised my hand and asked them if they'd do a stop-motion Vine with me. And they said sure, so I did a quick stop-motion thing with all the RobotChicken guys, and they all loved it and have since all gotten on Vine.

From that moment, I said, "From here on out, every morning before work, I'm going to give myself 30 minutes to do a quick little Vine." And every day I have to produce something. And that's the moment it all came together. I stopped thinking about being popular or doing something that would go viral. I just thought about the process of just producing. And that's when it took off for me.
As a comparison, I think about these Instagrammers, who were super popular in the beginning and now have hundreds of thousands of followers, and it seems like a new user could never beat them since they were on the ground floor. Did that cross your mind when you were starting to Vine? Being part of the first wave?
IP: There's some truth to [the idea] that being an early adopter gives you a bump. But in the end, it's just a few extra chips at the table. It doesn't mean that you'll automatically hit it big. That's what I love about the whole idea of the hustle: getting out there and creating work. If you just put yourself out there, and keep doing it, even if it doesn't catch on at first, eventually something will hit. It's like you're placing more and more bets.

People looking at Vine or Instagram or any other site, it can be daunting to see people with hundreds of thousands of followers, but I think the nature of the short-term memory span of the internet, everybody's always looking for some new little thing. Everyone's ready to ditch what's popular. So even if you make it to the top, there's no guarantee that people won't just stop caring about you. And if nobody knows about you now, there's so much potential, so if you keep trying, you'll hit something.

When you started doing your Vine a day, did you figure out best practices, like when to post and what posts do well? Were you aiming to get promoted?
IP: I think I tried a couple things and kept thinking I was getting closer to finding something, but it's a mysterious beast. And you constantly realize you don't know what you're doing. There are certain things I thought were going to be huge, that I was posting at exactly the right time, and then it flopped. And then there were others, that since, I told myself, you have to post something every day. I'll force myself to do something really quick, just to post something, and think it's kind of an embarrassing, shitty Vine. But when I check my phone an hour later, it's, like, the most popular Vine I've ever done. It's just a mysterious, mystical creature that I don't comprehend.

I don't have any hacks or anything. It's like going fishing. You just hope something bites.

What's an example of a video you thought would do really well and didn't?
IP: Well, the longest time I ever spent making a Vine — two weeks — making this thing about Eadward Muybridge, who was this California photographer. Being from California, he was such an emblem of short-form [filmmaking], so I wanted to do an homage to him. So I spent like two weeks cutting out these pieces of paper of donkeys kicking and elephants running. And all these stills he photographed in Yosemite and made this huge diorama and did this panning motion to bring it to life.

I spent so much time on that, and what ended up happening was they made it an editor's pick, which bumped it up — but initially, it was this total flop. I thought it was going to put me on the front of The New York Times, but no one really cared. I guess it's not a matter of effort or time.
How about one that you didn't think would do well?
IP: I spent a bunch of time working on this tightrope-walking piece with the woodman figure I use. And I'd almost finished the Vine, but then the app crashed on me and I was like, Fuck. But I had to post something and I had no ideas, and I had five minutes left before I had to leave for work. And so, I was sitting on my balcony, looking over the street down below. And I decided to just do something silly and I'll act like my hand is moving cars going by. I did it in a minute and half. And that thing went viral and it got thousands of likes — obviously I don't know the audience at all, because it was one of the more popular things I ever did.

And that's almost become, like, a meme within Vine. Lots of people are using that format.
IP: Totally, but I can in no way claim having invented that. Every time I do something, someone comments like, "Ah, you stole my idea. I did this two weeks ago." And, it's like, nobody does anything original, even if you think you had the idea.

Are you still looking around at what other people are doing on Vine for inspiration?
IP: Totally. The new thing right now is a lot of people are experimenting with doing stuff with fast cuts. They'll throw a T-shirt and will cut as it's in the air. And then cut back then magically appear behind the T-shirt. And I've done some stuff like that. I think the other thing that's really cool about Vine is that every week, there's a new style coming out. So I try to look at that and appreciate it and think about what I could do to add to it and make it my own. It's almost like a giant collaborative community of incredibly imaginative and fun people. Which is awesome.
What's your interaction like with the rest of the community?
IP: I try to comment on the people who comment on my videos. I feel like I've kind of been an outsider, because when I was still working at Twitter, I didn't want to do anything that was any sort of conflict. But now I'm really trying to dive into the community.

So now you've left your job to focus on making Vines?
IP: We're in this moment where Vine is really catching on and there were opportunities coming up to make some stuff [for brands and advertisers], so I wanted to take a risk. I'd never done a small business and I think, as an American, you owe it to yourself to do a small business at some point, and I decided to create a little business and make some Vines for companies and see what I can do.

I'm also gonna do a bunch more stuff on my own time. I didn't want to be down the road and wonder what could have been. So, I'm on day two of unemployment and am waiting to see what happens with the whole independent filmmaker thing. I'm excited and scared, and hopefully it will be awesome.