A Russian hacker linked to a network of Twitter bots told BuzzFeed News he and 30 other people in Russia have been promoting messages favorable to the German far right party, AfD, during the current election.
The man, who identified himself only as Alexander, told BuzzFeed News the tweets were sent "for free (mutually beneficial)." He declined to expand on what the mutual benefits were, and wouldn't say if someone asked him to help the AfD.
"I don't hand out this information," he said in a conversation conducted over Russian social network VK.
Alexander also did not comment on whether the AfD itself was in touch with him. The party did not respond to detailed questions from BuzzFeed News.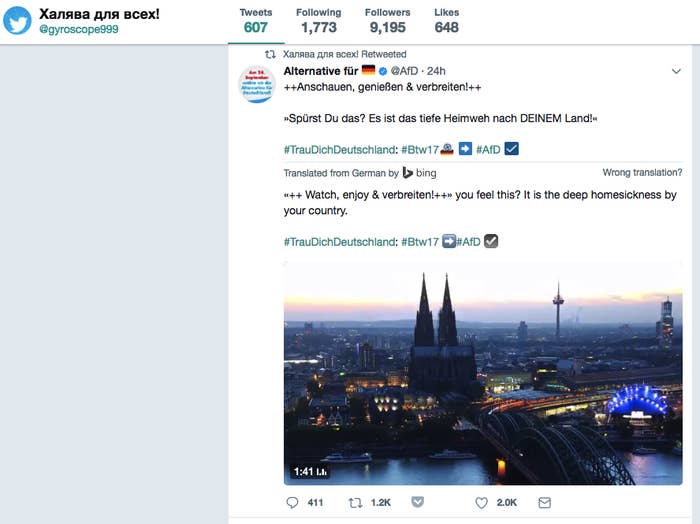 The botnet responsible for pro-AfD messages was first discovered by Fearless Democracy, an organization that tracks how extremists and others affect democratic discourse. It analyzed bot activity on Twitter to isolate a handful of accounts it believed could be responsible. Two of those accounts were @gyroscope999 and @adjust_ps. BuzzFeed News contacted a handful of bots on Twitter as well as on related accounts on VK and Facebook to try and get a response. One account led to a fake VK profile that had had frequent interactions with a VK account that turned out to be Alexander's. We sent a message to his account and he responded.
"We noticed that you tweet and re-Tweet pro-AfD information," BuzzFeed News said.
"Yes, what's wrong with that?" Alexander responded in Russian over VK chat.
We used the false identity of "Jenny" for the conversation, but we identified ourselves as BuzzFeed Germany in the first message to Alexander and explicitly told him our questions were for publication.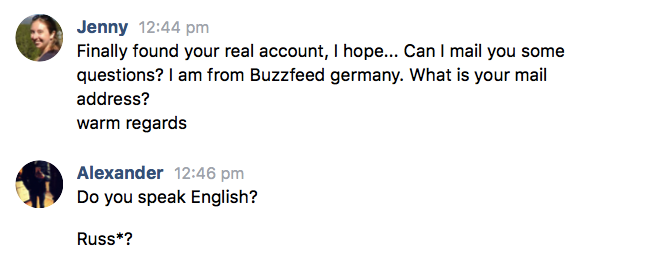 Over the next several hours he discussed the price of using his botnet to get an AfD hashtag to be a top trend on German Twitter. Alexander said he is based in Nizhny Novgorod, Russia, and that his "marketing" company includes 30 other people based in different parts of the country.
At first Alexander offered to sell 15,000 pro-AfD posts and retweets for 2,000 euros. Later in the conversation, BuzzFeed News praised AfD and asked whether we could get a discount on the services since the other pro-AfD tweets were sent for free. We asked for 50% off, which Alexander agreed to.
The discounted package included 15,000 pro-AfD tweets and retweets that he said were guaranteed to make a pro-AfD hashtag trend. Alexander promised that the messages would come from at least 25% "high-quality" bots that would not be so easily identified as fake accounts. To make a pro-AfD hashtag trend, Alexander estimated he would need to send 80 tweets per minute with the hashtag. Once the order was placed he said the bots would begin pumping out the messages within an hour.
When BuzzFeed News asked whether Alexander could use the @gyroscope999 account, which was used to find him, he said he will take into account the request. "We will use the maximum of our available accounts and take into account the one you linked to earlier," he said.
We also asked Alexander to use the other account identified in the Fearless Democracy research, @adjust_ps, and he agreed. This, and the way BuzzFeed News was able to track Alexander via the bots, connects him to the botnet. (BuzzFeed News did not complete the purchase of pro-AfD tweets.)
Ben Nimmo, who investigates Twitter bots at the DFRLab, says bots have largely been amplifying non-official pro-AfD accounts during the current campaign. He speculated that the "mutual benefit" Alexander referred to "could therefore be that [the client] advertises the botnet's services among users for other campaigns, but it's not clear from the context."
Nimmo said he was skeptical that a hashtag push from Alexander's botnet would result in a trending topic that influenced the overall conversation on Twitter.
"My experience of other elections, especially the French one, is that it's relatively easy to make a hashtag trend, but harder to turn it into an organic trend," Nimmo said. "The challenge is not to get into the Trending list, but to get other users from outside the far-right bubble to start using the same hashtag. Very few bot actions manage that."
Nimmo also felt Alexander was overcharging, even with the discount. Cheap botnets can be bought for $100, as reporting by the Daily Beast showed. Perhaps the high cost of BuzzFeed News's order was related to the "high-quality" he claimed for some of his bots. They would have a reach of 2,500-3,000 people, according to Alexander's claims.
Alexander said he accepts different forms of payment, but his preferred method was through Russian payment provider QiWi. He sent a Russian phone number, with a Nizhny Novgorod area code, and asked to forward him a receipt. (BuzzFeed News further confirmed his location by tracking his IP address to the same Russian city.) Alexander offered a 13% referral bonus for future orders with our order number.
We were able to find Alexander by analyzing common followers and other shared details between @adjust_ps and @gyroscope999. Using a mix of tools to cross-reference email addresses linked to Twitter and Skype accounts, we managed to locate Alexander. The Skype username he provided to BuzzFeed News is listed on his VK account.
Searching for his Skype username on Google, which is used for business needs, shows Alexander's bot farm doesn't only focus on AfD. The tweets include car advertisements, propaganda against Russian opposition politician Alexei Navalny, and escort services in Dubai. He also says he creates cheat codes for any game, including Counter Strike and World of Warcraft.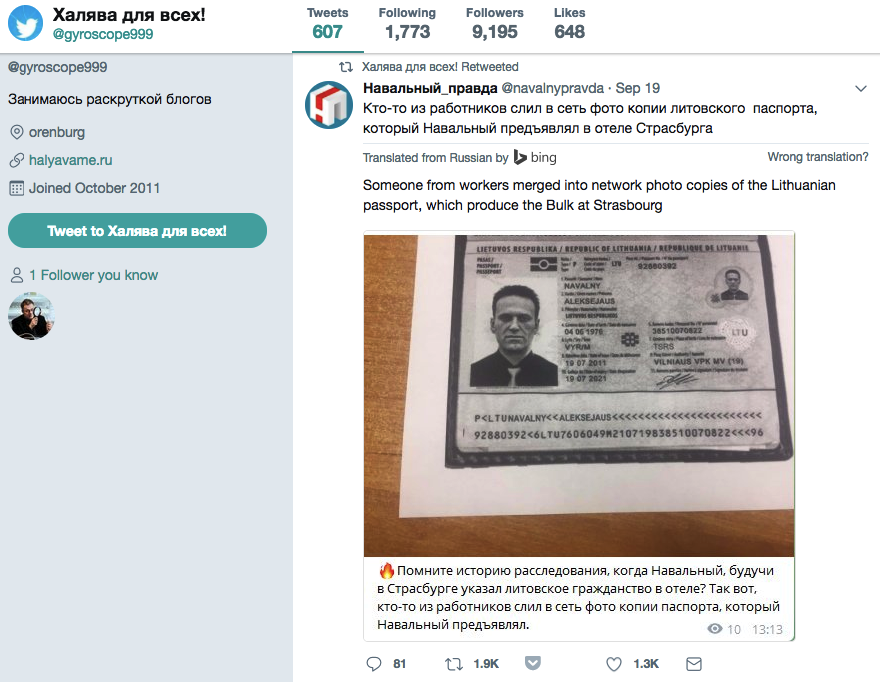 Angela Merkel's CDU party is widely expected track to form a government as a result of today's election, but some expect the AfD to win its first seat in the German parliament.

Henk van Ess is a Dutch researcher and trainer specializing in social media and data journalism. His work has appeared in BBC, PBS and GIJN and he works for the online research start-up Bellingcat. You can follow Henk on Twitter.