This is Part One of a BuzzFeed News investigation.
Part Two: From Russia With Blood
Part Three: The Man Who Knew Too Much
Part Four: The Secrets Of The Spy In The Bag
Part Five: Everyone Thinks He Was Whacked
Part Six: Holes In The Investigation
Part Seven: Christopher Steele's Other Report
The British government is suppressing explosive intelligence that Alexander Perepilichnyy, a financier who exposed a vast financial crime by Russian government officials, was likely assassinated on the direct orders of Vladimir Putin.

Perepilichnyy, who faced repeated threats after fleeing to Britain, was found dead outside his home in Surrey after returning from a mysterious trip to Paris in 2012. Despite an expert detecting signs of a fatal plant poison in his stomach, the British police have insisted there was no evidence of foul play, and Theresa May's government has invoked national security powers to withhold evidence from the inquest into his cause of death – which is ongoing.
But an investigation by BuzzFeed News has now obtained fresh evidence that the authorities have deliberately sidelined, and has uncovered how Perepilichnyy spent his last days in Paris. Secret documents and interviews with more than a dozen current and former intelligence and law enforcement officials in the US, France, and the UK reveal:
US spies said they have passed MI6 high-grade intelligence indicating that Perepilichnyy was likely "assassinated on direct orders from Putin or people close to him" and lambasted the British police for their "botched" investigation.

A highly classified report on Russian state assassinations compiled for the US Congress by the Office of the Director of National Intelligence last year asserts with "high confidence" that Perepilichnyy's murder was sanctioned by Putin, Russia's president.

French police are treating the financier's death as a suspected organised assassination – but say they have been repeatedly stonewalled by their British counterparts.

Perepilichnyy travelled to Paris before his death for a secret assignation with a 22-year-old Ukrainian woman named Elmira Medynska, who gave an exclusive interview to BuzzFeed News, but who British and French police never spoke to.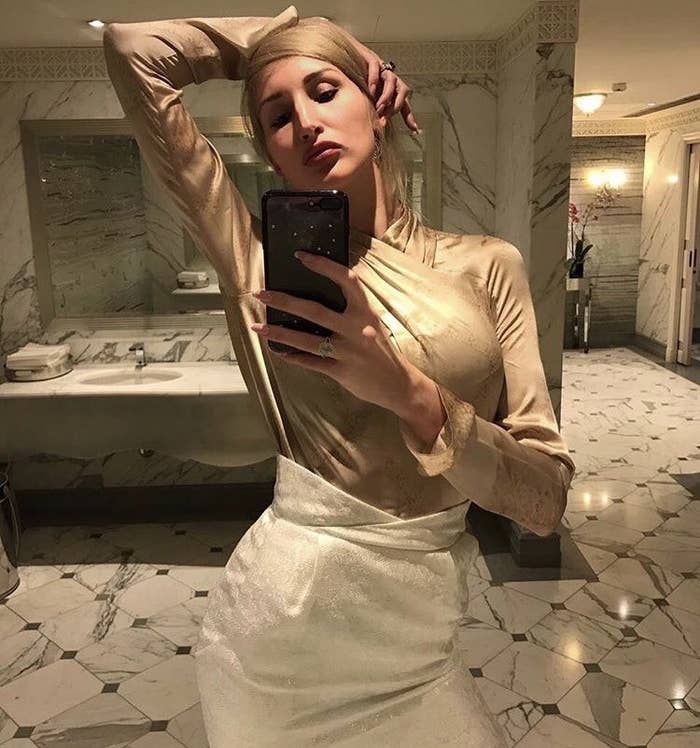 The British government refused to comment on the revelations before Perepilichnyy's inquest – a judicial inquiry to establish his cause of death – reaches a verdict, and the Russian embassy in London did not respond to questions from BuzzFeed News. But Theresa May is now likely to face urgent questions about her role in suppressing evidence said to point to a Russian assassination on British soil amid mounting international concern that the Kremlin is brazenly interfering in the West. The prime minister directed the government's successful bid to withhold documents from Perepilichnyy's inquest on national security grounds, and as home secretary her department oversaw the police force that concluded the whistleblower's death was not suspicious.
Former MI6, counterterror, and police officials expressed disbelief at the refusal by the British authorities to countenance a full murder investigation into Perepilichnyy's death. "It's so obvious that it's an assassination," said Chris Phillips, the former head of Britain's National Counter Terrorism Security Office. "There's no way it wasn't a hit. It's ridiculous." A former Scotland Yard commander said the police position was "very worrying". And at the inquest last week, the most senior officer at the scene of Perepilichnyy's death, who has since retired, contradicted the official police line and said he now believes the "the death is suspicious".
Across the Atlantic, five current high-ranking US intelligence officials have warned that Britain is failing to get to grips with the increased threat from an emboldened Russia – and three of them have taken the extraordinary step of chastising British law enforcement. "The Kremlin has aggressively stepped up its efforts to eliminate and silence its enemies abroad over the past couple of years – particularly in Britain," one senior US spy told BuzzFeed News. A second serving intelligence official said the "incompetent" British police "should have to answer for their actions and be held accountable" for shutting down any investigation into Perepilichnyy's death.
"We strongly believe that Perepilichnyy was assassinated on direct orders from Putin or people close to him."
– Senior US intelligence official
BuzzFeed News has confirmed that British spy agencies secretly received intelligence from the US that connected Perepilichnyy's death to the Kremlin. But MI6 officers who agreed with that conclusion were apparently silenced, a third serving US intelligence official said, because "their efforts to publicly declare that Perepilichnyy was assassinated on British soil had deeper political implications".
US and UK officials said the British government was anxious not to inflame diplomatic tensions with Russia. The decision to charge two Russian secret service hitmen with the radioactive poisoning of KGB defector Alexander Litvinenko in London in 2006 caused a 10-year standoff with the Kremlin. Several officials said the British government was particularly keen to preserve the flow of Russian money into London banks and properties.
Concerned about Russia's increasingly bold moves in the West, the US Congress asked America's top intelligence official to prepare a highly classified report "on the use of political assassinations as a form of statecraft by the Russian Federation" since Putin's rise to power, which was submitted last year. Two US intelligence officials told BuzzFeed News that the report, produced by the Office of the Director of National Intelligence with assistance from the CIA and NSA, asserts with "high confidence" that Perepilichnyy was assassinated on Kremlin orders. Citing "classification constraints", an ODNI spokesperson said the agency had "no comment beyond confirming that we prepared the report for Congress", and a CIA spokesman declined to comment on intelligence matters.
In France, authorities have designated the case a suspected organised assassination, BuzzFeed News can reveal. French police have tried to investigate whether Perepilichnyy was poisoned during his visit to Paris, but four senior French law enforcement officials said British authorities had repeatedly frustrated those efforts.
The French officials said the British had failed to hand over any evidence, insisting Perepilichnyy's death was not suspicious and telling the Paris police to await the outcome of the inquest – which has been delayed for more than four years. A senior detective on the case told BuzzFeed News it was "strange" that the British were stonewalling any investigation into a death that is "obviously suspicious".
Perepilichnyy collapsed and died while out jogging near his home in the exclusive gated community of St George's Hill in Surrey on November 10, 2012, after returning that morning from Paris. The financier, who was born in Ukraine but made his fortune in Moscow, had been receiving threats since lifting the lid on a $230 million tax fraud by corrupt Russian government officials two years before.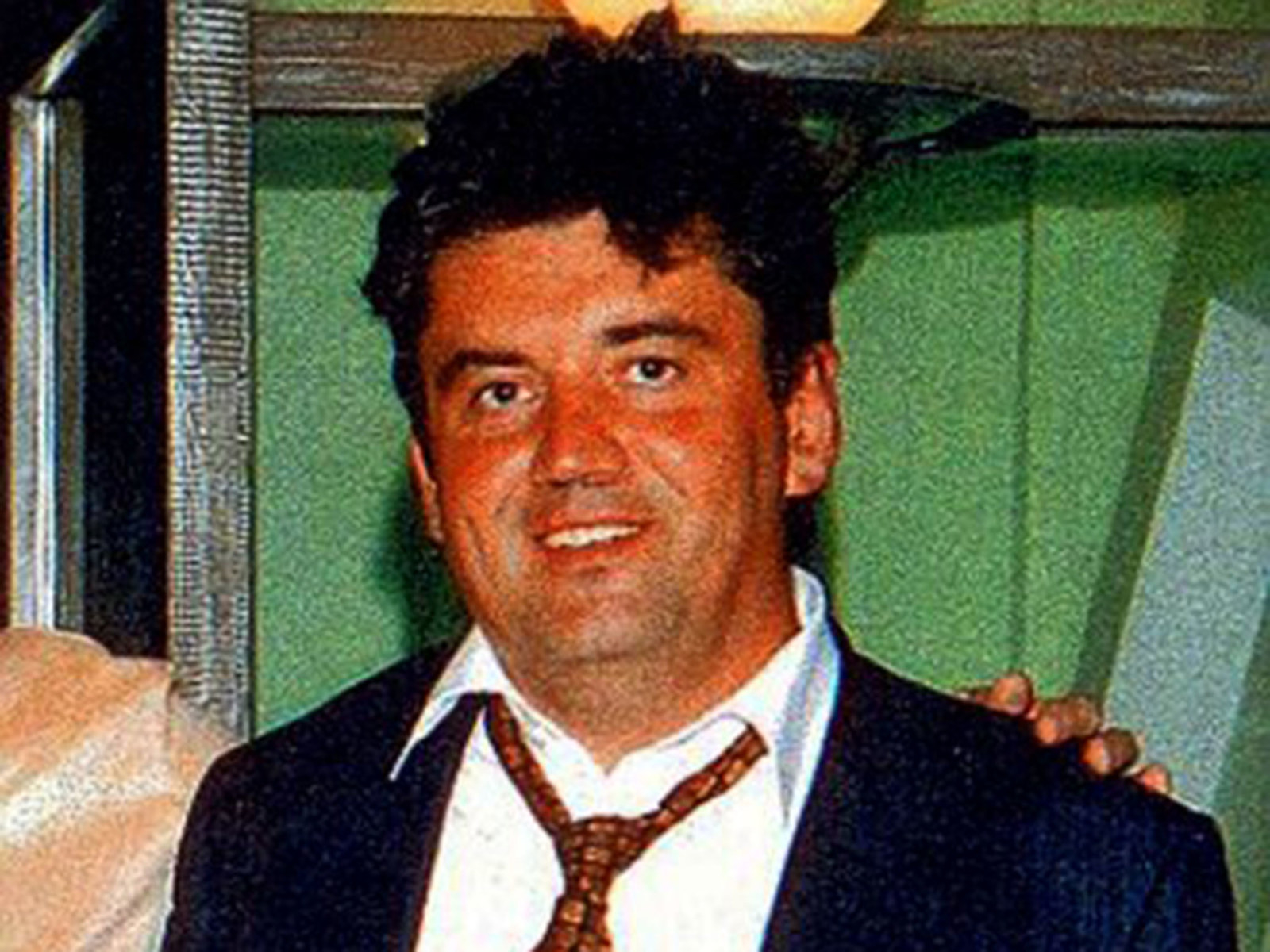 At first, Perepilichnyy had been one of the perpetrators, helping to launder the stolen funds into Swiss bank accounts owned by his mafia-linked government clients. But when a lawyer named Sergei Magnitsky died following months of mistreatment in prison after reporting the fraud, the financier turned against his paymasters. He fled to Britain and blew the whistle in 2010 – handing evidence to Swiss prosecutors and, sources say, becoming a prized asset for Western intelligence agencies investigating the flow of illicit money out of Russia. Perepilichnyy received a stream of threats and learned he was on a Russian mafia hit list.
Medical checks required by a life insurance policy gave him a clean bill of health in 2012. Nevertheless, when his lifeless body was found by the side of the road months later on a drizzly November afternoon, Surrey police concluded that he had died naturally of a heart attack. Officers announced that a "full and detailed range of toxicology tests" had found nothing suspicious in his system and there was "no evidence to suggest that there was any third-party involvement" in his death. The case was closed.
Then, just over two years after the death, came an astonishing revelation. Perepilichnyy's life insurance company had ordered a fresh battery of tests – and its lawyers told the coroner overseeing a preliminary inquest hearing that a plant expert at Kew Gardens had identified traces of a deadly poison in his stomach. The toxin, the expert said, appeared to come from a rare Chinese flowering plant called gelsemium – nicknamed "heartbreak grass" because its leaves trigger cardiac arrest if ingested. The inquest was suspended while further tests were carried out.
The revelation was enough to convince the French to open an investigation of their own into Perepilichnyy's trip to Paris in the four days before his death. Detectives noted in official files that the financier was "clearly threatened with death in Russia" and had told Swiss prosecutors that "he was on a list of future victims of the Russian mafia". The French offered to assist the British. But the UK authorities maintained that the case was unsuspicious – even after the plant expert discovered gelsemium traces – and that no further investigation was necessary ahead of the inquest. Surrey police told BuzzFeed News they were cooperating fully with the coroner who will rule independently on Perepilichnyy's cause of death.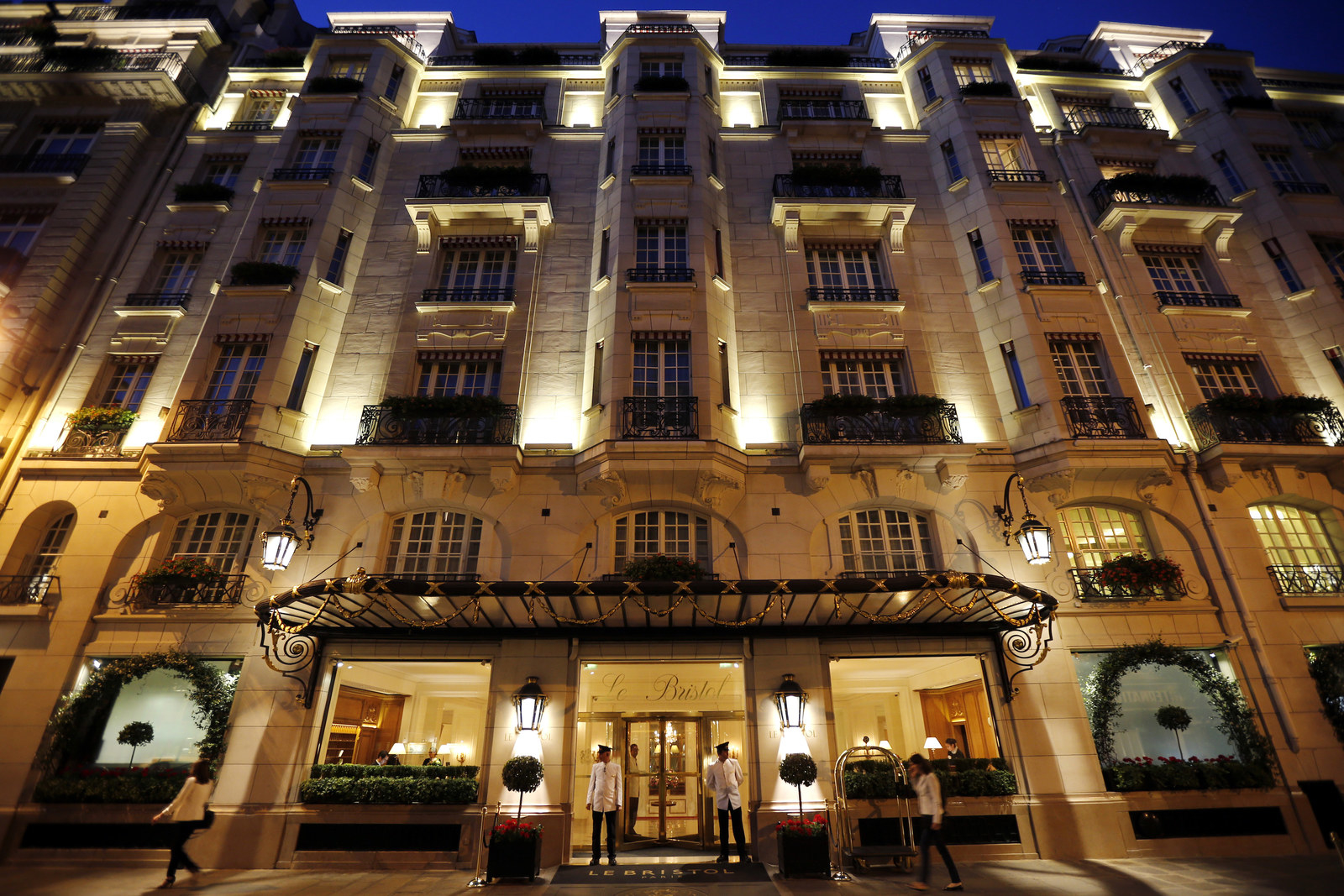 The Paris visit was shrouded in mystery – none of Perepilichnyy's family, friends, or business associates knew what he had been doing in the French capital. The only clues were that the financier had taken a Eurostar train on November 6 and his credit card statements suggest he had booked into two hotels simultaneously. He returned on the 10th with a €1,200 receipt from the Prada store on the Champs-Élysées but nothing to show for the purchase.
BuzzFeed News can now reveal that the French police seized hotel records showing that Perepilichnyy was joined at the five-star Bristol hotel by Elmira Medynska, a young Ukrainian woman who claimed online to have trained as a fashion designer in Moscow. The records show that the pair stayed for two nights, ordering the hotel's "romance pack", and checked out on November 10. It was later that same day that Perepilichnyy died.
French detectives told BuzzFeed News that Medynska had been identified as a "very important" person to their inquiry because "she's one of the last persons to have seen Mr Perepilichnyy alive" – but they said delays to their investigation caused by the lack of British cooperation meant they had not been able to interview her.
Medynska said she has never spoken to any law enforcement official about her encounter with Perepilichnyy. But BuzzFeed News tracked her down to an opulent penthouse apartment on the glitzy Avenue Victor Hugo in Paris and obtained the story of Perepilichnyy's last days in an exclusive interview.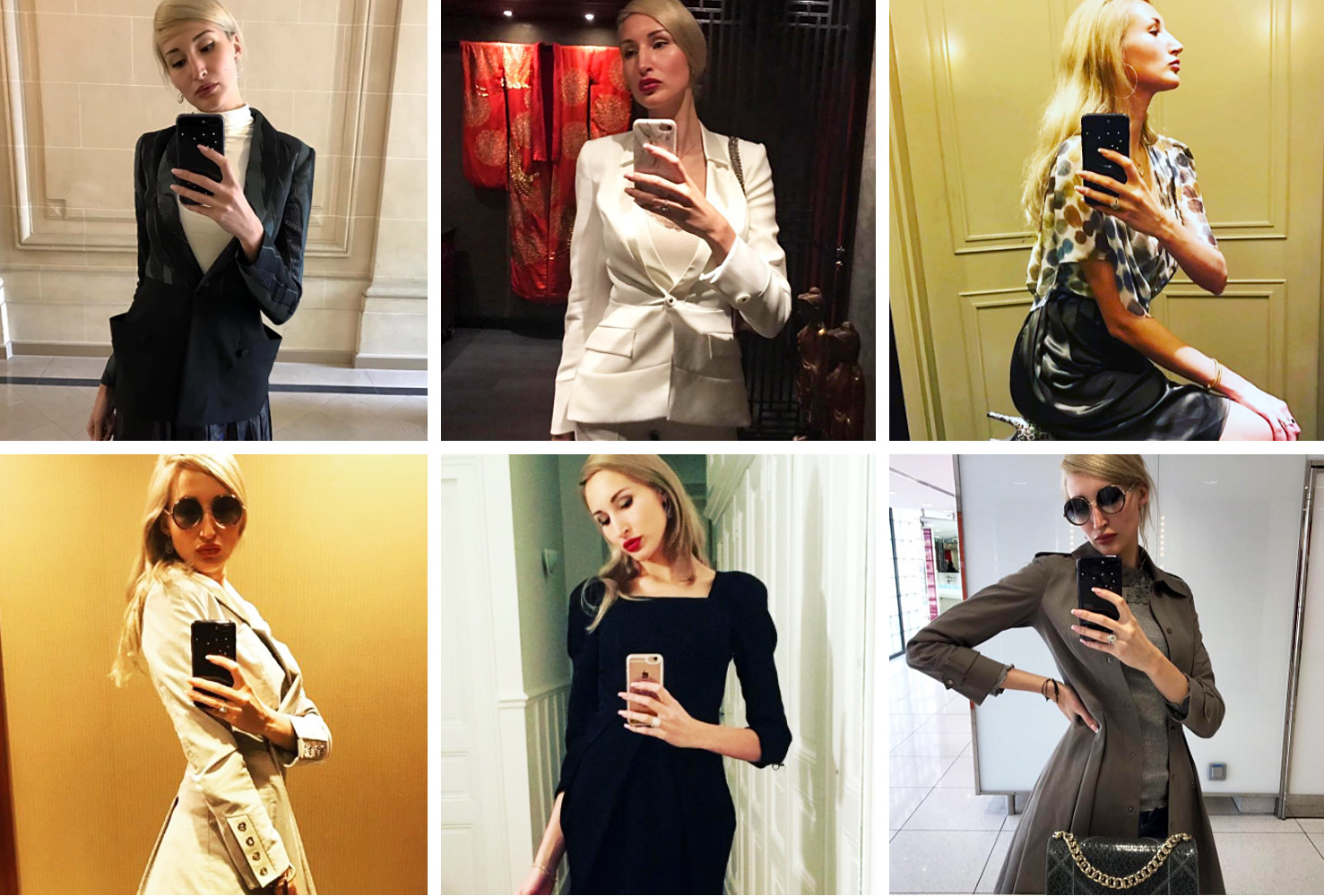 Medynska, now 27, is well over 6 feet tall, with white-blonde hair, sharp-angled features, and penetrating dark eyes. Perched on a chaise in her high-ceilinged apartment, she said she had seen Perepilichnyy only twice before the Paris trip – meeting him first at an exclusive restaurant and nightspot called Leo in the Ukrainian capital of Kiev in 2012, before travelling to join him for a short holiday in Nice on the French Riviera. She was then in her early twenties and had set up her own "haute couture" business in Ukraine. She struggled to remember how they first came to be in contact but said Perepilichnyy, a tall, tousle-haired 44-year-old, may have reached out to her via social media and asked her to meet him in Kiev. He was "very charming", she said, a "nice, intelligent, handsome man" with "gentle eyes" who liked to take her shopping and send her roses.
Medynska travelled from Ukraine to meet Perepilichnyy in Paris on November 8, but said she did not know that by then he had already been in the city for two days. No one, including the French police, has been able to establish what he was doing, where he stayed or who he saw between the 6th and the morning of the 8th. When Medynska arrived, she said the financier took her for lunch at the Four Seasons and then shopping on the Champs-Élysées. The mystery of the Prada receipt can finally be solved: He bought her a handbag from the designer store, as well as a pair of black Louboutin shoes. "He was showing me the Paris," Medynska said, in heavily accented English.
But, she recalled, it was clear that something was wrong. "I was feeling from him that he was very stressed," she said. He kept going outside to take mysterious phone calls that seemed to spook him, she recalled, and she noticed that "his hands were shaking" and he was drinking "lots of wine", which he spilled down his front. While she was trying on shoes, she said, he was "worrying, walking from side to side" – and was so distracted that he bought her Louboutins in the wrong size.
"It happens to Russian people in London. He gave Russian information to Swiss and you can be killed for that."
– Elmira Medynska
Medynska said Perepilichnyy never told her anything about his life, his family, or his work – she had no idea, she said, that he was married or was in trouble with the Russian government. The trip to Paris, she recalled, turned sour because she felt he was trying to buy her affections. "He was expecting if he would buy me some bag I would be happy with that, but in fact I was even angry with him after that," she said. When the pair parted, she said, "He was very upset." After they said goodbye on the morning of the 10th, she sent him "a message apologising for my mood" but never heard back. A week later, she learned that he was dead.
Perepilichnyy returned home on the morning of the 10th and ate a bowl of Russian sorrel soup prepared by his wife and 8-year-old daughter for lunch. Asked about his trip, he told his family Paris had been "really grey, gloomy", his wife recalled at his inquest last week. He took his daughter out to PC World before going for a jog in the late afternoon. Shortly afterwards, his slumped frame was caught by the headlights of a car through the dusk and drizzle as it neared the brow of a steep hill where he had collapsed. The driver leapt out to seek help, and a local chef in full whites rushed to resuscitate him. Perepilichnyy was deathly pale, both men testified to the coroner. He threw up repeatedly into the mouth of the chef who was trying to revive him, and by the time the ambulance arrived, he was "completely non-responsive". He was soon pronounced dead.
Medynska said the news reached her in an email from Perepilichnyy's wife, Tatiana, who called her "bad words". (Tatiana Perepilichnyy did not respond to repeated requests for comment for this story.) When Medynska googled him and read about his background, she said she was not surprised that he had died. "It happens to Russian people in London," she said. "He gave Russian information to Swiss and you can be killed for that."
Medynska said she was unaware that Perepilichnyy may have been poisoned and had no idea how the toxin could have entered his system. But she had a message for the British government about the threat to Russian exiles on its soil. Attracting "big money" from Russia may be "good for economy in Great Britain", she said, but it comes at a dangerous price. In Perepilichnyy's case, she said the authorities should have been asking, "Who is this guy? Where is his money from? Maybe he has some problems?" But, she said, "they didn't think about this before and they didn't do nothing to save him, so now they have only doubts and questions."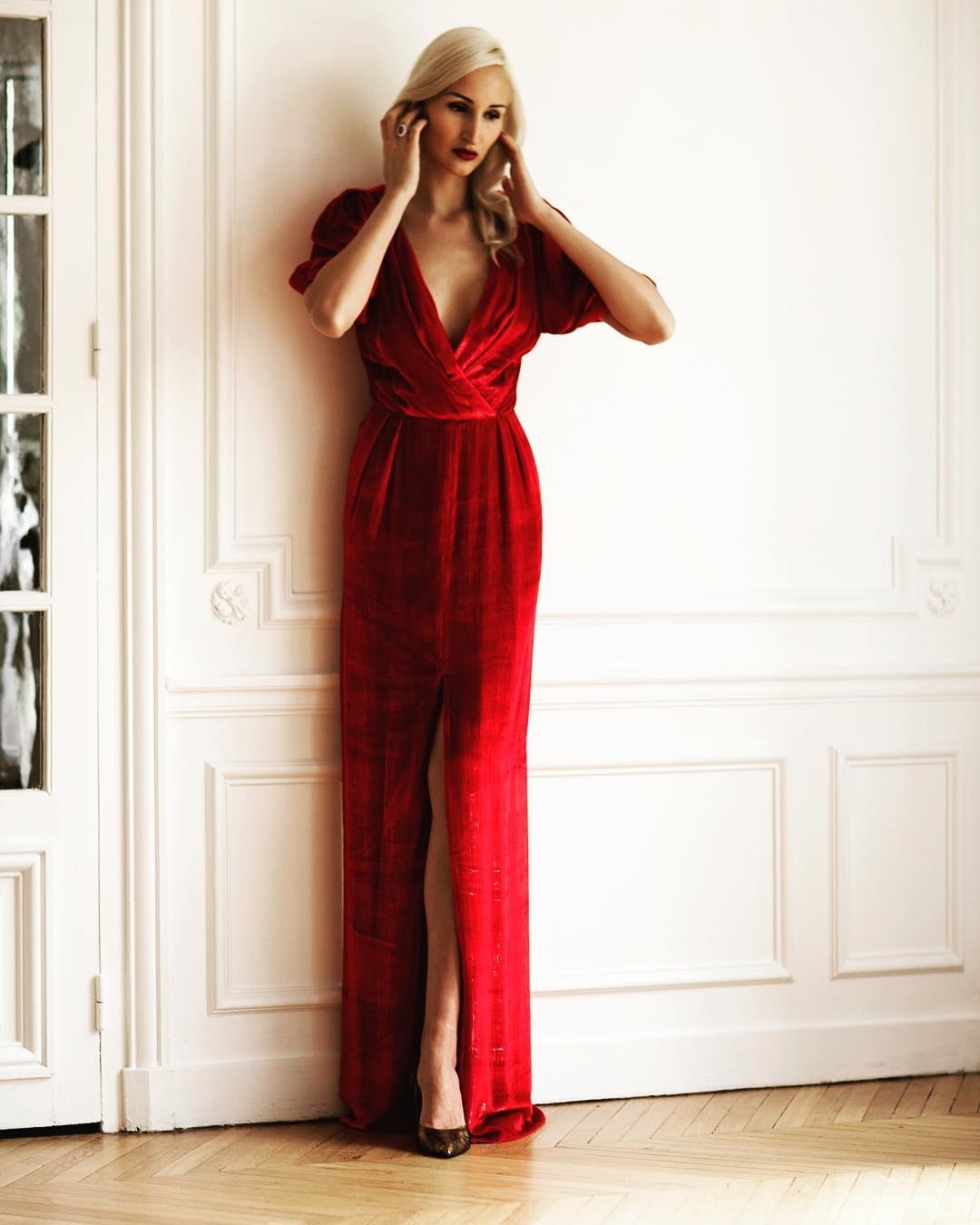 Shortly after Perepilichnyy's death, Medynska set up a fashion business in Paris and rebranded herself Elmira Medins. Her Instagram feed features glamorous selfies snapped at five-star hotels and exclusive restaurants in Paris, Dubai, and Milan. She has held couture shows at the Bristol, where she stayed with Perepilichnyy, and posted photographs at the Four Seasons, where they dined. She said references to her time studying and doing business in Russia on her website were a mistake, and, after BuzzFeed News approached her, they disappeared.
Several months after Perepilichnyy's body was found in Surrey, Medynska said, she received an email from a British investigator, who said her messages had been found on the dead man's phone and asked if she had met him in Paris. She replied that she had, and received a second email asking if she knew four other women with whom Perepilichnyy had been connected. She didn't know the other women, but said she replied, giving her mobile number and offering to travel to England to help with any investigation if the investigator could get her a visa. She said she never heard from him again and that no other authority has ever approached her.
A Surrey police detective told the coroner that police were aware Perepilichnyy had met with a "Ukrainian national" in Paris and said officers had tried to call her "at first", but "that wasn't successful". Instead, he said, "we thought it would be best to email her". No formal interview was conducted, and no statement taken – meaning Perepilichnyy's inquest will hear no evidence from the woman with whom he spent his last two days.

The inquest, which will seek to establish Perepilichnyy's cause of death, opened on June 5 and is set to run for several weeks. It will hear conflicting evidence from the police toxicologist who ruled out poison in the initial postmortem and threw away most of Perepilichnyy's stomach contents, and the independent plant expert who later identified traces of gelsemium in what remained of the sample from the dead man's stomach.
The hearing is being hotly contested by four interested parties. The US financier Bill Browder is investigating the $230 million fraud Perepilichnyy exposed, because the money was stolen from taxes paid by his Moscow-based hedge fund, Hermitage Capital Management. His lawyers argue that the Russian was murdered for blowing the whistle. Representatives of Perepilichnyy's life insurance company, Legal & General, which ordered the tests that detected the gelsemium traces, are also arguing the case for murder. On the opposing side are lawyers for Surrey police, who maintain Perepilichnyy died of natural causes. The detective chief inspector in charge of the case said in a statement to the coroner that the investigation was "perhaps the most rigorous enquiry into a sudden and unexplained death" he had ever seen. BuzzFeed News has learned that the police lawyers intend to rely on evidence from experts who will dispute the gelsemium finding during upcoming hearings.
Perepilichnyy's widow, Tatiana, is also represented, and maintained in her evidence last week that her husband died naturally. In a statement released to the press on the eve of the inquest, her lawyer said she believed "the tragic death of her husband has been overshadowed by stereotypes towards successful Russian businesspeople that have been orchestrated by Legal and General and Hermitage," and accused the two companies of having "tarnished Alexander Perepilichnyy's good name". It said she had never been aware of any threats to her husband's life during their 20 years of marriage and did not believe that he had been poisoned. Hermitage, ​the statement said, had used her husband's death "to promote and advance their wider and long running campaign against President Putin and the Russian authorities" and had done so "with little or no regard to the damaging impact this publicity has had, and continues to have, on her family and their business interests in Russia".
"As to whether this may have been a case of 'look the other way because Russians invest in real estate and in the UK economy', I would just say follow the money. Where did it end up?"
– US intelligence official
The inquest is not expected to hear evidence from the French investigation, nor will it consider the contents of a series of documents that the UK government has sealed on national security grounds. Lawyers for Hermitage applied to the government to supply any information it held concerning any threats to Perepilichnyy's personal safety or third party involvement in his death, or to five individuals connected to the $230 million fraud. But the home secretary, Amber Rudd, successfully argued "that there would be real and significant damage to national security from disclosure" and obtained a High Court secrecy order last November. A security-cleared coroner was then brought in to review the documents and determined that they were not relevant to the cause of Perepilichnyy's death, so the inquest could go ahead without seeing them.
Lawyers for both Hermitage and Legal & General have accused the authorities of a cover-up. Browder has also attacked the British government for failing to investigate the flow of the illicit funds from the $230 million fraud into London banks, and he has alleged that $30 million of the money stolen from Hermitage's taxes ended up in Britain.
US intelligence officials told BuzzFeed News they, too, believed Britain had decided to turn a blind eye. One official said the police had "botched" the investigation, because "they did not immediately suspect foul play, even though Perepilichnyy was high-profile and in the Kremlin's crosshairs". A second official offered a possible explanation for the government's apathy. "As to whether this might have been a case of 'look the other way because Russians invest in real estate and property', I would just say follow the money," he said. "Where did it end up?"
Got a tip? You can email tips@buzzfeed.com. To learn how to reach us securely, go to tips.buzzfeed.com.