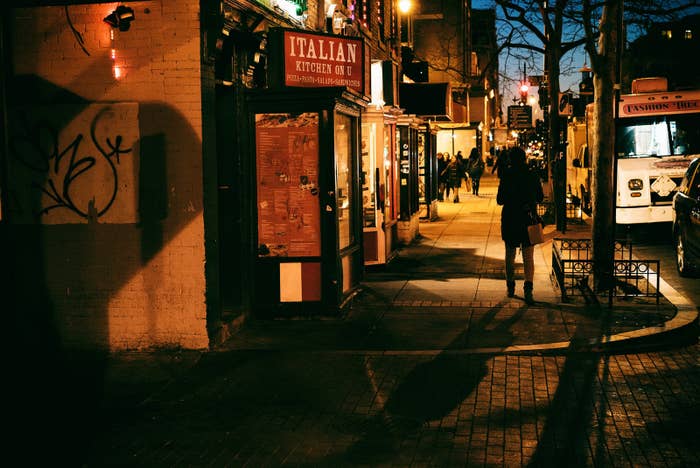 The Gothamist network was summarily executed by its owner on Thursday. Its local news sites, covering cities like Chicago, LA, and Washington, DC, suddenly vanished from the internet, along with everything that hundreds of contributors had written over 13 years — coverage of local art and food and crime and everything else that happens in our neighborhoods.
These sites are some of the earliest artifacts of digital-native media, old-school blogs that turned pro and became a vital part of the local news scene. When I say early, I'm talking pre-Twitter, pre-Facebook, old-timey blogosphere early. (I can actually remember creating a Twitter account for one of these sites in 2007, thinking the whole thing seemed weird...but maybe readers would like it?)
Like Gawker, another pioneer that recently met its demise, Gothamist helped define what it looks like when a news outlet is born on the internet, long before the venture capital and Big Media dollars showed up and created the sites that dominate the web today. Now it's gone, and although the archives of each site came back online on Friday, there's a gaping hole in local media, and nobody knows if anyone else will step in to fill it.
When Rob Goodspeed and Mike Grass partnered up in 2004 to start a DC-based version of the still-new Gothamist New York site, they were building a passenger ship in a sea of rowboats — a staffed-up digital news outlet at a time of one-person Blogspot domains. "Are you on board?" they asked people like me. It pays nothing, but you'll get to write about whatever you love about this city, for other people who love this city.
Hell yes, a lot of us said.
I moved to DC for law school in 2002, but I didn't live in the city until I graduated and moved from up near American University to U Street, into a microhouse sandwiched between a Chinese carryout and the parking lot of a jazz bar called Bohemian Caverns. Nearby 14th Street Northwest was littered with art galleries, and my student-loan-suffering ass discovered they were all free to explore. For months I visited and wrote about them on my personal blog with its 10 readers, until one day I got a message: "Hardly anyone is covering art in this town. You should write for this new site. Let me introduce you to the arts editor."
That's my version of a story many of the early DCist crew will tell you. We were recruited from the kids getting sweaty at every DC9 show, from the epicureans pushing their way into every new restaurant opening long before food blogging was a thing, and from up-and-coming reporters who worked for nobody, chasing cops and politicians and big real estate developers around town simply because the city shifting under our feet — and they wanted to figure out which way it was headed before anyone else.
It was a cranky time in DC history. Decades past its suffering following the 1968 riots, and finally coming out from the 1980s and 90s days as the "murder capital" of the country, the aughts were a time of growing pains, as an influx of residents rapidly changed the city.
And we were all over the story. We covered local news like it was our job — and let me be clear: It wasn't, at least in the early days. None of us were paid early on, and I realize that's not something to brag about anymore. But we all had day jobs and spent our spare time doing what we loved. I wrote about art and photography. I found so many talented photographers who enjoyed having DCist an outlet for their work that we established a community and an annual gallery exhibition. Twelve years later, that photography community grew into its own nonprofit, Exposed DC.
Our music writers stepped into every tiny corner of the scene, and for a time even created a Unbuckled, our own small local music festival. (I know I'm not remotely the only one in this city who faithfully read Amanda Mattos's Weekly Music Agenda to tell me what was cool.) We covered the bad, and reveled in the good.
DCist grew as rapidly as DC did. We gave ourselves a breakneck education in journalism, we mentored one another in editing and assigning stories, in moderating a rowdy community of commenters and figuring out what social media was for. By 2007, the site was successful enough to pay a single full-time editor. In the ensuing years, it was able to add additional employees and start paying its freelance writers — even it it didn't pay them much. For new and longtime residents alike, it became the place to find not just the best tacos but the best detailed voting guide for the next city council election. The site reinvented itself every day as a guide for how to enjoy life here, but also dig in and become part of a community.
Goodbye to all that, thanks to the whim of a billionaire who bought the sites earlier this year and decided to kill them after staff in New York voted to unionize. We've been lamenting the death of alt-weeklies for years, and our own beloved Washington City Paper is currently for sale, again. Those alt-weeklies are an incubator for journalism talent, and places like DCist have been their digital equivalents, raising a whole crop of people who make online news what it is today. Among our early editors-in-chief, Ryan Avent now works at The Economist, Martin Austermuhle is a multimedia reporter for WAMU, and Sommer Mathis recently jumped from The Atlantic's CityLab to helm Atlas Obscura. Missy Frederick runs the local versions of the Eater websites, and Jason Linkins went on to spend 10 years as a political writer for Huffington Post.
Like several contributors, my time at DCist allowed me to change careers — I left my legal career in 2011 to become an editor at the Smithsonian Institution. So many of us dove into this new media landscape without really knowing what we would create. But it's now much easier to see the vacuum that it has left behind.
Heather Goss was the managing editor and arts editor for DCist from 2005 to 2011. She is the departments editor at Air & Space/Smithsonian magazine, and the founder of Exposed DC.