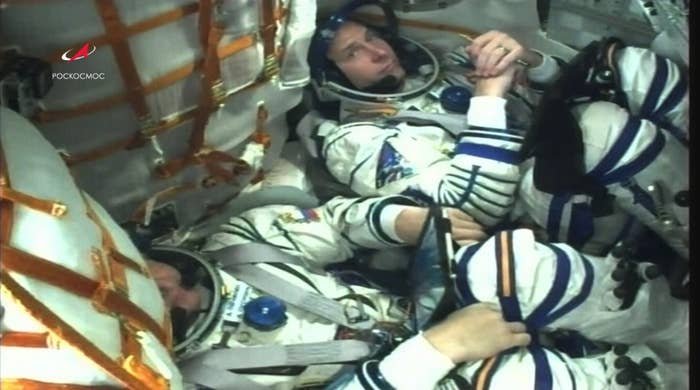 An American astronaut and Russian cosmonaut survived an emergency landing Thursday after a technical failure in their rocket sent them plummeting back to Earth.
NASA's Nick Hague and Alexey Ovchinin, of the Russian space program Roscosmos, were traveling to the International Space Station on the Soyuz MS-10 spacecraft when its booster failed shortly after takeoff, sending it into "ballistic descent mode."
The rocket launched at 4:40 a.m. ET from the Baikonur Cosmodrome in Kazakhstan, but what was due to be a six-hour journey was cut short.

The crew were "shook around" and told control centers they felt "weightlessness," according to Chris Bergin, managing editor of the news website NASASpaceFlight.com.
They are understood to have made an emergency landing around 12 miles east of Jezkazgan, Kazakhstan. Rescue helicopters were sent to the site.

"The Soyuz capsule returned to Earth via a ballistic descent, which is a sharper angle of landing compared to normal," NASA said.
Dmitry Rogozin, general director of Roscosmos, tweeted: "The crew has landed. Everyone is alive."
NASA Administrator Jim Bridenstine said that Hague and Ovchinin are reported to be "in good condition," despite a conflicting report from Russian news agency TASS citing anonymous sources.
Both men will be transported to Russia, Bridenstine said.
Experts fear that while Hague and Ovchinin are safe, the failure of the Soyuz rocket could pose problems for future access to the International Space Station.
Astrophysicist Katherine Mack of North Carolina State University tweeted that the spacecraft is the "only way people get to or from the station."
At a news conference at NASA's Johnson Space Center, NASA's Kenneth Todd said the space agency would cooperate with Russia on an investigation of booster rocket that caused the aborted flight. Asked by BuzzFeed News, Todd said he couldn't say how long the investigation will take, giving ranges of a few weeks to six months after past launch anomalies. The return rocket for the crew currently on the International Space Station "expires," Todd said in early January. That issue could force the evacuation of the orbiting lab if the cause of the botched flight can't be determined quickly.
"This looks like a bump in the road for NASA, but it is too soon to say how big a bump," space policy expert John Logsdon of George Washington University told BuzzFeed News. The aborted flight will put pressure on NASA to hurry commercial efforts to develop astronaut launch rockets by SpaceX and Boeing. "It will be up to NASA to resist that pressure and keep the focus on the safety of the astronauts," Logsdon said.
This is a developing story. Check back for updates and follow BuzzFeed News on Twitter.‏