Donald Trump, the president of the United States, woke up Friday and decided it was time to slam "Alex" Baldwin's impression of him on NBC's Saturday Night Live.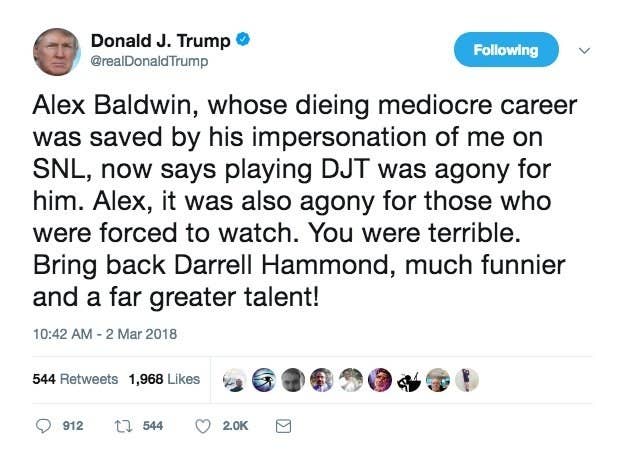 People started wondering who the hell he was talking about. There is an *Alec* Baldwin who plays the president on Saturday Night Live, but who's this Alex?
The Alex gaffe wasn't the only spelling error in the tweet. Trump had also grossly misspelled "dying" as "dieing."

Others were more concerned that he even has time to rant about either Alec Baldwin — or Alex, for that matter — in the wake of one of his few longtime aides resigning and a day after Russian President Vladimir Putin claimed to have unstoppable nuclear weapons.

People were pissed that they'd been woken up for this.

AND THEN. He deleted it.
There was a period of mourning for Alex.
Until 25 minutes later, when a fully spell-checked tweet appeared in its place.
The storm may have passed, but the search for Alex Baldwin continues.