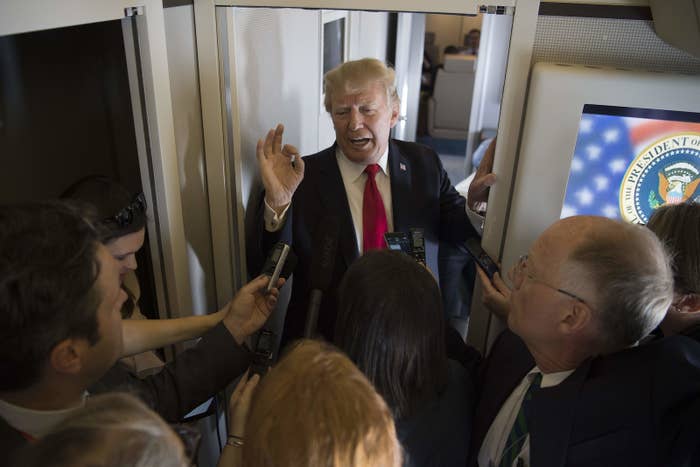 Donald Trump clarified Sunday that even though Russian President Vladimir Putin sincerely believes the Kremlin "didn't meddle" in the 2016 election, he sides with the US intelligence community, which concluded in January that Putin intervened to boost Trump's candidacy.

The president's comments at a joint press conference in Hanoi followed criticisms by Democrats and some Republicans that the president seemed to trust a US adversary over America's intelligence agencies.
"I'm surprised that there's any conflict on this," Trump said. "I'm with our agencies especially as currently constituted."
On Saturday, Trump told reporters on Air Force One that he briefly spoke with Putin on the sidelines of an Asian economic conference in Vietnam, and raised the issue of election interference. Many interpreted Trump's remarks as giving credence to Putin's denials.
"Every time he sees me he says, 'I didn't do that,' and I really believe that when he tells me that, he means it. But he says, 'I didn't do that,'" Trump said.
In January, the US intelligence community, which is made up of 17 agencies, concluded that Russia's campaign to meddle in the 2016 election, denigrate Hillary Clinton, and undermine US democracy was personally orchestrated by Putin.
"We assess Russian President Vladimir Putin ordered an influence campaign in 2016 aimed at the US presidential election," the Office of the Director of National Intelligence wrote.
On Saturday, Trump seemed to cast doubt on that assessment by impugning the integrity of former CIA Director John Brennan, former Intelligence Director James Clapper and former FBI Director Jim Comey.
"Then you hear it's 17 agencies. Well, it's three ... They're political hacks," Trump said. "I mean, you have Brennan, you have Clapper, and you have Comey. Comey is proven now to be a liar and he's proven to be a leaker."
Though all three men served in political appointee positions, they each spent their careers in the intelligence world serving under Republican and Democratic administrations.
Sen. John McCain slammed Trump's comments as "naive."

"There's nothing 'America First' about taking the word of a KGB colonel over that of the American intelligence community," he said in a statement. "Vladimir Putin does not have America's interests at heart. To believe otherwise is not only naive but also places our national security at risk."
Although the US intelligence community has not changed its assessment of what happened during the 2016 election, Trump suggested that it is now more trustworthy under its current leadership. "As currently led by fine people, I believe very much in our intelligence agencies," he said.
During the economic summit, a major part of his almost two-week tour of Asia, Trump said he had "two or three very short conversations" with Putin which were mainly focused on Syria. The two adversaries issued a joint statement on Saturday expressing support for a political solution to the war in Syria and the establishment of safe zones in southwest Syria.
Trump's comments come less than two weeks after the Justice Department's probe into Russian interference in the election led to the indictment of three former Trump aides, including former campaign chairman Paul Manafort, his deputy Rick Gates, and former foreign policy adviser George Papadopoulos.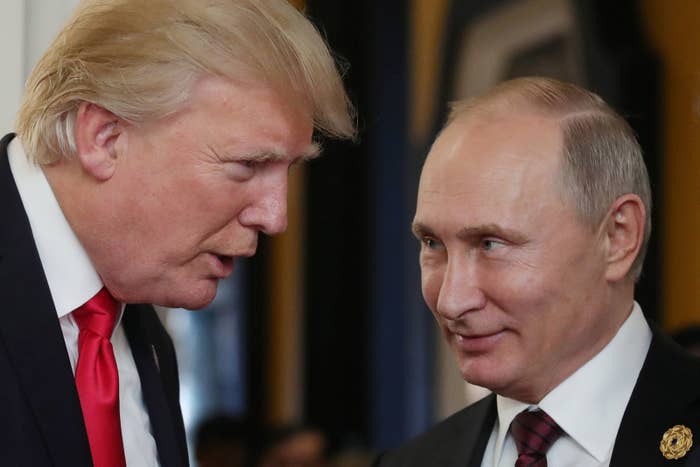 In further comments to journalists on Saturday, Trump said that he couldn't "stand there and argue" with Putin, and stressed the importance of Russian support at a time when North Korea is a growing nuclear threat.
"If we had a relationship with Russia, that would be a good thing. In fact it would be a great thing, not a bad thing, because he could really help us on North Korea," he said. "You know you are talking about millions and millions of lives. This isn't baby stuff, this is the real deal. And if Russia helped us in addition to China, that problem would go away a lot faster."
Trump admitted that he "would rather have him get out of Syria," despite also referring to a joint statement from the US and Russia which the two countries committed to a united effort to defeat ISIS there. The statement appeared on the Kremlin's website early this morning, and was later published by the White House.