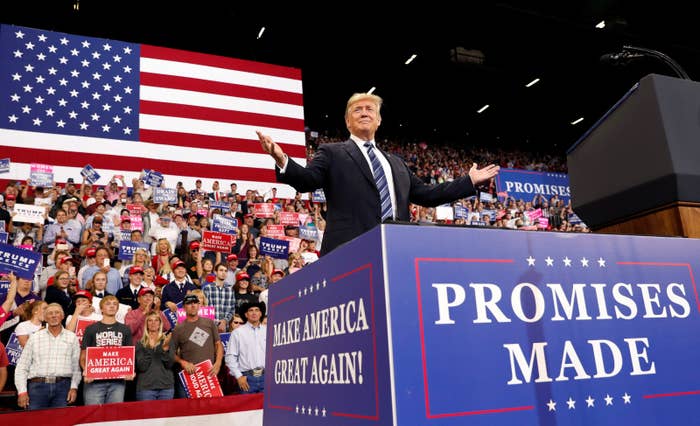 President Donald Trump criticized Nike's ad campaign featuring former NFL quarterback Colin Kaepernick, whose decision to kneel during the national anthem sparked both outcry and admiration across the country.
Trump's criticism was relatively tame when compared to his past comments on the kneeling controversy that he himself largely created and stoked.
In an interview with Fox & Friends' Pete Hegseth, conducted Thursday night in front of supporters at a rally in Billings, Montana, and aired on Friday morning, Trump knocked Nike's 30th-anniversary campaign.

"I don't like what Nike did. I don't think it's appropriate what they did. I honor the flag. I honor our national anthem and most of the people in this country feel the same way. They feel the same way."
When asked who would win the "cultural showdown," the president responded: "We are. We are going to win."
The players who do kneel, hold up fists, or take up other signs of protest are advocating for racial and social equality.

"Honestly, I don't know what the NFL is doing. From what I understand it's in contracts that you have to stand for the national anthem. In fact, they have something where it says you will stand, you will have the helmet on the ground, and the hand on the heart. That's what it says. I don't know why they're not enforcing it."
He was apparently referring to a decision announced by the NFL in May to introduce penalties for players who followed Kaepernick's lead, stating that any who wanted to kneel could do so "in the locker room." But the players union filed a grievance, and now that rule is on hold.
"I think that's worse than kneeling in a certain way — you're going back in. That shows that you just have no respect for the anthem and the flag," he said.

As segments of the interview aired on Fox News Friday morning, the president doubled down on his comments in a tweet.
Nike's decision to feature the former San Francisco 49ers quarterback prompted some football fans to boycott the brand, while some even burned and cut up their branded belongings in protest.