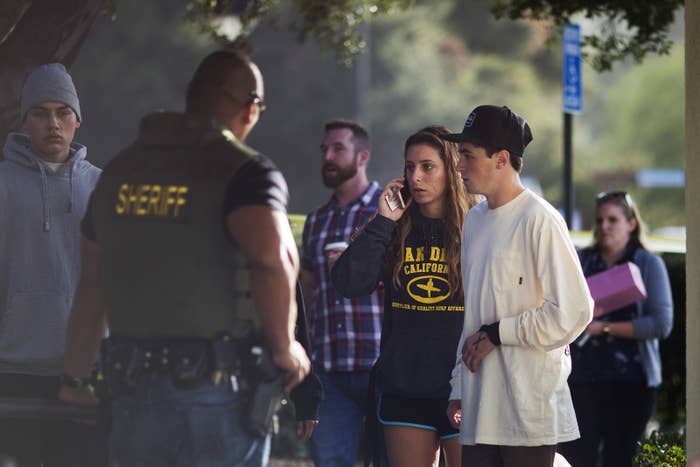 THOUSAND OAKS, California — At least 12 people were killed Wednesday night, including a sheriff's deputy, when a gunman opened fire inside a Southern California bar filled with college students, authorities said.

Authorities were first alerted to the shooting at the Borderline Bar & Grill in Thousand Oaks at 11:20 p.m. local time. The first deputy to arrive on the scene, Ventura County sheriff's Sgt. Ron Helus, a 29-year law enforcement veteran, was shot and killed upon entering the building.
Eleven others inside the bar were killed, Ventura County Sheriff Geoff Dean said. The suspect was found dead inside of an office adjacent to the entrance of the bar.
Between 10 and 15 additional people were injured in the shooting and transported to hospitals, he said.

"There were multiple other victims of different levels of injury at the scene who were taken to local hospitals," Dean told reporters.
Helus, who had been due to retire next year, died in a hospital early Thursday, Dean said.
The shooter has been identified as Ian David Long, a 28-year-old Marine veteran. He used a Glock 21 .45-caliber handgun, which is designed to hold 10 rounds and an additional one in the chamber, according to Dean. Though it is unclear how many rounds were actually in the weapon at the time of the incident, the sheriff confirmed that the gun did have an extended magazine on it. Dean confirmed that the weapon had been purchased legally.
Dean said that law enforcement has had several interactions with the gunman over the years; he was involved in a minor traffic collision and had been a victim of a battery at a bar. Earlier this year, deputies were called to his home for a disturbance.
"He was somewhat irate, acting a little irrationally," Dean said. He added that the department's crisis intervention team and mental health specialists met with the gunman and later cleared him.
Dean said that deputies exchanged gunfire with the gunman, which was when Helus was fatally shot but that they believe that the shooter later killed himself. He was found dead in an office when deputies reentered the building.
Authorities are still investigating a motive. Paul Delacourt, assistant director in charge of the FBI's Los Angeles office, told reporters Thursday afternoon that they believed the gunman acted alone.
"At this point, we do not have any indicators of other associates or there are no other threats to the Los Angeles area," Delacourt said.

President Trump responded to the news in a tweet Thursday saying that he'd been "fully briefed on the terrible shooting in California." He also commended the "great bravery" of the police and sent his sympathies to the victims and families.

The US Marines released a statement saying that it "extends its deepest condolences to the families of the victims in this senseless tragedy."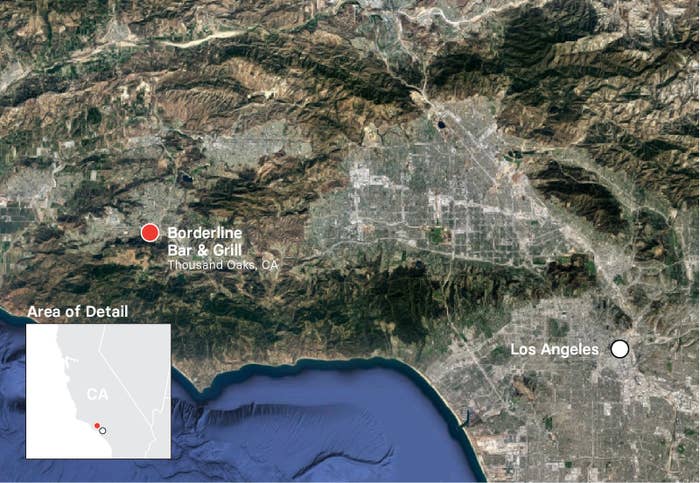 When the gunfire broke out, bargoers fled to safety using fire escapes, backdoors, even breaking windows to flee the chaos inside. Sheriff Dean said that people also hid in the attic and inside the bathrooms.
"Unfortunately, our young people or people at nightclubs have learned that this may happen and they think about that. Fortunately, it probably saved a lot of lives that they fled the scene so rapidly," Dean said.
The bar, which claims to have the "biggest dance floor in town," was holding its weekly country music–themed night for students 18 and over on Wednesday, according to its website. Students from nearby California Lutheran University, Pepperdine University, and California State University, Channel Islands, were in attendance.

In a statement, the bar's owners said they were sending their love, prayer and condolences to everyone affected by the shooting.
"Thousand Oaks is more than the community we do business in but rather our brothers, sisters, dads, mommas, friends, family and neighbors. We love you and together we will stand strong. #BorderlineStrong," a message on the bar's Facebook page read.
A fund for the victims has been set up through the local Rotary Club and GoFundMe.
Pepperdine University confirmed that several of its students were at the bar at the time of the shooting and that the school is working with the authorities to determine if any of its students are among the injured. In a statement sent to BuzzFeed News the school said it was "deeply shocked and saddened by the tragic events that unfolded last night at the Borderline Bar and Grill in Thousand Oaks."
Cal Lutheran also confirmed that some of its students were present at the time of the shooting.
"The Cal Lutheran community is grieving over what happened last night," the school said in a statement sent to BuzzFeed News.
Classes were canceled Thursday and the school said it was making available counseling, pastoral, and student affairs staff, as well as bringing in additional recourses to help students.

Cole Knapp, 19, a second-year student at Moorpark College who lives in Newbury Park, told BuzzFeed News that he was about 30 feet from the bar's front desk when the shooting began.
Knapp said he saw a man dressed in a black hoodie and beanie enter and walk up to the front desk and begin firing at an employee behind it.

"Next thing I knew he had a gun pointed at the lady at the front and he pulled the trigger three or four times," he said. "He continued shooting more people."

Knapp said he heard about 30 shots in total, and fled with others to an outdoor patio, hopping over a fence into the parking lot. He spotted a police officer who had pulled a driver over nearby.

"I just screamed at him, 'There's a shooter! There's a shooter!' and he went flying in there," Knapp said.
An eyewitness told KABC-TV that people inside the bar were young.

"They were just young people, like 18, 19, 20, just having a great time, then this maniac came in and started shooting people for no reason at all. These people have never hurt anybody in their lives. They're kids, they're just kids, I'm so sorry," he said.
"It was constant, until he changed clips, and then there was a pause. … Then he kept on going. ... He kept on popping 'em off and I waited for my son, he didn't follow me like I asked him to, so I was running back to get him. ... I just got him out of there. She would have never forgiven me if he would have got hurt or died."

Multiple witnesses described the weapon used in the massacre as a semiautomatic handgun. Footage showed people running across the street to escape the chaos.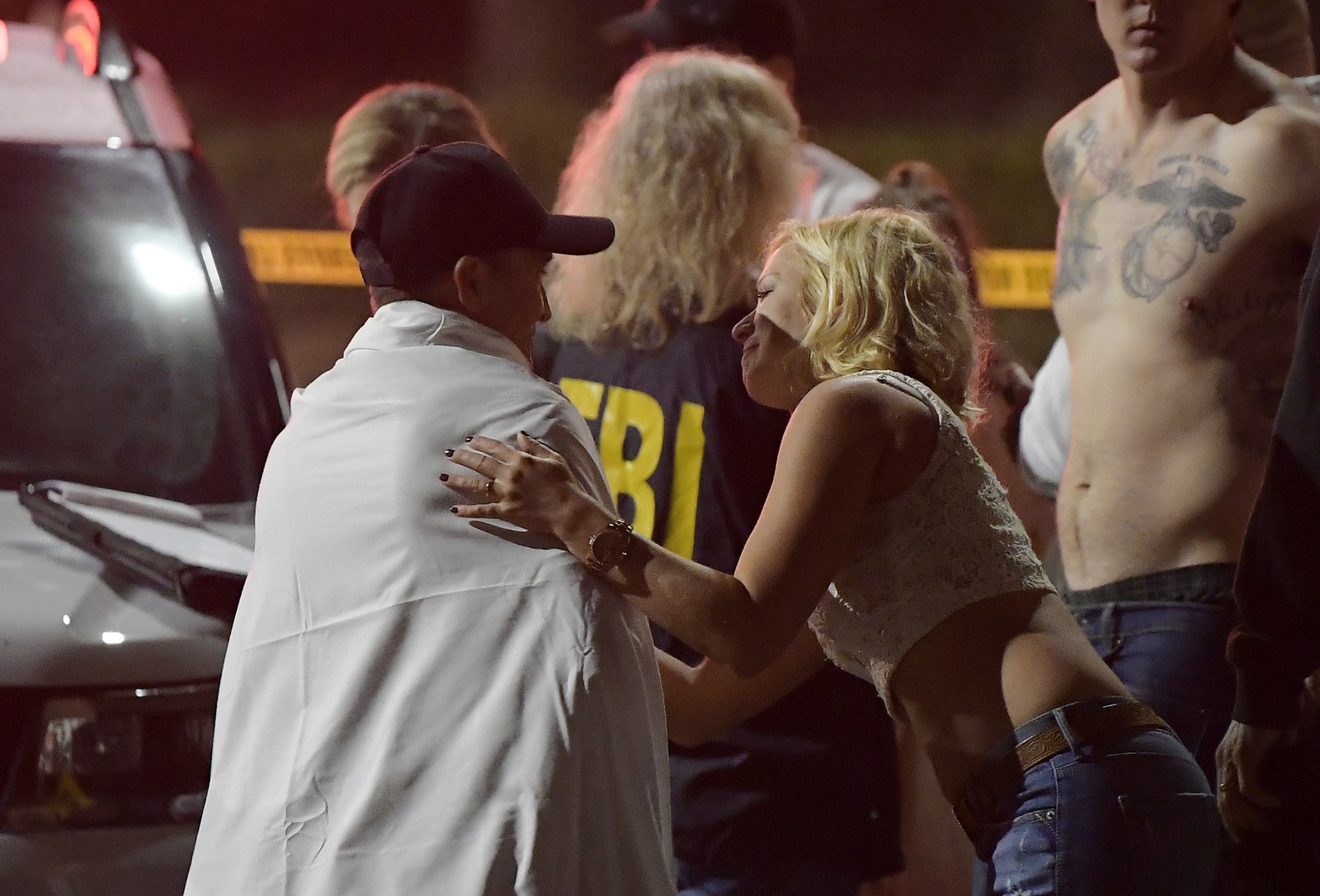 "He just kept firing. I ran out the front door. I hear chairs being thrown out the window, people were trying to get out the window," another witness told ABC 7.
"The gunman went behind the cash register. There [were] probably 12 shots before I got out the front door."
Inside the bar, people used barstools to break windows and escape the rampage. Others hid in the attic.
Dylan Short, a 24-year-old resident from Simi Valley, California, told BuzzFeed News that he is a regular at Borderline Bar & Grill and was there getting a drink with a friend when the shooting started.
"We were sitting there at the bar talking like we do every week and this guy came in and shot the girl at the front desk and shot the two security guards," Short said. "As I watched the third person lose life, it clicked with me what was going on."
He added that the shooter "walked in and it was like he just had a point to prove about something."
"There was not even in a split second for someone to say 'no' or 'stop' or anything like that," Short said.
Short said the shooter was mouthing words, "as I was seeing him shoot my friends." It was hard for him to make out the words with the shooting ongoing, but said he was sure that one of them was "fuck."
Short said he got hit by shrapnel on his back leg when a woman in front of him was shot. He was treated later at the hospital and got about 12 stitches, and his friend, who was also hit by the shrapnel in his face, is OK.
Short was eventually able to jump out of a window, leaping about 20 feet into an embankment that is below the bar.
"I had never seen anything like this. To tell you the truth, I don't even think you could've put that in a movie the way it was," Short said. "I mean, he just walked in and it was like he walked in there with the intention of killing everybody."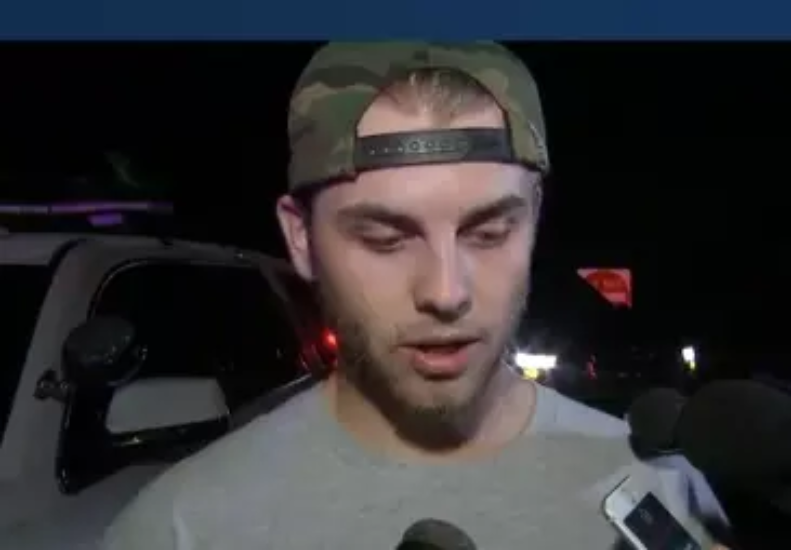 Matt Wennerstrom, 20, who said he attends the country music event every week told ABC 7 that he helped around 30 people escape through a window. He said the gunman unloaded a magazine of bullets, before reloading and recommencing shooting.

Wennerstrom told CBS This Morning that he and a friend took cover underneath a pool table while the shooter opened fire in the bar and it was during a lull in the gunfire that he took the opportunity to throw a barstool through a back window and ferry people to safety.
"Me and about four other guys began shuffling men and women, people as young as 18 out of the back windows into the embankment below just so we could get everyone out of there and just keep as many of us safe as possible," Wennerstrom said.
Some victims jumped out of second-floor windows to escape.
Doug Konzen, who lives around the block from the gunman in Newbury Park, said his sister Kristal was at the bar, where she teaches line dancing.
Kozen, who doesn't know the shooter and said he has never seen him before, told BuzzFeed News that his sister took cover near the pool tables inside the bar and was able to climb out a window after someone broke it open with a barstool.
Kristal Kozen was treated at a hospital with cuts but has since been released.
"I can't fathom it, I just want to hold her right now," Doug Kozen said. "I can't believe this fucking guy lives right next to me."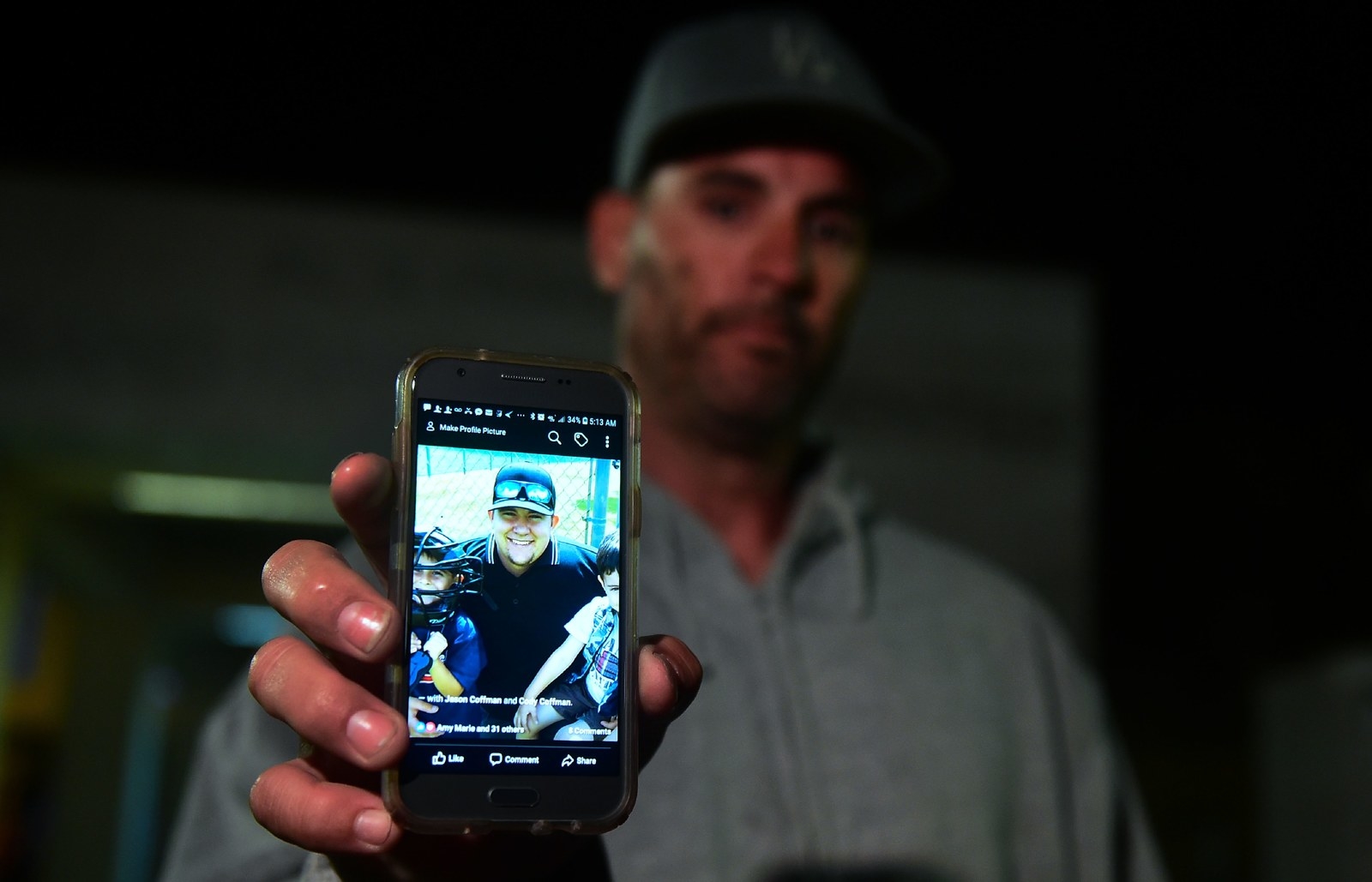 Jason Coffman, 41, of Camarillo, told BuzzFeed News that he believed his 22-year-old son Cody was "one of the 11" killed in the shooting.
Coffman said he and his wife woke up to pounding on their front door just after 1 a.m. It was Cody's friends.
"They made it," Coffman said. "He didn't."
Coffman said he knew his son was going to the Borderline tonight. It's a place Cody and his friends visit often.

"He loves this place," Coffman said, adding that he also frequented the Thousand Oaks bar when he was his son's age.
The father of three said he still hadn't heard from his son by about 3 a.m. Wednesday.
"My son is smart enough to get to the nearest phone to call," Coffman said. "I haven't got it yet."
Thousand Oaks, the second-largest city in Ventura County, is located about 40 miles northwest of Downtown Los Angeles.

The city has been ranked one of the safest in the US, and has a very low violent crime rate.
"It's a horrific incident," Dean said. "It's part of the horrors that are happening everywhere. It's impossible to put sense to the senseless."