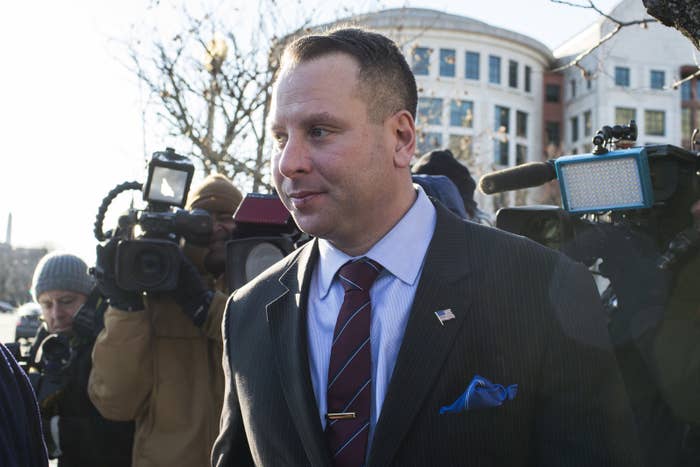 Donald Trump's former aide Sam Nunberg believes that Russian President Vladimir Putin is "taking advantage" of the US president and that special counsel Robert Mueller's investigation is not without cause.
Nunberg made the comments in an interview recorded hours after testifying on Friday before the grand jury in Mueller's probe into possible Russian interference in the 2016 election.
Speaking to Good Morning America, Nunberg, who was fired from Trump's campaign in August 2015 over racist Facebook messages, said Putin "wanted Donald Trump to win."
"I think Vladimir Putin, if you look at it objectively, is really taking advantage of the president," he said.
When asked by Tara Palmeri whether he thought the Mueller investigation was a witch hunt, he said: "No, I don't think it's a witch hunt."
"There's a lot there there, and that's a sad truth," he said. "[But] I don't believe it leads to the president."
Nunberg told Good Morning America he was interviewed for "a long time" by investigators who had "a lot of questions."
"Did I ever hear Russian spoken in the office? And then they asked why did President Trump support Putin in Syria," he said.
In a separate interview on Saturday, former Trump campaign manager Corey Lewandowski, who was interviewed by the House Intelligence Committee on Thursday, dismissed that probe as "a circus."
"They did a very good job of making it a circus," he told Fox News. "But at the end of the day, they are assured from me and many others there was no collusion and no cooperation between the Trump campaign and any Russians."
Nunberg's decision to show up at the federal courthouse in Washington, DC, on Friday came after an extraordinary series of television interviews on Monday in which he boasted that he would refuse to comply with the subpoena to testify.

"I was going to always comply with arriving today. I'm an attorney, that's the first thing, and this is my duty as an American to do this whether I like it or not," he said in the interview, which aired Saturday.
Monday's bizarre television interviews culminated in a question from a CNN anchor as to whether Nunberg had been drinking (which he denied).
"People say I had a meltdown on TV. I melted down TV that day," he told Palmeri. "I wanted to show what this independent counsel, this independent investigation, does to people like me."

He added that he had "never worked with anybody that was unethical" in the Trump team, and that he was "very worried" about political strategist Roger Stone, whom he has described as his mentor.