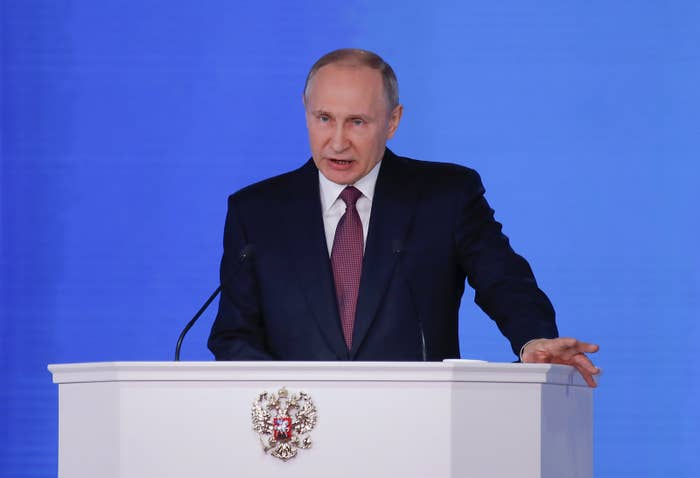 Russian President Vladimir Putin has claimed that Moscow is developing a new range of supersonic nuclear weapons that cannot be intercepted by antimissile systems.
In his annual state of the nation address on Thursday, Putin claimed that Russia has tested an intercontinental ballistic missile (ICBM) with unlimited range that will be "invulnerable to enemy interception," rendering US antimissile systems useless.

Responding to the Russian president's claims, the Pentagon said it wasn't "surprised by his statements."
"The American people should rest assured that we are fully prepared," said Pentagon chief spokesperson Dana White.
A nuclear-powered underwater drone, equally immune to interception, is also under development, Putin had said.

The crowd in the Russian capital was shown a series of graphics showing the new technology being propelled around the Earth.

One showed the underwater nuclear drone, which Putin announced did not have a name, and that people were welcome to submit their suggestions to the Defence Ministry website.

In addition to graphics, footage showing the actual weapons was played during the address.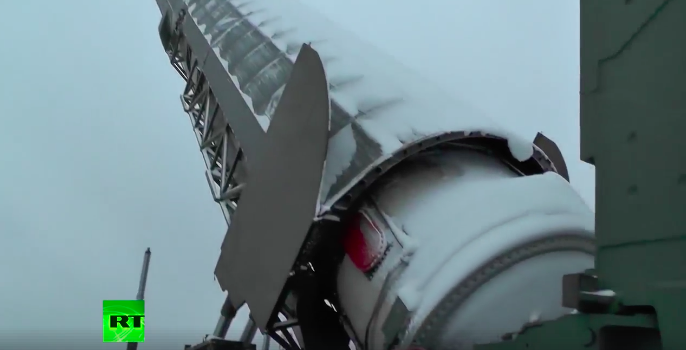 After boasting about the enhanced capabilities, Putin claimed that the build-up was not intended to attack any other country — but was in fact designed to guarantee world peace. Russia's nuclear doctrine, he said, only plans for response to nuclear attack.

He stressed that the new tests were a response to US military build-up, which he said would make Russia's nuclear arsenal pointless unless Russia acts.

The technology, he said, would outweigh the growing NATO presence on Russia's borders. The Baltic states, Poland, Romania, and Bulgaria are currently hosting thousands of soldiers from the body's member states.
Experts soon expressed their apprehension on social media, however.
Dmitri Trenin, director of the Carnegie Moscow Center think tank, tweeted his concern that the news would center US–Russia relations around war prevention.

The state of the nation address published on the Kremlin website did not include a reference to the new weapons at the time of publication.
Sim Tack, chief military analyst at Belgium-based Force Analysis, told BuzzFeed News that in fact the weapons Putin announced were known to be in development for some time – but the aim of the speech was to boost the image of Russia's aging military technology as it faces some big global challenges.
"The very first thing to notice is that all the weapons systems that he announced and talked about aren't really news — they have all been out there for a few years, people have been talking about them. We don't know the exact specification but we're aware of their development," he said.
"It's notable that Putin is summarising all these developments into one big statement on how Russia is modernising its nuclear triad — that's the big message.
"There are several reasons Russia would like to boost the perception of its nuclear capability: In the longer term Russia is actually in a fairly weak position, geopolitically speaking. In terms of its military might, it's not the Soviet Union of decades ago, it's fairly small and limited in its capabilities.
"The nuclear element becomes very important in terms of a deterrent to secure the motherland, so to speak."
Among the challenges Russia faces are rising tension on the eastern edge of NATO nations, Ukraine, and the Baltic states, and demographic pressure internally and externally, including large expected immigration from Central Asia.
"Russia might not have the conventional resources to protect Russia from outside interferences … so that nuclear arsenal then becomes very important," Tack said.
"Plus it's like a piggy bank — they can invest in their nuclear power now and get new submarines and missiles and everything and those are going to last for three or four decades. Some of the missiles Russia is running now are almost 50 years old."
This is a developing story. Check back for updates and follow BuzzFeed News on Twitter.