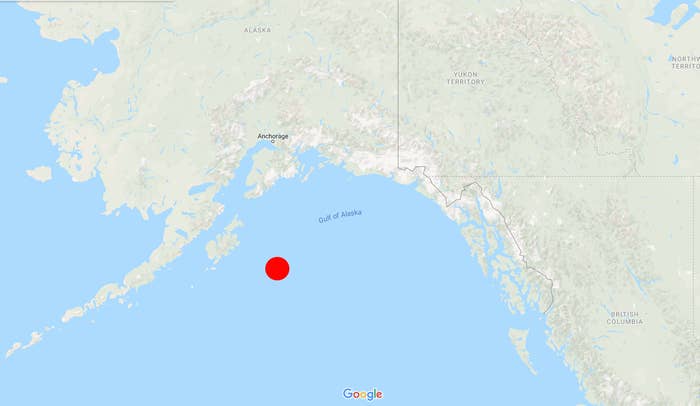 A powerful magnitude 7.9 earthquake struck off the coast of Alaska on Tuesday morning, prompting the authorities to issue a series of tsunami alerts that were later retracted.
Warnings were put in place for residents in Alaska and British Columbia, as well as a watch along the West Coast extending as far south as California, after the quake struck just after 12:31 a.m. local time. The US Tsunami Warning Center had removed them less than five hours later.
The quake, previously recorded at magnitude 8.2, struck 175 miles southeast of Kodiak city, according to the National Weather Service.

An early report from a buoy stationed south of the state recorded a 10-meter water rise shortly after the impact.

Residents in Alaska received an emergency alert to their cellphones reading, "Tsunami danger on the coast. Go to high ground or move inland."

Police in Kodiak said they expected a tsunami of an unknown size to hit the city at around 1:45 a.m. local time, but there have been no reports of such an event.
Sergeant Derek Beaver warned residents to "get out of [their] homes" in a video posted on Facebook at 1:37 a.m.

"Right now it's time to go to higher ground, at least 100 feet above. So the high school parking lot, the base of Pillar Mountain, anywhere that's above 100 feet sea level is where we recommend."
The sound of sirens rang out in the city as cars queued to get to higher ground.
San Francisco's Department of Emergency Management had warned residents living within three blocks of the Pacific Coast or five blocks of the Bay to "prepare to evacuate."

The California Governor's Office of Emergency Services (Cal OES) was quick to stress, however, that a tsunami "watch" is not a "warning," and is the "lowest of active alerts." The watch was canceled altogether soon afterward.
The National Weather Service had initially said that any waves generated by the quake had the potential to reach southwest California between 6 a.m. and 7 a.m. PST.
Seven smaller earthquakes measuring between 4.2 and 5.0 in magnitude hit the region in the aftermath of the initial impact, according to the United States Geological Survey.
The agency said that the quake occurred where the Pacific plate is converging with the North America plate, and was caused by "strike slip faulting," where layers of rock are displaced horizontally.
It added that over the past century 11 other earthquakes of at least magnitude 7.0 have struck within 370 miles of Tuesday's impact.