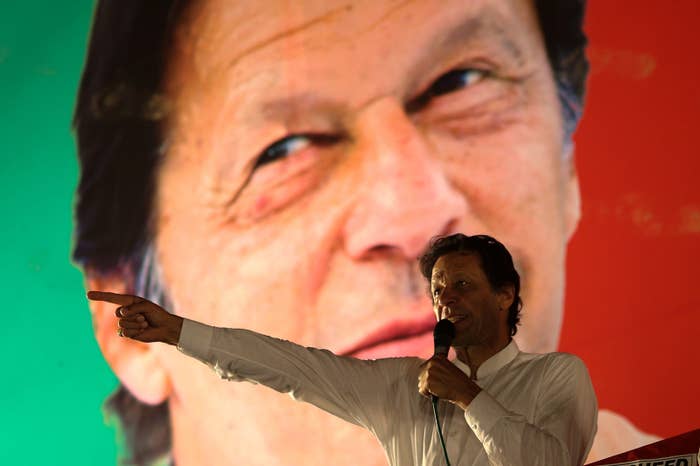 World leaders will likely have a new celebrity in their ranks. The World Cup–winning cricketer and renowned London socialite Imran Khan seemed poised on Thursday to win an extremely close general election in Pakistan.
The Pakistan election authorities have yet to issue official results from Wednesday's vote, but local television networks projected Khan's party winning as many as 119 of the 272 directly elected seats in the national assembly, beating out the party of jailed former prime minister Nawaz Sharif.
Even without the final vote tallies, the 65-year-old Khan claimed victory, despite allegations from his rivals that the election had been rigged.
"I want all of Pakistan to unite," he said in his televised address. "I want to make it clear that anyone who was against us, who voted against us, I think the kind of personal attacks that I have seen, no one has seen those, but I have forgotten all of those. They are behind me. ... My cause is far bigger than me."

His election marks the culmination of more than two decades struggling to gain power at the helm of his center-right Pakistan Tehreek-e-Insaf (PTI) party and a controversial election campaign designed to win over the country's religious right.

Khan came under fire this month for defending the country's draconian blasphemy laws, which can warrant the death penalty. "We are standing with Article 295c and will defend it," he told a crowd in Islamabad.
A cricketing legend who led Pakistan's national team to World Cup victory in 1992, Khan has earned a different reputation in recent years as a result of his pacifist stance toward extremist groups, which still loom large in the country.
Even on Wednesday, as voters headed to the polls, a suicide bomb in the western city of Quetta killed at least 31 people, less than a month after 149 people were killed at an election rally in Mastung, Balochistan province. ISIS militants claimed responsibility for both attacks.
The election of Khan, who's been dubbed "Taliban Khan" by some commentators, is unlikely to aid President Donald Trump's strategy to clamp down on the militant group through cooperation with Islamabad.

Aside from efforts to woo the religious right, his success is due in large part to support from the all-powerful military, which has long wielded power in Pakistani politics.
Critics say the army has intervened to give Khan's party privileged access to the media and pressured members of rival parties to defect — allegations he denies.
Despite that support, Khan in his victory speech said that he was ready to help end the long-standing tensions between Pakistan and India. The nuclear-armed countries have fought three wars since they were partitioned in 1949. As it stands, the disputed territory of Kashmir remains a hot spot where clashes still occur.
"If India's leadership is ready, we are ready to improve ties with India," Khan said. "If you step forward one step, we will take two steps forward."
Domestically, Khan's likely win marks a new phase in Pakistan's politics. Sharif, the former prime minister who beat Khan in the 2013 election, was arrested with his daughter this month, having been sentenced to 10 years in prison on corruption charges.
"I lived in London for 30 years. I brought my money back to Pakistan. Sharif took money out of Pakistan and moved it to London," Khan told a rally this month.

Khan spent much of his life in the UK. He was educated at Oxford University and was a part of London's elite before turning to politics in the late 1990s.