A ferocious wildfire tearing through tens of thousands of acres in Northern California has killed six people, injured several others, and destroyed hundreds of homes as it burned in and around the city of Redding.
Fueled by soaring temperatures and high winds, the Carr fire was sparked on Monday by a mechanical failure of a vehicle. It quickly exploded in size and by Monday, it burned 98,724 acres and was just 20% contained, officials reported.
Melody Bledsoe, 70, and her two great-grandchildren, James Roberts, 4, and Emily Roberts, 5, were confirmed dead Saturday after being reported missing. A contracted bulldozer operator, identified as 81-year-old Don Smith of Pollock Pines, California, and Redding fire inspector Jeremy Stoke were also killed trying to contain the flames, officials said. Shasta County sheriff Tom Bosenko declined to identify the sixth victim at a press conference Sunday.
The forecast for the next seven to 10 days continued to show high temperatures and low humidity, which would mean challenging conditions for firefighters, CalFire Chief Ken Pimlott said. He urged residents to be ready to evacuate as the flames continued to move erratically in multiple directions.
"This fire is a long way from being done," he said.
At least 500 structures have been destroyed, and evacuations spread Friday and Saturday as the blaze burned through the west side of Redding, a city of 90,000 about 160 miles north of Sacramento. Among the losses were the homes of firefighters working in the area, as well as the home belonging to the Redding police chief.

Winds and a forecast high of 110 degrees fueled the flames on Friday, pushing the fire east and prompting officials to order all 10,000 residents of Shasta Lake to evacuate. Almost 5,000 structures remained threatened by the blaze.
Video posted by Nevada County firefighters showed a tornado-like whirl of flame, as intensely hot air and smoke moved upward.
At least 7,000 firefighters were working around the state, as major fires also raged near Yosemite National Park and in Southern California's Riverside County. Between 45 and 50 new fires were sparking daily, Pimlott said, meaning fire authorities were constantly moving resources from one incident to another.
"We're seeing fire conditions…and weather conditions like we've never seen before," said Mark Ghilarducci, director of California's Office of Emergency Services, "making this really quite an event to stay out in front of and making sure we have enough resources to address all the needs."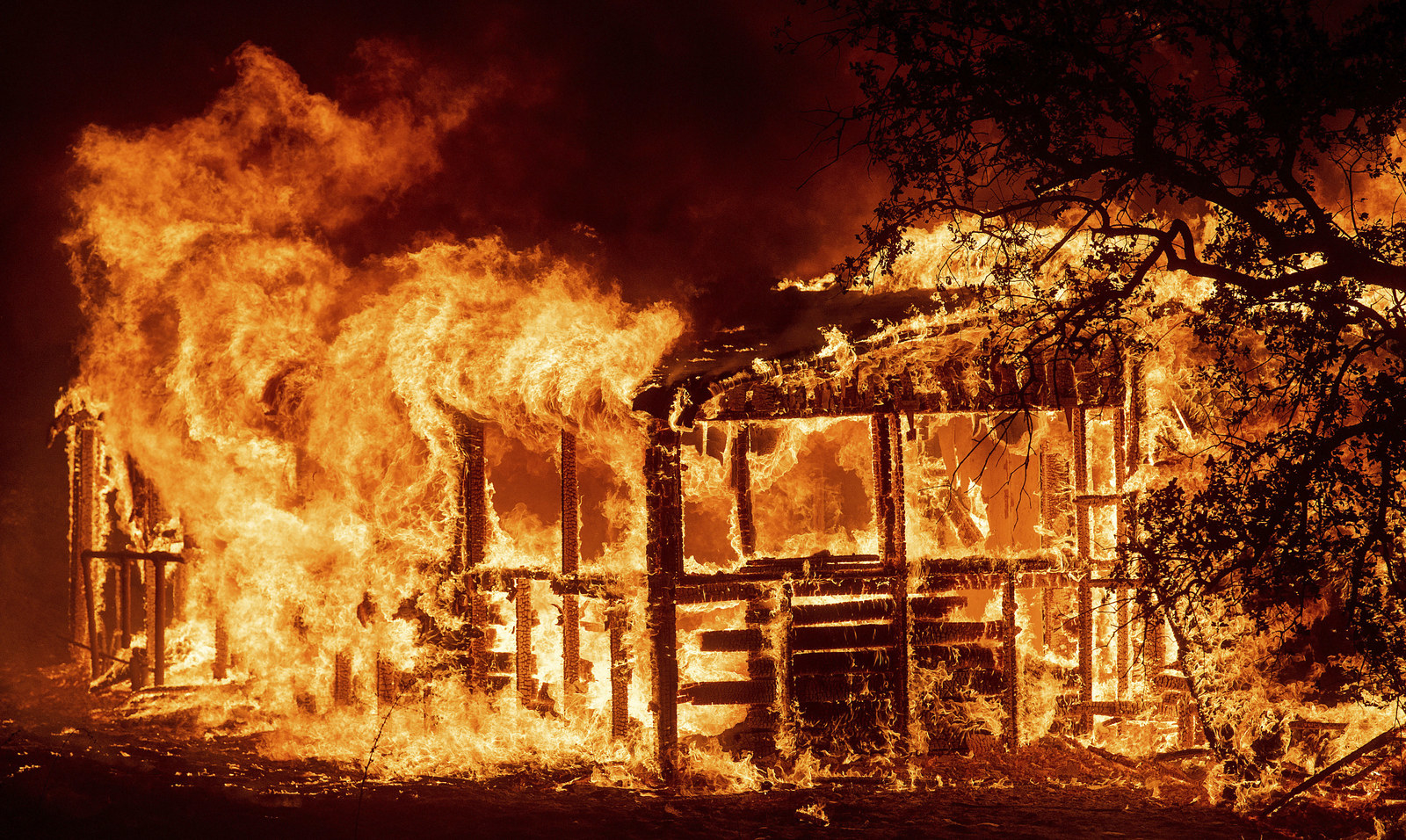 The California Highway Patrol in Redding published evacuation updates on its Facebook page, as well as pictures of the devastation. And in a video uploaded Thursday, CHP Sgt. Tim Hinkson urged people to pack up and leave.
"The fire is picking up again with these high winds, and the unpredictability of how the wind is going to blow this is just crazy. It's just out of control," Hinkson said.
Evacuees spent Thursday night in makeshift shelters, many with only minutes to grab their belongings after flames jumped the Sacramento River. By Friday, at least 40 homes were destroyed in the Lake Redding Estates neighborhood alone, the Redding Record Searchlight reported.

"I couldn't even describe it other than it was the apocalypse. It was exactly what that would be like – intense heat," Justin Montes, 26, told the newspaper.

David Codromac said he fled in his RV as the flames rolled into his street.
"When that wall of flames is coming at you, it's terrifying" Codromac told the Record Searchlight. "When you see what I saw and it's in your neighborhood it's terrible."

Video posted by ABC 10 showed homes that had been reduced to smoldering ashes.