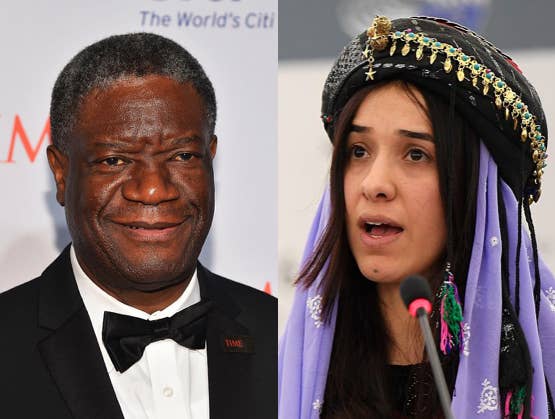 The Nobel Peace Prize has been awarded to Congolese gynecologist Denis Mukwege and Yazidi Kurdish human rights activist Nadia Murad for "their efforts to end the use of sexual violence in war and armed conflict."

Mukwege, 63, has treated tens of thousands of women who were raped during conflicts in the Democratic Republic of the Congo, while Murad, 24, was the victim of sexual violence while held captive by the Islamic State in Iraq, and has since become a human rights activist.
Berit Reiss-Andersen, chair of the Nobel committee, said that both had "put their personal security at risk by courageously combatting war crimes and seeking justice for victims."

Mukwege has treated more than 40,000 survivors of sexual assault with his staff at the Panzi Hospital in Bukavu, a city in the eastern DRC. He is, according to the Mukwege Foundation, "the world's leading expert" on repairing the internal damage caused by rape and gang rape.

Mukwege's Panzi Hospital also provides psychological, emotional, legal, and socioeconomic support for victims.
In 2012, he spoke at the United Nations about rape being used as a weapon of war in the DRC and called for perpetrators to be brought to justice. Shortly afterward, he was the target of an assassination attempt at his home, during which his family were held at gunpoint and Joseph Bizimana, his friend and security guard, was killed.
Murad was 19 when she was kidnapped by ISIS militants who raided her village in Northern Iraq in 2014, rounding up the Yazidi community and killing six of her nine brothers.

She was held captive for around one month, during which time she said she was used as a sex slave. She is one of around 3,000 Yazidi girls and women who were abused by the militants.
Two years after she was held prisoner, she became the UN's first Goodwill Ambassador for the Dignity of Survivors of Human Trafficking, and last year published a book, The Last Girl.
When asked whether the decision had been inspired by the #MeToo movement, Reiss-Andersen said, "#MeToo and war crimes are not the same thing, but they do have in common that it is important to see the suffering of women, to see the abuses. To do that it is also important that women leave the concept of shame."

Reiss-Andersen said the Nobel committee had not yet been able to contact the winners, who were selected from 331 candidates.
President Donald Trump was among the nominees for his efforts to warm relations with North Korea. North Korean leader Kim Jong Un and South Korean President Moon Jae-in were also candidates.
Past winners have included Martin Luther King Jr., Nelson Mandela, and Barack Obama.
This is a developing story. Check back for updates.
CORRECTION
The city where Panzi Hospital is located, Bukavu, was misspelled in an earlier version of this post.