Myanmar Has Rejected An Appeal By Two Reuters Journalists Jailed For Reporting On The Rohingya Crisis
Wa Lone, 32, and Kyaw Soe Oo, 28, were sentenced to seven years in prison in September over their reporting on a massacre of Rohingya Muslims.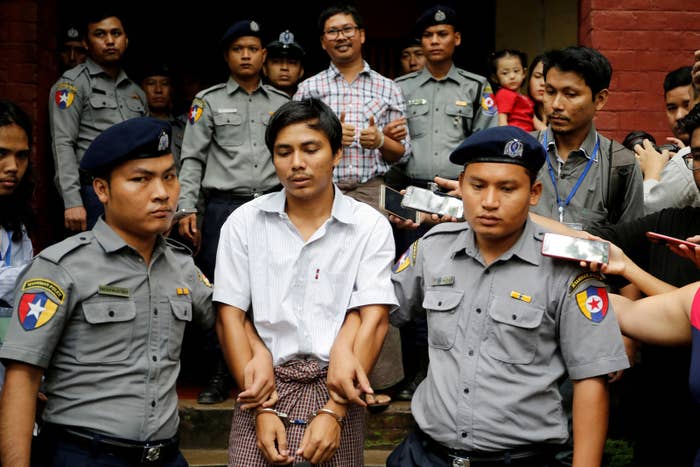 A court in Myanmar has rejected the appeal of two Reuters journalists who were sentenced to seven years in prison after reporting on a massacre of Rohingya Muslims.
Wa Lone, 32, and Kyaw Soe Oo, 28, who investigated the killings of Rohingya Muslims at the hands of soldiers and Buddhist villagers, were sentenced in September last year. Prosecutors claimed they had obtained confidential state documents, breaking the country's colonial-era Official Secrets Act.

"It was a suitable punishment," high court judge Aung Naing concluded Friday, rejecting their appeal.
Reuters editor-in-chief Stephen J. Adler said the ruling was "yet another injustice among many" inflicted upon the two reporters.

"They remain behind bars for one reason: those in power sought to silence the truth," he said.
"Reporting is not a crime, and until Myanmar rights this terrible wrong, the press in Myanmar is not free, and Myanmar's commitment to rule of law and democracy remains in doubt."
During the trial, the defense argued that police had set the journalists up, handing them documents during a dinner before pursuing them. The government's legal team said the reporters had collected the information in order to harm national security and the national interest.

The reporters now have the option to make another appeal to Myanmar's supreme court, Reuters reported.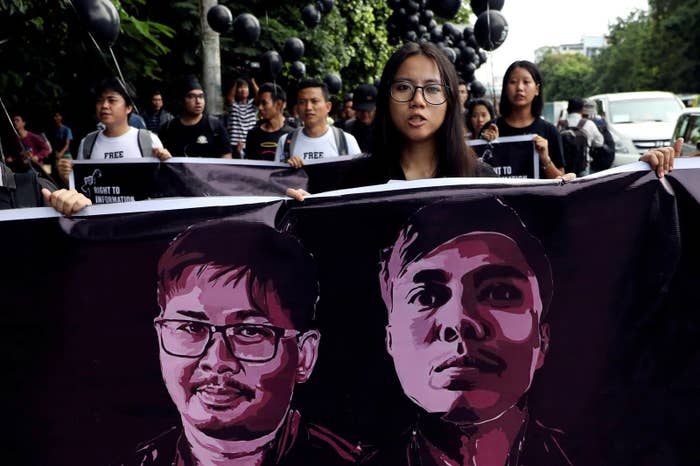 Before their arrests in December 2017, Wa Lone and Kyaw Soe Oo had been investigating the murder of 10 Rohingya in Rakhine state during an onslaught of violent massacres against the minority group. Their report was published last February.

The persecution forced more than 720,000 people from their homes, spilling into neighboring countries as refugees.
In August, the United Nations said a string of high-profile Burmese military figures, including the head of the armed forces, should be prosecuted for genocide over the "shocking" wave of violence. It found that soldiers murdered, tortured, raped, and enslaved members of the long-persecuted minority as part of a "widespread and systematic attack on a civilian population."
Myanmar has denied the allegations, claiming that it carried out a necessary and legitimate counteroperation against Muslim militants.

In a statement published Friday, the European Union condemned the high court's decision as a "missed opportunity to right a wrong."
"It is another setback to media freedom, the public's right to information and the rule of law in Myanmar," the statement read.
"The ruling casts serious doubt over the independence of Myanmar's justice system. The ruling is based on laws that run contrary to international human rights standards."
Fellow Reuters journalist Matthew Tostevin, bureau chief for Thailand, Vietnam, Cambodia, and Laos, called the verdict a "terrible disappointment."