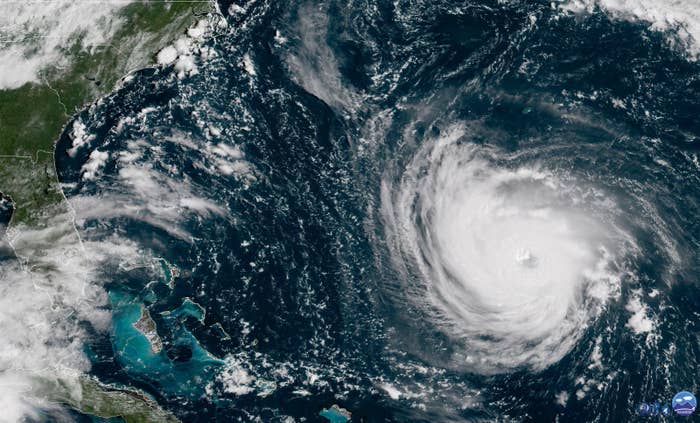 The National Hurricane Center warned on Wednesday morning of a "life-threatening storm surge" and "catastrophic flash flooding" as Hurricane Florence approaches the Carolinas and Mid-Atlantic states.

The latest advisory notice follows dire warnings from the Federal Emergency Management Agency on Tuesday — including the prediction that power could be out for "weeks" — as more than a million people began evacuating portions of three states.

"This has an opportunity of being a devastating storm. The power is going to be off for weeks and you will be displaced from your home and the coastal areas. There will be flooding in the inland areas as well," FEMA Administrator Brock Long said while briefing President Donald Trump in the Oval Office.
"They haven't seen anything like what's coming at us in 25, 30 years," Trump said. "It is tremendously big, tremendously wet. Tremendous amounts of water."

At a later press conference on Tuesday, Jeffrey Byard, FEMA's associate administrator, said he could not "stress the importance to our citizens that are in evacuations to heed the local and state warnings."

"This storm will and has the potential to cause loss of life, and we cannot emphasize the importance to take action now," he said.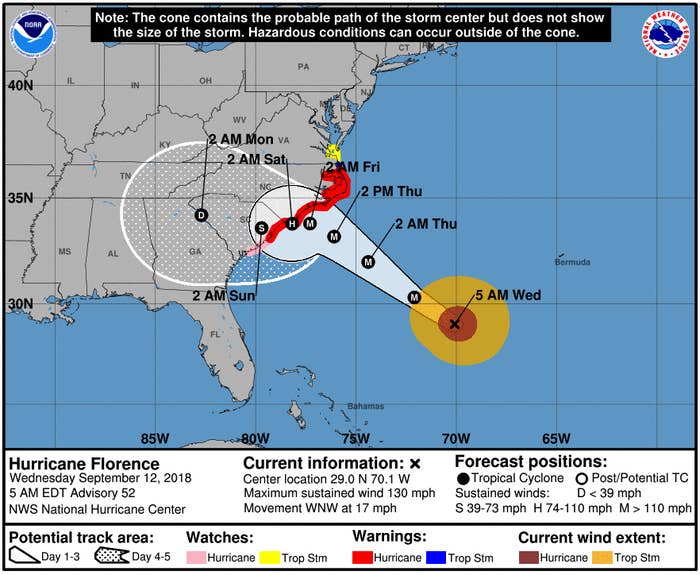 In South Carolina, Gov. Henry McMaster issued a mandatory evacuation order for five counties along the state's coastline, beginning at noon on Tuesday.

Traffic lanes heading toward the coast on major highways in South Carolina will be reversed in order to accommodate the estimated 1 million people urged to leave the area.
In North Carolina, where Florence is expected to make landfall, mandatory evacuations were issued for barrier islands off the state's coast. Counties have also issued voluntary evacuations, with North Carolina's Department of Public Safety stating it is a decision for local officials to make.
"Even if you've ridden out storms before, this one's different," North Carolina Gov. Roy Cooper said at a press conference Tuesday. "If you wait until conditions get bad, it may be too late to get out safely."

The state's largest utility is "anticipating widespread outages," Duke Energy spokesperson Grace Rountree told BuzzFeed News.
"We really do believe this will be historic in nature," Rountree said. "Back in 2016, Hurricane Matthew, brought significant damage to the Eastern part of the state. We're estimating the damage could surpass that storm."
The last time a storm of similar strength slammed into the state the destruction was catastrophic. Hurricane Hazel made landfall along the North Carolina—South Carolina border as a Category 4 storm on Oct. 15, 1954. Winds reached 150 mph, and an 18-foot storm surge swamped large swaths of the coast.

In the aftermath, officials reported "all traces of civilization on the immediate waterfront between the state line and Cape Fear were practically annihilated." One North Carolina county saw most structures "either completely destroyed or severely damaged."
In total, the storm killed 19 people in North Carolina and destroyed 15,000 homes, the weather service said.
Experts warned this week that Hurricane Florence will be a "marathon event" affecting entire states when it makes landfall and will continue to intensify as the storm approaches the Carolinas and Virginia.
In addition to the dangers from the powerful winds associated with a major hurricane, Florence is expected to produce "exceptionally heavy rainfall," stalling out over the Carolinas and Virginia after making landfall, causing widespread flooding.
States of emergency have been declared in the states due to be worst hit by the Category 4 hurricane, which had maximum sustained winds of 140 mph Tuesday afternoon, with widespread evacuation orders in place.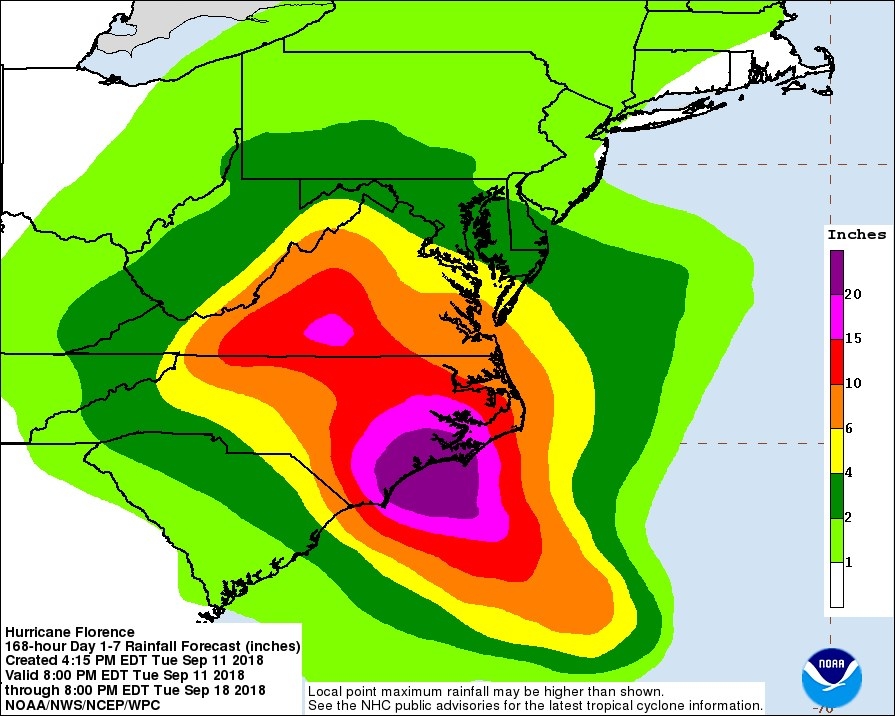 Muriel Bowser, the mayor of Washington, DC, also declared a state of emergency on Tuesday.

Brock Long of the Federal Emergency Management Agency urged people to prepare for what he called a "marathon event."

"This is not going to be a quick hit across the coast. And let's keep in mind that hurricanes can impact the entire states," he told CBS This Morning.
In a separate interview on CNN, he said that torrential rainfall could cause the ocean to rise by more than 12 feet.
"With this storm what's unique is it's forecast to stall in four to five days, dropping copious amounts of rainfall across the Carolinas and into Virginia. So this is not just going to be a coastal threat, it's going to be a state-wide threat for the states involved," Long said.
"We're still watching what they call the cone of uncertainty, and that means that the eye of the hurricane could make landfall down below Charleston almost all the way down to Georgia," South Carolina's Gov. McMaster told Good Morning America. "It looks more likely that it will be further north than that, but our whole coast is under an evacuation order.
"We've got all the logistics worked out; the only question is, 'How hard is this going to be?' Right now we're prepared for the worst, we're hoping for the best."
Richard Henning, a flight director for the National Oceanic and Atmospheric Administration, told CNN after flying through the hurricane that conditions are right for the storm to intensify, possibly reaching 150mph before making landfall.

"Everything that you've been hearing about this storm in terms of its severity is all true," he said.
"All of the conditions that are necessary for a hurricane to continue to intensify are present... There's nothing to prevent this storm from continuing to intensify.

"I would say that it's fluctuating right now in intensity. But nobody should — for example, if it were to drop from a 140 mph storm down to 130 mph — nobody should take that as weakening, because it's got a long way to go to get to the North Carolina coast," he said.