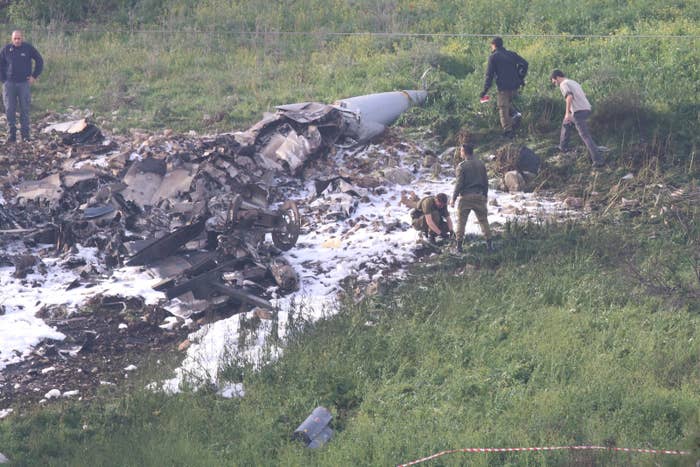 An Israeli F-16 fighter jet was shot down by Syrian anti-aircraft fire on Saturday morning, following a renewed set of strikes that mark a serious escalation in the conflict.

Israel's military said the new strikes were a retaliation to an Iranian drone launched from Syria into Israel, which was intercepted.
"A combat helicopter successfully intercepted an Iranian UAV [unmanned aerial vehicle] that was launched from Syria and infiltrated Israel," the military said on Saturday, adding that the drone had been "under surveillance until the interception."

Iran is an ally of Syrian President Bashar al-Assad, and Israel is concerned about its growing military presence in the country.
Israeli military spokesperson Lt. Col. Jonathan Conricus said Iran was "responsible for this severe violation of Israeli sovereignty" in a tweet shortly after the incident.

In response, the Israel Defense Forces launched strikes on Syrian aerial defense systems and Iranian targets in Syria.
"Twelve targets, including three aerial defense batteries and four Iranian targets that are part of Iran's military establishment in Syria were attacked," the military said in a statement.

"During the attack, anti-aircraft missiles were fired towards Israel, triggering alarms that were heard in Northern Israel," it added.
Conricus later tweeted that Israel is "ready for all scenarios."
Six Syrian and allied troops were killed in the strikes, which were Israel's most serious intervention in Syria since the conflict began there in 2011, the Syrian Observatory for Human Rights said on Sunday.
In a video address posted on Twitter on Saturday night, Israeli Prime Minister Benjamin Netanyahu said the dispatched drone proved his prior warnings that "Iran seeks to use Syrian territory to attack Israel for its professed goal of destroying Israel."
"Israel holds Iran and its Syrian host responsible for today's aggression. We will continue to do whatever is necessary to protect our sovereignty and our security," he added.

Talking to his Cabinet on Sunday, he said Israel will "continue to strike any attempt to strike us."

Yet the Syrian military denied that the drone violated Israel's airspace. In a statement on Central Military Media, it said the claim was "a lie and misleading," and that the drone had been on a regular mission to collect information on ISIS.
Israel's subsequent strike on a drone station in Homs province was a "terrorist act," it said, adding that there would be "a tough and serious response."
The deputy head of Iran's elite Revolutionary Guards Corps declined to comment on reports of the intercepted drone, according to the Tasnim news agency.
"We cannot confirm this report on the drone because Israelis are liars. ... If Syrians confirm it, Iran will confirm it as well," Brig. Gen. Hossein Salami reportedly said.
A Syrian official on state TV called the raids a "new aggression," and said that anti-aircraft fire hit more than one Israeli plane. Israel only confirmed that one plane had been shot.
One of the pilots who escaped the F-16 jet crash was seriously wounded and evacuated to hospital, the Israeli military said. The other sustained light injuries.

In a statement on Saturday, Hezbollah, a Shiite Islamist party and militant organization in Lebanon, said the jet crash marks the "start of a new strategic phase" that will limit Israeli "exploitation" of Syrian airspace.
The military flare-up between Israel and the forces allied with the Assad regime is the latest sign that Syria's complicated seven-year war is worsening instead of winding down.
Over the past three weeks, Turkey launched a military offensive in Syria's northwest to dislodge a Kurdish militia; the regime intensified air strikes on civilians in rebel-held territories; and US forces fighting against ISIS decimated a group of regime troops attacking its local allies. Meanwhile, a Jan. 30 attempt by Russia to cobble together peace talks in the city of Sochi ended in failure.

Russia's foreign ministry expressed concern at the escalating violence in Syria and called for all sides to show restraint, while calling for other nations to respect Syria's borders and sovereignty.
"Of particular concern is the danger of escalation of tension within and around de-escalation zones in Syria, the creation of which has become an important factor in reducing violence on Syrian soil," its statement said.
"We urge all parties involved to exercise restraint and to avoid any actions that could lead to an even greater complication of the situation. We consider it necessary to unconditionally respect the sovereignty and territorial integrity of Syria and other countries of the region.
"It is absolutely unacceptable to create threats to the lives and security of Russian servicemen who are in Syria at the invitation of its legitimate government to assist in the fight against terrorists."
In a statement issued late Saturday, the White House called Israel a "staunch ally" and affirmed "its right to defend itself from the Iranian-backed Syrian and militia forces in southern Syria."
"We call on Iran and its allies to cease provocative actions and work toward regional peace," the statement said.
— This is a developing story, check back for updates.

CORRECTION
Lt. Col. Jonathan Conricus's name was misspelled in an earlier version of this post.