Please follow this new story here for the latest on the wildfires.


VENTURA, California — Wildfires raging across Southern California destroyed hundreds of structures and forced tens of thousands of people to flee Tuesday after fierce winds sparked multiple blazes across the region.
The largest fire, burning in Ventura County, was first reported at 6:25 p.m. Monday. Gusty Santa Ana winds caused the blaze, dubbed the Thomas fire, to explode overnight, to 50,000 acres with zero containment by Tuesday afternoon, fire officials said.
Around 38,000 people have been evacuated and around 150 structures have been destroyed, officials said. Over 1,000 firefighters are battling the fast-moving fire, the cause of which is unknown.

The destruction prompted Gov. Jerry Brown to declare states of emergency in Ventura County and Los Angeles on Tuesday.

"This fire is very dangerous and spreading rapidly, but we'll continue to attack it with all we've got," Brown said. "It's critical residents stay ready and evacuate immediately if told to do so."
In Los Angeles County, the Creek fire, near the city of Sylmar, erupted to 11,000 acres, prompting evacuations expected to affect 115,000 people, Los Angeles Mayor Eric Garcetti said.
At least 30 homes had been destroyed, he said, and the fire remained uncontained.
"We have lost structures, we have not lost lives," he said. "Do not wait, leave your homes."
The massive smoke plumes from the fires raging across the region were large enough to be captured by NASA satellite.
While strong, dry winds continued to blow, firefighters would be unable to gain the upper hand on the fire, LA Fire Chief Ralph Terrazas said. The weather conditions were forecast to continue into Friday.
"This has only just begun, so you have to be constantly vigilant," he said. "If anyone sees any fires, please dial 911 so we can get an early start in dispatching resources."
By midday Tuesday, LA-area firefighters were also responding to the Rye Fire in Santa Clarita, which quickly grew to 5,000 acres. Heavy smoke prompted temporary freeway closures, and at least 1,300 homes were evacuated. As of Tuesday afternoon, it was 5% contained.
Windy, dry conditions also flared up smaller fires around the region. In San Bernardino, a brush fire of 100 acres threatened homes, and three people were taken to a hospital with burns, county firefighters said.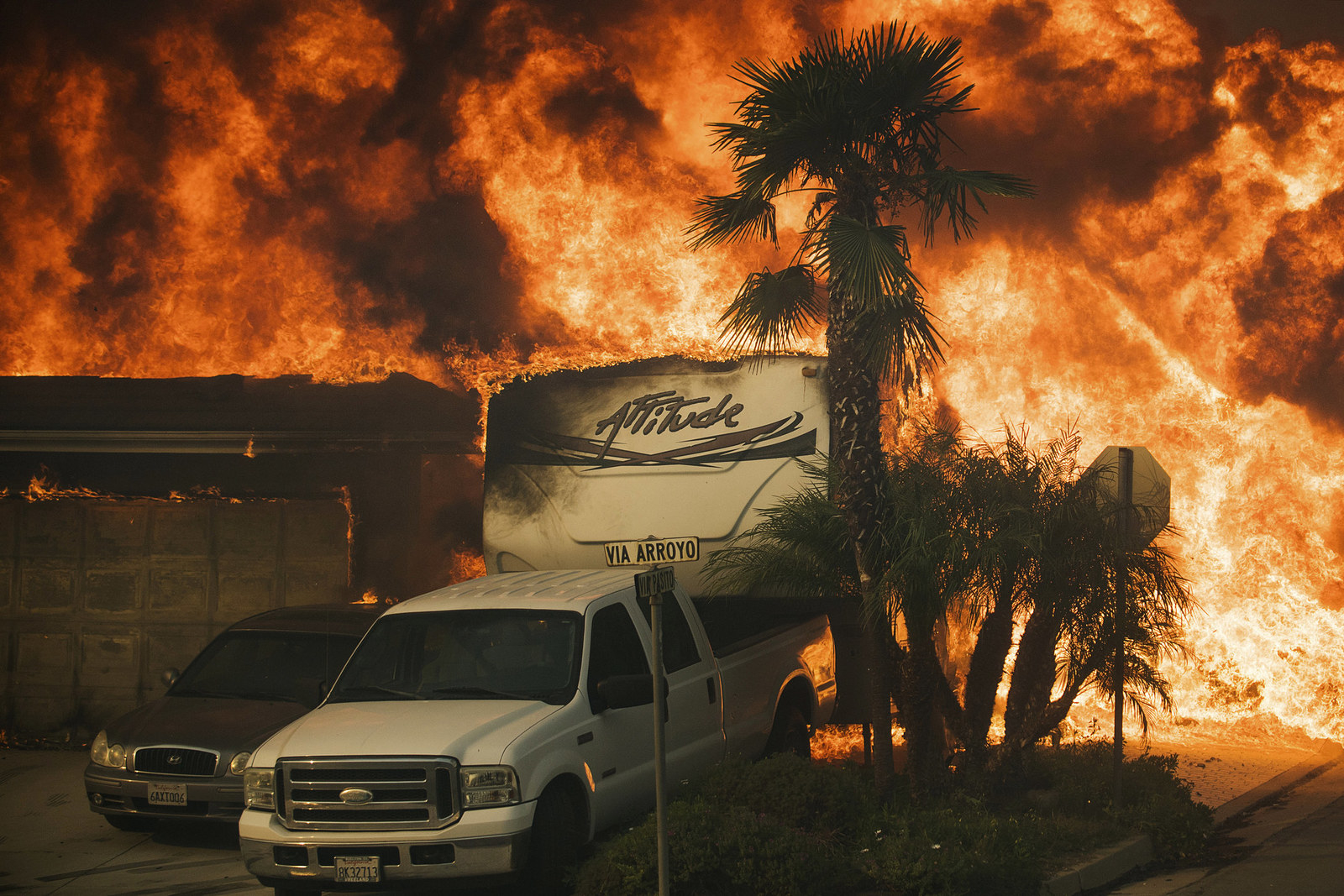 In response to the Thomas fire, firefighters from Los Angeles and Santa Barbara battled flames as they advanced toward Santa Paula, a city of about 30,000 residents about 60 miles from downtown Los Angeles, and Ventura, which is 12 miles southwest of Santa Paula and home to about 106,000 people.
Around 150 buildings had been destroyed by the early hours of Tuesday morning as the Thomas Fire reached Ventura, but officials said the number was expected to increase once they can begin assessing the damage.
It set the palm trees behind Ventura City Hall ablaze as it pushed into the city, threatening historic homes in the surrounding area.
A total of 7,786 homes were under mandatory evacuation, according to the California Office of Emergency Services (Cal OES). The fire department confirmed that around 27,000 people had been evacuated.

The Vista del Mar Hospital, a mental health clinic north of the city, was one of the buildings that went up in flames.
"This is going to be a loser. There's fire in the attic. We're going to have to move on," one firefighter, speaking about structures surrounding the hospital, told Santa Barbara News-Press.

Evacuees who were forced to flee their homes, at times in a matter of minutes, streamed into a shelter at the Ventura County Fairgrounds. Alexis Deloney, a 20-year-old mother of two there with her daughters, her mother and her 9-year-old sister, told BuzzFeed News that she had 20 minutes to evacuate her house early Tuesday morning as the wind-whipped blaze quickly approached.
"I just grabbed diapers and what they needed," said the 20-year-old, bouncing her one-year-old-daughter on her lap in the middle of the bustling evacuation shelter. Deloney scanned the room, quickly filling with families carrying blankets, snacks, toothbrushes, and toys, looking for her mother.
"I don't know how I would have done it without her," Deloney said. "It was so scary. This is also my first house."
On Monday night, Melissa Givner was preparing to go on vacation when she went to her ranch to check on a horse in need of medication.
"The glow looked like it was right behind the barn," she said. "I got on my phone and just started calling everyone I knew."
With the help of her fiance, best friend, and others, Givner evacuated 13 horses from her ranch on Wheeler Road, which was left smoldering by Tuesday morning.
"About a half hour after we got to the shelter, my mom called and told us the entire area was up in flames," she said. "If you see fire go. You never wait."
About a dozen people at the fairgrounds shared similar stories: smelling and then seeing a roaring red gleam approaching so quickly that they barely had time to grab belongings— a task made even more difficult because of power outages.
Crowded around a table with 14 other family members and friends, 17-year-old Jesus, who did not give his last name, described piling into three cars with trash bags of belonging and trying to leave Wheeler Canyon Trailer Park in Santa Paula. With fire crackling above them, they fled only to hit a thick line of stopped cars.

"The traffic was the scary part," Jesus said.
Still in her purple pajamas, his mother, Fidela, chimed in.
"I remember seeing on the news the hurricanes in Texas and all those people leaving and you never think it will happen to you," she said. "You just never think it will be your home."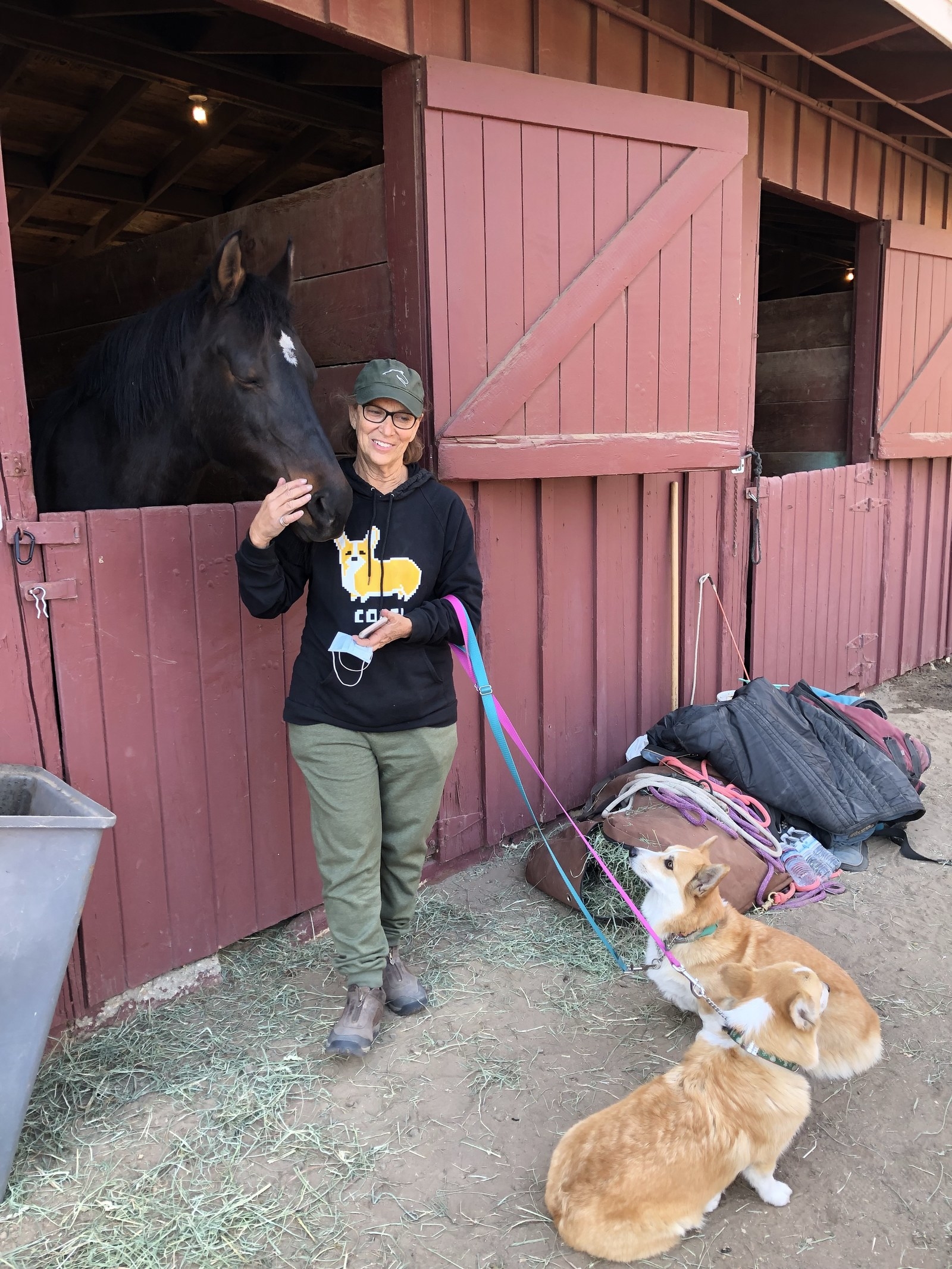 Dressed in a dusty "Corgi" sweatshirt flecked with her animals' hair, Margo Edison walksed her two corgis to check on her miniature horses. Like dozens of other residents, Edison hustled to save her animals first. They found shelter in the barns and livestock pens at the fairgrounds.
"Nothing has come that fast and spread that fast and was that alarming," said the retired teacher, adding that she has lived in the Ojai area for about 30 years and has been through several fires. "It was burning on both sides of the street."
Her husband, Greg, refused to leave their home and has been spending the day hosing down their house and extinguishing ember fires.
"I told him not to be stupid," she laughed. "I haven't heard from him, and I don't know if the house is okay."
Although she is grateful she had time to grab her animals, she regrets not running to her garage.
"My mom just passed away and I have all her treasures in there. In boxes," she explained. "We just didn't have time."
The fire is believed to have started near Thomas Aquinas College, a popular hiking destination 6 miles north of the city on Highway 150, before being pushed south by winds with gusts of more than 50 mph. Weather officials say could grow to 70 mph.
"The fire growth is just absolutely exponential," Ventura County Fire Chief Mark Lorenzen said. "All that firefighters can do when we have winds like this is get out ahead, evacuate people, and protect structures."

At around 4 a.m. Tuesday, emergency services were called to second brush fire just over 50 miles east of Ventura, which had grown to 1,000 acres within hours.
The Creek fire broke out near Little Tujunga Canyon Road and is threatening residential areas north of the 210 freeway.
Mass power cuts left around 260,000 people in Ventura and Santa Barbara counties without electricity for a period, prompting a "transmission emergency" in the area.

One person has reportedly been killed in a car accident linked to the fire, while a firefighter sustained injuries after he was reportedly struck by a vehicle.

"We're really just trying to catch it around the edges and just pinch it off as quickly as we possibly can," said Ventura County firefighter Jason Hodge. "That's what's driving this fire. So it's a challenge, but everybody's out there working hard and will be through the night."
The state has secured a grant from the Federal Emergency Management Agency to "assist local, state and tribal agencies responding to the fire", according to the Cal OES.