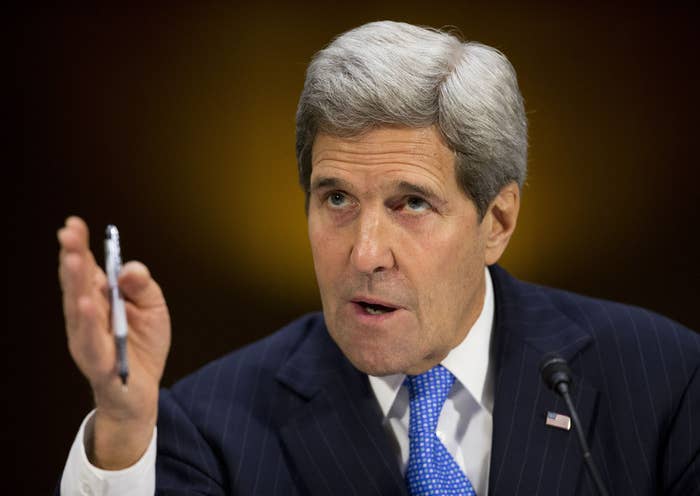 WASHINGTON — The U.S. has "no intention" of using the United Nations to lock into place any potential deal with Iran over its nuclear program, a senior U.S. official said on Thursday.
The United States will not be "converting U.S. political commitments under a deal with Iran into legally binding obligations through a UN Security Council resolution," Bernadette Meehan, spokesperson for the U.S. National Security Council, said in a statement emailed to BuzzFeed News.
"Past UNSC resolutions on Iran have called for a negotiated settlement of the Iran nuclear issue, and accordingly we would fully expect the UNSC to 'endorse' any deal with Iran and encourage its full implementation so as to resolve international concerns about Iran's nuclear program," Meehan continued. "But any such resolution would not change the nature of our commitments under such a deal, which would be wholly contained in the text of that deal."
Meehan's statement comes after several days of the State Department denying the chance to comment on the matter. "I'm not going to prejudge what step would be taken or wouldn't be taken," State Department spokeswoman Jen Psaki said when asked on Thursday about the U.N. Security Council's role in any possible deal. There are currently three Security Council resolutions sanctioning Iran for noncompliance in providing details of its nuclear program, which would require another Security Council vote to lift.
Secretary of State John Kerry on Wednesday raised eyebrows when he told the Senate Foreign Relations Committee that any deal concluded between the so-called P5+1 negotiating countries — the United States, United Kingdom, France, Germany, Russia, and China — and Iran would not be "legally binding." That issue was one of the main concerns of an "open letter" that 47 GOP senators signed onto earlier this week along with stressing the role that Congress would need to play in any deal and that the next president wouldn't be obligated to adhere to such an agreement.
In response to that letter, Iranian Foreign Minister Javad Zarif said in a statement issued Tuesday that any agreement "will not be a bilateral agreement between Iran and the US, but rather one that will be concluded with the participation of five other countries, including all permanent members of the Security Council, and will also be endorsed by a Security Council resolution."
Jack Goldsmith of the Lawfare blog published an analysis Thursday of just how a UN Security Council vote could be a way to make any deal with Iran binding — without involving Congress.
Goldsmith said that a resolution could be passed under the section of the U.N.'s charter that makes its decisions binding and enforceable, meaning the U.S. may not need Congressional approval at all on that side of the sanctions. It could also possibly tie the hands of future administrations to not reinstate sanctions or go back on the deal, or else risk the charge of breaking international law.
Until now the Obama administration had seemed to be unready — or unwilling — to talk about that potential. On Tuesday when asked about the Security Council's role in putting a deal into effect, Psaki insisted, "I'm just not going to get ahead of how this would be implemented at this point in time."
When pressed again on Thursday, Psaki said that it would be addressed "[a]t the points a long time from now where that is an issue."
Meehan on the other hand completely dismissed the idea of using the U.N. to bypass Congress. "Indeed, Congress will have to vote to lift sanctions at some point during the duration of the deal," she wrote to BuzzFeed News.
Meehan in particular noted that while a resolution at the U.N. would be required to lift the international sanctions in place, "any new resolution would not take U.S. commitments under the deal – particularly with respect to sanctions relief – and make them legally binding. We have been and will continue to be extremely careful to avoid any such provisions in future UNSCRs."
Mark Dubowitz, head of the Foundation for the Defense of Democracies, was skeptical about the potential for potential U.N. route when BuzzFeed News reached him on Wednesday. "Even if the Iran nuclear deal was blessed by the Security Council operating under Chapter VII of the Charter," he said, "it wouldn't ... impede the ability of any parties to the deal to reach its own judgments about compliance by other parties or conclude that the deal no longer served their interests and withdraw from it."
The U.S. also has sanctions of its own placed against Iran, some of which have waivers allowing the president to lift them temporarily but would require Congress to permanently revoke. A Security Council resolution also would not "trump the existing sanctions legislation or alter the constitutional balance between the President and the Senate relative to need to use the treaty, rather than an executive agreement, vehicle for properly effectuating the nuclear deal," Dubowitz said.
But cementing the deal with a Security Council resolution would have certain benefits, argued Jim Walsh, a researcher at MIT's Security Studies Program. "It certainly would put opponents to diplomacy in an awkward position: oppose UN required compliance by Iran so that the US can later walk away," he said in an email to BuzzFeed News.
This post has been updated to reflect new comments from the U.S. National Security Council spokesperson.