Ukraine Wants To Make Very, Very Clear That It Is Not Greece
Ukrainian officials visiting Washington, DC don't want anyone comparing the country's financial troubles with Greece's.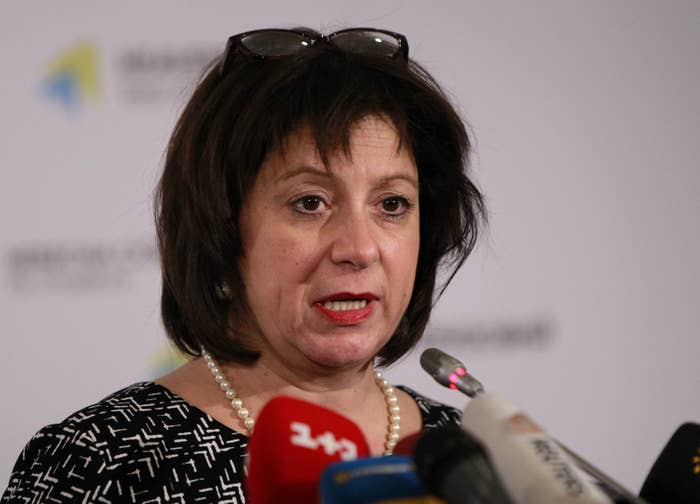 WASHINGTON — Ukrainian officials wanted to make one thing very clear during a visit to the United States this week: we are open for business and we are nothing like Greece.
"There is a big difference between us and Greece," Dmitryo Shymkiv, Ukrainian President Petro Poroshenko's top staffer on instituting economic and political reforms, told BuzzFeed News in an interview. "Greece has been 'persuaded' into reforms recently, [over the last] few days, while Ukraine has a plan. And we're going after the plan."

The comparisons were quick to come after Greece and its creditors reached an agreement Sunday night over reforms Athens needs to institute ahead of any further bailout money. One of those creditors — the International Monetary Fund (IMF) — is currently working with Ukraine to finalize a $40 billion loan package that Kiev needs to remain solvent.

Ukrainian Finance Minister Natalie Jaresko, a former U.S. diplomat to Ukraine, also brushed off the comparison. "We're in a very different kind of relationship with the IMF," she told BuzzFeed News. "We're in a very collaborative relationship, a very supportive relationship. It's our reform program, not the IMF's, and we're working with the the IMF, the World Bank, and others to make sure there's a financial package behind our very difficult reform program."

Shymkiv, in DC with Jaresko and other officials for a U.S.-Ukraine Business Forum, insisted that support for cuts and reform — hard won in the case of Greece — were much greater inside Ukraine. Yet analysts are concerned that, like Greece, Ukraine's economic problems run much deeper than a lack of cash flow. Ukraine's economy, already troubled before war with Russia-backed separatists broke out last year, is shrinking, inflation is rising, and the government is negotiating hard with its creditors to try to make a payment due on Wednesday.
"The reform process in Ukraine has much more direction and momentum than just a few months' ago, but it's going to take time for any results to be felt by the general public," Andrew Weiss of the Carnegie Endowment told BuzzFeed News in an email. "The question that key Western policy makers are evaluating is whether the Ukrainians can sustain these efforts in coming months."

The IMF is reportedly weary of several rollbacks of reforms inside Ukraine, including increasing taxes on gasoline and reducing pensions and the slow pace of efforts to root out corruption.
"There is a rhetorical commitment to reform, and there have been some important steps taken," Samuel Charap, Senior Fellow for Russia and Eurasia at the International Institute for Strategic Studies, agreed in an email. "However, there's a difference between fundamental reform and meeting the conditions for getting additional IMF disbursements. And even on that score, the jury is still out – we'll know if/when the IMF disburses the second tranche under the new program next month."

It was the EU, not the IMF, that saw its relationship with Greece strained and severely tested by a crisis that teetered close to seeing the country leave the euro altogether. Speaking to the the Financial Times, Ukrainian Prime Minister Arseniy Yatsenyuk called Europe's handling of the Greek crisis "a political disaster," and one that had made the opposition at home more likely to reject the reforms the Ukrainian government is calling for. "This is politically irresponsible and disincentivises other governments in terms of making tough reforms."

But Jaresko and Shymkiv said their commitment to the EU remained strong.
"Ukrainians stood on the Maidan [the square where protests were centered] not for the euro, and not for European Union membership per se," Jaresko said.

"You shouldn't look at the values from the perspective of a few years," Shymkiv said. "You need to take a generational perspective. We see ourselves as more tied to Western values."