Two Americans In Court For Trying To Take Over The Gambia
The man who wanted to be the new ruler of the Western African country is a 57-year-old Texan.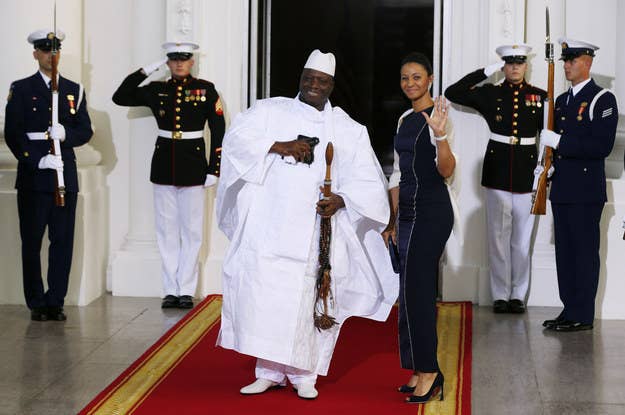 Two U.S. citizens faced federal judges on Monday for their role in last week's attempt to overthrow the government in the Gambia. One of the two men planned to become the country's new leader.
According to the criminal complaint filed on Sunday in the U.S. District Court for the District of Minnesota, the two men — Cherno Njie, 57, and Papa Faal, 46 — separately left the United States last month to travel to the Gambia. Once there, they allegedly joined with another 8 to 12 co-conspirators as part of an attempt to launch a coup against Gambia President Yayah Jammeh. Both Njie and Faal hold dual U.S. and Gambian citizenship.
Reports of an attempted coup against the repressive regime that rules the small West African country first came last week, but details were spotty.
Upon his return to the U.S., Faal told the FBI that Njie had financed the assault and "was to be installed as the leader of The Gambia after the successful coup." In preparation, Faal and two other U.S.-based members of the conspiracy allegedly "purchased 'lawfully' eight M4 semi-automatic rifles" in Minnesota and shipped them to the Gambia.
After the coup failed, Faal fled to neighboring Senegal, where he took shelter in the U.S. embassy and turned himself in. Njie was arrested as he arrived at Dulles International Airport.
A Department of Justice official with knowledge of the case told BuzzFeed News that Njie will be moved to Minnesota after his first appearance before a federal court Monday in Baltimore.
Both men are charged with violating the Neutrality Act, a 1794 law that makes it illegal for an American to prepare an attack on a country the U.S. is at peace with, as well as arming themselves in order to violate that law. The last time the law was invoked was in 2007, when 10 men were accused of attempting to overthrow the government of Laos. The charges in the Laos case were later dropped.
"These defendants stand accused of conspiring to carry out the violent overthrow of a foreign government, in violation of U.S. law," a statement from Attorney General Eric Holder read. "The United States strongly condemns such conspiracies. With these serious charges, the United States is committed to holding them fully responsible for their actions."
Jammeh himself took power in a coup 20 years ago and has ruled the Gambia ever since. In recent months his country has been in the news amid a renewed crackdown on Gambia LGBT people and supporters.
Read the full criminal complaint against the alleged coup plotters here:
Download PDF