People who are used to seeing the face of Russian President Vladimir Putin winking roguishly on Twitter were shocked to learn that the popular parody account @DarthPutinKGB had been suspended as of Tuesday afternoon.
It was just one of many parody accounts focusing on skewering Russian politics that have been taken down in recent days.
"We do not comment on individual accounts, for privacy and security reasons," Twitter spokesperson Nu Wexler said in an email when asked what the @DarthPutinKGB account had done to merit the ban or if it is permanent.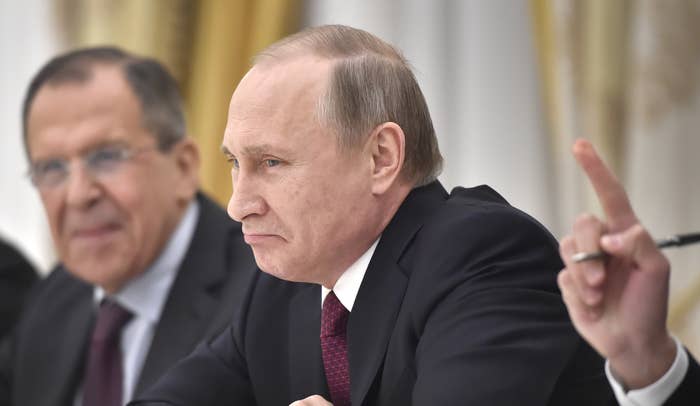 In a touching move following the account's takedown, Radio Free Europe published a heartfelt obituary for the snarky ex-Soviet persona, which had begun commenting on the loss of its fellow parody accounts in recent days.
In a post on the blog linked to the account, the anonymous mastermind hyperbolically referred to the takedown as a "Russophobic stab in the back by the accomplices of terrorists!"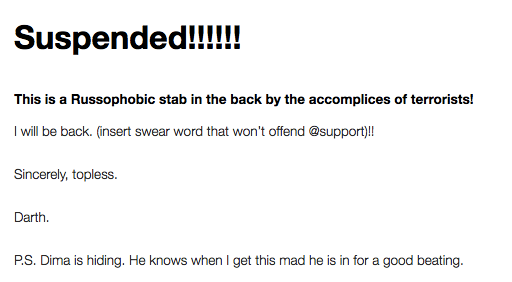 Even the account @DPRK_News, which tweets such on-point vitriol that it still is sometimes confused for the actual North Korean news service, broke character long enough to send this tweet, which was later deleted.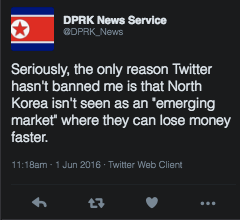 By Wednesday afternoon, the suspended accounts were back up and running, fully committed to continuing to skewer their targets.
The mastermind behind the @SovietSergey account told BuzzFeed News in an email that he was made to change the name displayed before Twitter would reinstate him.
"Twitter wasn't helpful at all," they told BuzzFeed News. "All I could do was file an appeal and wait. There is nobody you can talk to."