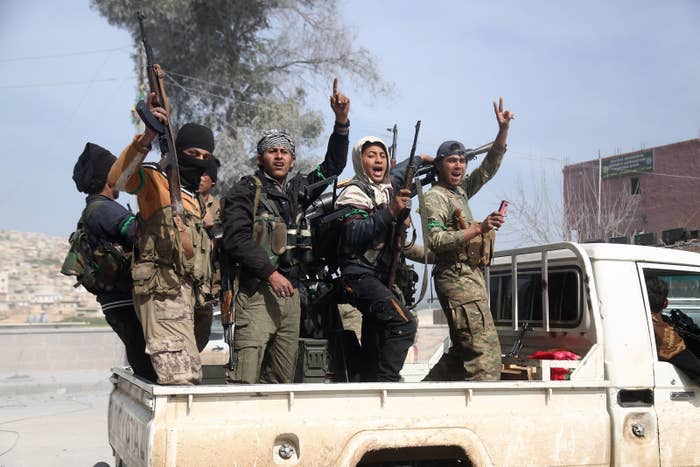 Turkish-led forces entered the northwest Syrian city of Afrin on Sunday morning, claiming victory in a weeks-long campaign against US-allied Kurds.
"Most of the terrorists have already fled with tails between their legs," Turkish President Recep Tayyip Erdogan said during a ceremony marking the 103rd anniversary of World War I's Battle of Gallipoli, a Turkish victory laden with symbolic and political weight.
"In the center of Afrin, symbols of trust and stability are waving instead of rags of terrorists," Erdogan said.

Turkey's army likewise said in a statement that the town is now under the "complete control" of it and its allies. The Turkish Armed Forces sent out a video on its Twitter account showing tanks and other vehicles rolling through a relatively untouched city, remarkable given the destruction seen in contested Syrian cities like Raqqa and Aleppo. Both were reduced to near rubble in fighting between the Syrian regime and rebel forces or against ISIS.
In one video, a soldier can be seen holding a flag in the middle of the city and declaring, "This is a gift from the Turkish Armed Forces to the great Turkish nation on March 18, Martyr's Day."
Pictures also showed large stockpiles of weapons, including those made by the US, seized by the Turkish-backed militia.
Free Syrian Army fighters allied with Turkey also pulled down a statue of Kawa, a blacksmith important in Kurdish culture and history, with pictures and video of the takedown circulating widely in a move likely to provoke ethnic hostility in Syria.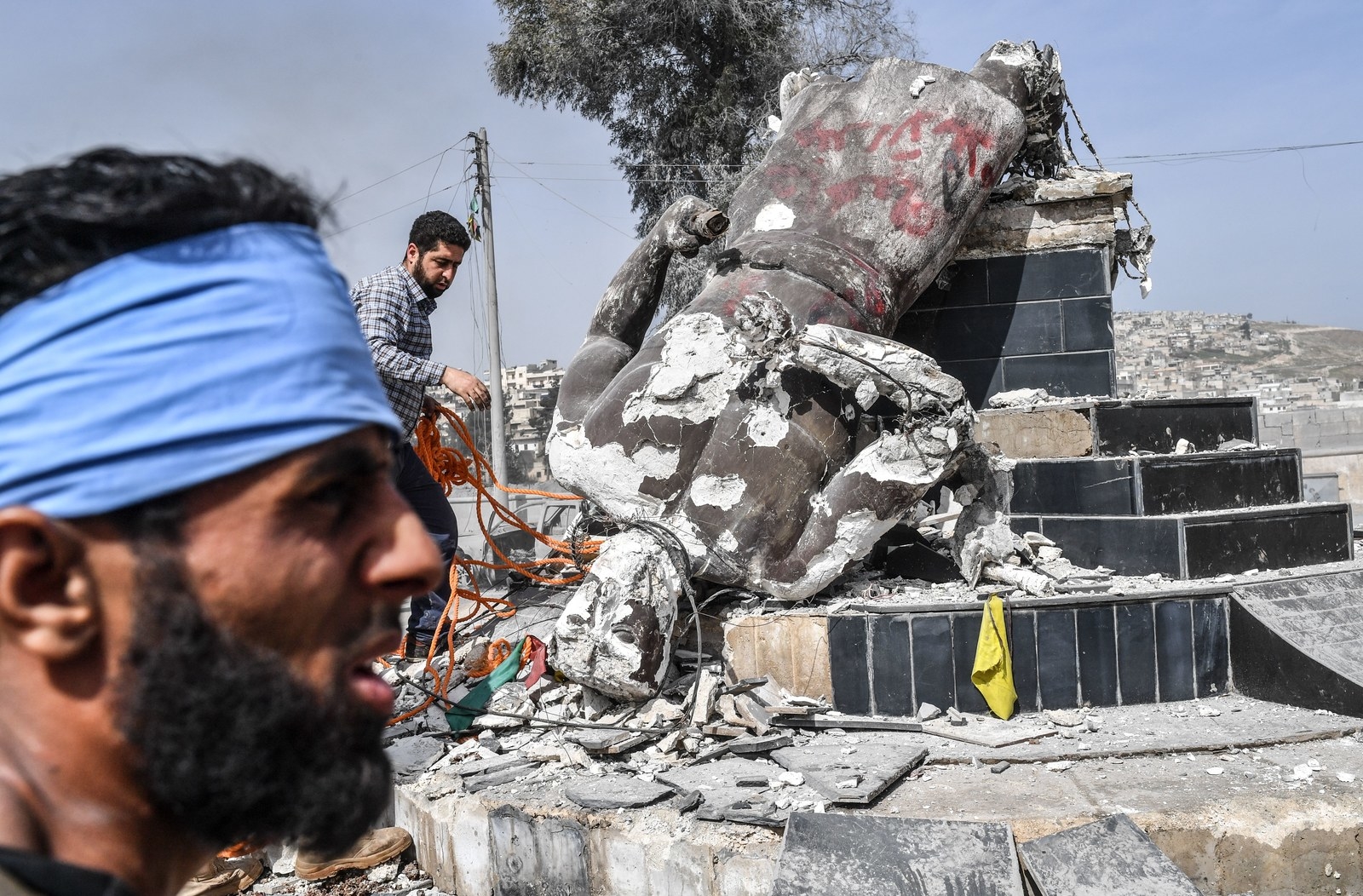 For the past two months, Turkey and its own favored Syrian rebels clashed with Kurdish rebels in the Syrian-Kurdish People's Protection Units (YPG). Turkey believes that the YPG is an extension of the Kurdistan Workers' Party (PKK), which it, the European Union, and United States have dubbed a terrorist group. But the YPG makes up the bulk of the forces of the Syrian Democratic Forces, a group the US backed heavily in the fight against ISIS in Syria.

Turkey has said the mission inside Syria, dubbed Operation Olive Branch, is a way to protect its border from terrorists. Following the capture of Afrin, Erdogan claimed in January, the forces will then push all the way to the Iraqi border, clearing the enclave of YPG fighters.
The swift capture of the city surprised international observers, who had predicted a much longer struggle. Salih Maslem, a senior Kurdish politician, said in a tweet that "withdrawal from one battle" doesn't mean the war is lost, suggesting that the Kurds had opted for a strategic withdrawal from Afrin rather than allow the city to be destroyed or lose a large number of fighters.

The fighting for the Kurdish corridor in Syria has led 150,000 to flee over the last three days, according to the UK-based Syrian Observatory for Human Rights.