Thursday wasn't exactly a fun day for US Ambassador to the UN Nikki Haley. Despite her best efforts, 128 countries voted in favor of a UN resolution condemning the US decision to recognize Jerusalem as the capital of Israel.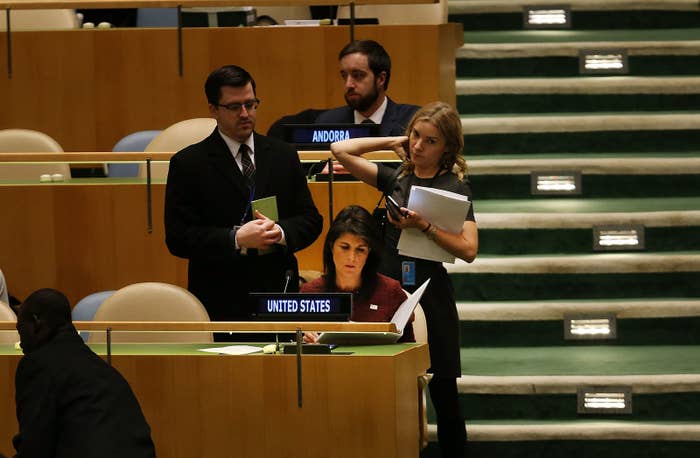 For the record, there are only 193 countries that are members of the UN General Assembly. We're short on mathematicians right now, but that seems like a lot of support for the resolution.
After the vote, Haley tweeted out a shoutout to the ride-or-die real friends of the US, the eight — yes, eight — who voted against the resolution, the 35 who abstained, and everyone else who just kinda wandered off instead of voting.
Of that list, only Guatemala, Honduras, Israel, the Marshall Islands, Micronesia, Nauru, Palau, and Togo actually did the thing and voted "no" on the resolution.
But Haley wasn't content to leave it as a tweet, no sir. She now reportedly wants to throw a small function to thank everyone and drive the point home.
According to Fox News, the US Mission to the UN later sent out this save the date on Thursday evening for Haley's Cool Kids Only Party For People Who Love The US And Aren't Totally Fake.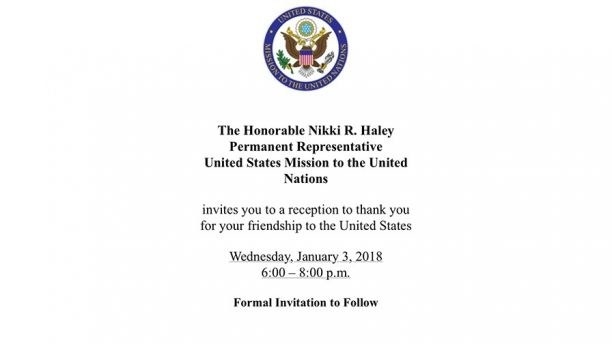 BuzzFeed News has reached out to the US Mission to confirm that the soirée is actually taking place.
That means countries that the US considers BFFs, like the United Kingdom and Japan, are off the guest list.
No word yet from the US on just how many of those countries invited have RSVP'd. At least a few of them should, preventing Haley from having to party all on her own.