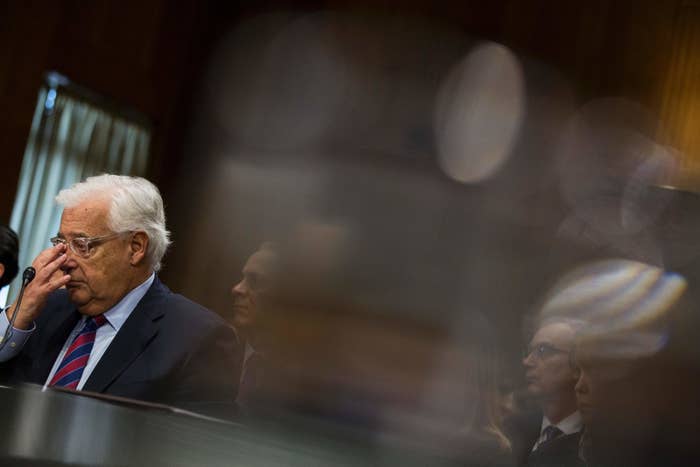 WASHINGTON — President Donald Trump's nominee to become ambassador to Israel faced a decidedly mixed reception on Capitol Hill on Thursday, where he was praised by current and former senators but also faced intense grilling over his previous inflammatory statements.
David Friedman, a longtime friend of and lawyer to Trump, was a surprise pick to become the US's chief diplomat in Israel, given both his prior remarks and his lack of experience in diplomacy. Appearing before the Senate Foreign Relations Committee, he attempted to walk back what he called his "personal opinion[s]" and show his commitment to Israel.
Chairman Bob Corker tried to talk to protesters who had assembled to demonstrate against Friedman beforehand, but neither his chat, nor the kind words of current Senator Lindsay Graham and former Senator Joe Lieberman when introducing Friedman, could prevent them from interrupting the nominee. Several groups, including Code Pink, disrupted Friedman's opening remarks, denouncing what they said was his denigration of the Palestinian people.
It was just the first way in which Friedman's words came back to haunt him. He apologized to New Mexico Senator Tom Udall for referring to J Street, a liberal Jewish group, as "worse than the Kapos," or Jews who aided the Nazis. He apologized to New Hampshire's Jeanne Shaheen for offending one of her constituents whose uncle survived the Holocaust with his writings, including when he said liberal Jews "suffer a cognitive disconnect in identifying good and evil," and offered to call the constituent personally. He got into a discussion with Senator Cory Booker about the difference between apology and atonement after agreeing that Tim Kaine wasn't an Israel-basher and that former President Barack Obama wasn't an actual anti-Semite.

"There is no excuse for my words," he said towards the beginning of the hearing. "If you want me to rationalize it or justify it, I cannot. I deeply regret them."

Several senators expressed concern about the increasing breakdown of the once bipartisan support for Israel, a condition to which Friedman said he'd likely contributed. The "inflammatory rhetoric that accompanied the presidential campaign is entirely over, and, if I am confirmed, you should expect that my comments will be respectful and measured," he said in his opening remarks.
He later admitted to Senator Chris Coons that "I've probably contributed to the problem."
On the Republican side, many took the time to highlight Friedman's commitment to Israel and the country's inherent difficulty in securing itself. Senator Marco Rubio went further, using most of his time to rail against the proceedings as "unreal" and delivering a lengthy speech in support of Israel.
Throughout the hearing, Trump's statements on Wednesday at a press conference with Israeli Prime Minister Benjamin Netanyahu hung over the room. When asked about whether the US still supports the "two-state solution," a Jewish Israel alongside an independent Palestinian state, Trump wavered.
"I'm looking at two-state and one-state, and I like the one that both parties like," Trump said, adding "If Israel and the Palestinians are happy, I'm happy with the one they like the best."
Multiple senators pressed Friedman over whether the US had abandoned the two-state solution formula. Friedman rejected that notion — but he didn't rule out entirely that the end result of the peace process might not be two states. Friedman said Palestinians would not support a one-state solution without equal rights and legal protections for both Jews and Arabs, nor would Israelis support a two-state solution without an agreement on Israeli security.
In the middle of the hearing, US Ambassador to the UN Nikki Haley told reporters on her way to a meeting that the US commitment to the two-state solution was firm — but her office emphasized that there was no daylight between her statement on Thursday and the president's on Wednesday.
"I think, first of all, two-state solution is what we support," Haley said. "Anybody that wants to say the United States doesn't support a two-state solution, that would be an error. We absolutely support a two-state solution. But we are thinking out of the box as well, which is, what does it take to bring these two sides to the table? What do we need to have them agree on?"
When asked whether that was a change from what Trump said, a spokesman for Haley's office said, "Her point was just that we are open to whatever solution the two parties can agree to, which is what the president said."
After the hearing, J Street President Jeremy Ben-Ami, when asked about Haley's remarks, told BuzzFeed News that he feels "sorry for anybody who has to serve this president in a foreign policy role. Because the zigs and the zags and the incoherence of the policy make it very difficult to be reassuring to our allies — and our adversaries — about where the US stands."
"Based on the comments yesterday, we can't say for sure if the US supports the two-state solution," Ben-Avi continued."The clean-up of that is all well and good but who knows what he's going to say tomorrow."
As befitting a businessman lawyer under a former-businessman president, Friedman pressed that Palestinians need a middle class and more economic opportunities, emphasizing it as an area that could be improved with or without a final agreement. Friedman is no stranger to the matter, having supported and invested in Israeli settlements in the West Bank that the US under the Bush and Obama administrations attempted to slow. Both administrations viewed increased settlements as subtracting from the land available for a future Palestinian state.
Friedman expressed little faith, though, in the current generation of Palestinian leaders under President Mahmoud Abbas as being able to agree to a final settlement. "I hope there's a new generation of Palestinians that wants what everyone wants, a better life for themselves and their children," he said, adding that the US should help foster that and draw out that nascent leadership.