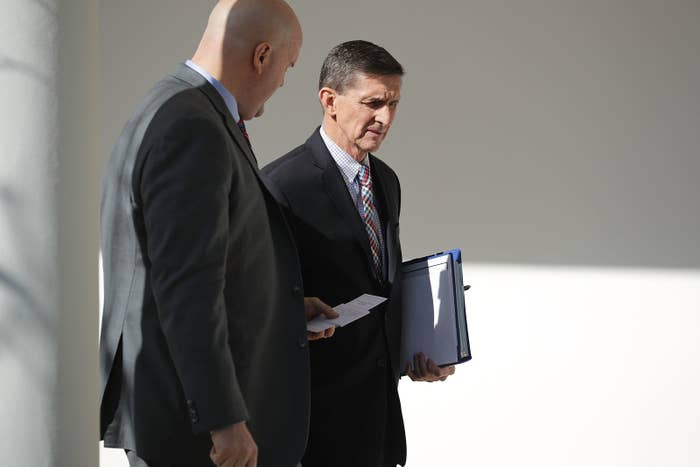 The leaders of the House Oversight Committee on Tuesday said that former White House National Security Advisor Michael Flynn appears to have not properly disclosed payments he received from Russia to the US government.
Reps. Jason Chaffetz and Elijah Cummings, the chair and ranking member of the committee, told reporters Tuesday that following a briefing with the Defense Intelligence Agency (which Flynn once headed), they believed that the former general had not properly listed income he received in 2015 from Moscow.
"Personally, I see no information or no data to support the notion that General Flynn complied with the law, and that is, he was supposed to seek permission and receive permission from both the secretary of state and the secretary of the Army prior to traveling to Russia to not only accept that payment but to engage in that activity," Chaffetz said. "I see no evidence that he actually did that."

Flynn — who was fired in February, just 24 days into President Donald Trump's term — had traveled to Russia to attend the 10th anniversary gala for Russia Today, a state-owned media company. That he was paid nearly $68,000 for this trip and others that year was a fact that should have been noted on his SF-86, the screening document necessary for the background check run prior to receiving a security clearance. Flynn was forced in March to register as a foreign agent for previously undisclosed lobbying work on behalf of Turkish clients during the waning days of the election and into the transition.

Chaffetz and Cummings alike dodged answering whether they believed Flynn had committed a crime, noting that the House Intelligence Committee was currently the lead investigative committee on matters related to Russia, though they did express interest in a hearing with Flynn. Cummings did note the fact that lying on an SF-86 can draw up to five years in prison, but Chaffetz chose instead to focus on the possibility of the money Flynn did not disclose being seized.
"If that money was received by General Flynn, and we believe that it was, that money needs to be recovered," Chaffetz said. "That final determination, again, will have to come from the Department of the Army as well as the Department of Defense, but as a former military officer, you simply cannot take money from Russia, Turkey, or anybody else."
"It was inappropriate. And there are repercussions for the violation of law," he said.
Cummings also added that White House Chief of Staff Reince Priebus had refused their request to provide documents related to Flynn. In a March letter, the two lawmakers asked Priebus to aid their review of Flynn's foreign income streams.
In a response letter dated April 19, and released by Cummings Tuesday, Priebus turned down the congressional request, noting that some of the documents requested were prior to Flynn's White House tenure and those that came after he entered the administration were likely classified. Priebus did refer them to the Defense Department for Flynn's SF-86, which the Pentagon then provided.
"I can't call — I wouldn't call it obstruction. These things happen. And as far as those documents are concerned, hopefully, we'll get them," Cummings said of the White House's denial.
Hours after the press conference had ended, Flynn's lawyer, Robert Kelner, denied any wrongdoing on his client's part. "As has previously been reported, General Flynn briefed the Defense Intelligence Agency, a component agency of the Department of Defense, extensively regarding the RT speaking event trip both before and after the trip, and he answered any questions that were posed by DIA concerning the trip during those briefings," Kelner wrote in a statement provided to BuzzFeed News.
Speaking at his Tuesday press briefing, White House spokesman Sean Spicer demurred when asked if the administration believed Flynn had broken the law.
"That would be a question for him and a law enforcement agency. I don't know what he filled out or what he did or did not do. That all happened — he filled that form out prior to coming here," Spicer said.
Spicer also said the Defense Department, not the White House, was in possession of the relevant Flynn documents.
He also described as "unwieldy" and "pretty outlandish" a demand for records of every call Flynn had made during the transition period .