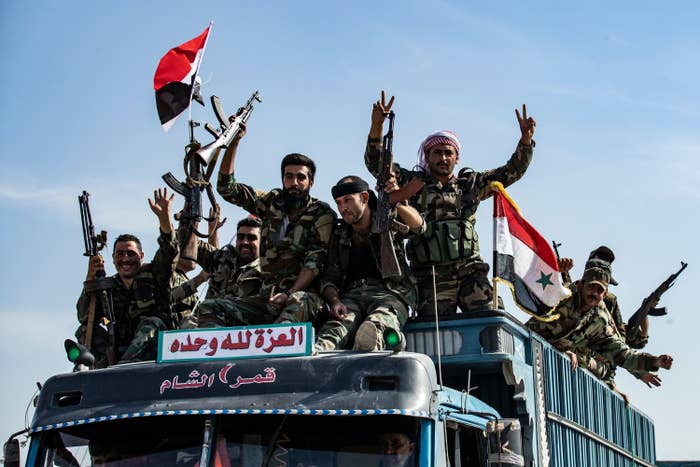 It's been just over week since Turkey began its long-threatened operation against the US-backed Kurds in northeast Syria. In that time, things have already reached a point that few could have predicted, drastically shifting the alliances of the Middle East.
The current crisis began with a call between US President Donald Trump and Turkish President Recep Tayyip Erdogan on Oct. 6. The White House that night declared that though the US wouldn't support Turkey's assault on the Kurds, who make up the bulk of the Syrian Democratic Forces, it would move its forces out of harm's way. Since then, the UN has estimated that 160,000 people have had to flee the fighting, the US's former Kurdish allies have turned to Russia and the Syrian regime for assistance, and Washington has placed economic sanctions on high-level officials in Turkey, which is also a US ally.
In the interest of sussing out just how much worse things could get, BuzzFeed News asked a wide range of US-based experts the same two questions: What's the worst-case scenario you can see in Syria after Trump's decision? And is there anything we can do to stop that scenario from coming to pass? Almost unanimously, they agreed: We're looking at the worst of all worlds, and there's not much that can be done to halt what's coming.
The haphazard way that ISIS captives, which were being guarded by the Syrian Democratic Forces, are now being handled is at the forefront of worries for Steven Cook, a senior fellow for Middle East and Africa studies at the Council on Foreign Relations. According to the New York Times, the US could not secure many of the most high-priority detainees ahead of the Turkish assault.
"The American withdrawal has made it easier for ISIS to once again threaten countries in the region, Europe, and possibly the United States directly," Cook told BuzzFeed News in an email. "I don't think anyone should put much stock in reports that the Syrian regime will take responsibility for these people. It may for a time, but [Syrian President Bashar al-Assad] has a very bad record when it comes to encouraging extremist violence when it is in his interest."

And unless Erdogan just decides to declare victory and head home — which, according to Cook, seems unlikely — there's a strong chance that Turkey finds itself in a lengthy, grinding conflict. "Any way it plays out, Washington is greatly diminished and there are a lot more dead Kurds, Turks, and Syrians as a result," he wrote.
It's a view experts at both the liberal Center for American Progress (CAP) and the conservative Foundation for Defense of Democracies (FDD) share as well. Jonathan Schanzer, the senior vice president for research at FDD, listed a multitude of horrors that were already ongoing, including groups allied with Turkey committing possible war crimes and jihadists escaping from Kurdish detention centers. He also noted the damage that the US betraying a key ally, even a flawed one, will have on the region in the future.
"Many of the players in the region have been wary of American shifting allegiances for some time, owing to the wild pendulum swings of party politics," Schanzer told BuzzFeed News in an email. "But this one will leave a deep scar."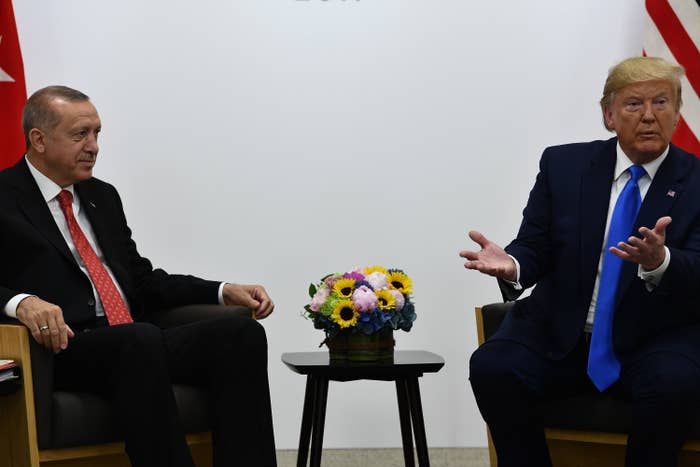 Things aren't guaranteed to go well inside Turkey either, Max Hoffman, associate director of national security and international policy at CAP, wrote to BuzzFeed News. With the operation into Syria, Erdogan is exposing himself to the possibility of an increase in domestic terror attacks from the PKK — the parent group of the Kurds that Turkey is fighting in Syria — and its economy taking a bruising from US sanctions.
Hoffman also sees a future where Turkey actually swings into a stronger partnership with Russia when all is said and done — even though Moscow is backing the Syrian army that is currently repelling Turkish forces. "That would be the death of US-Turkey relations, if they aren't dead already," Hoffman wrote.
But Washington think tanks have developed something of a reputation for encouraging US wars for a variety of reasons — including close relationships with the military, the defense industry, and funding from foreign governments. What about a group whose whole purpose is avoiding wars?

Stephen Miles, executive director of the group Win Without War, told BuzzFeed News that his organization "never believed that the way to build peace in Syria is to wage war, but we have also never believed the US should turn a blind eye to the slaughter in Syria, let alone enable it."
In Miles' view, Trump's "reckless Syria policy" has created the conditions for a possibly even more dangerous and deadlier phase of the war. That includes an attempted ethnic cleansing of the Kurds from northeast Syria, the likely war crimes that have been seen circulating on Twitter, and the chance that Assad's forces find themselves locked in combat against Erdogan's.
"What happens if our NATO ally comes under attack from Moscow or Tehran?" Miles wrote, referring to the US's commitment under NATO's charter to aid Turkey if it's attacked. "Cooler heads may yet prevent the worst scenarios, but when you're relaying on calm heads in the Middle East, no one should be at ease."
Things aren't looking much better from the point of view of aid workers in the field. Mercy Corps has been providing humanitarian assistance to people in northeast Syria for years, but it's now scrambling to find ways to deliver that assistance in the face of the Turkish operation.
"This is our nightmare scenario," Made Ferguson, the deputy country director of Syria for Mercy Corps, said in a statement. "There are tens of thousands of people on the run and we have no way of getting to them. We've had to pull our international staff out of northeast Syria. We just cannot effectively operate with the heavy shelling, roads closing, and the various and constantly changing armed actors in the areas where we are working.
"The humanitarian crisis is worsening by the day, and now aid workers are cut off from providing lifesaving assistance to the most vulnerable."
For all that, there's not much that can be done to put the horse back into the barn, the experts told BuzzFeed News. Vice President Mike Pence said on Monday that he will fly to Turkey to try to negotiate a ceasefire, but given the conditions on the ground — and the US's lack of leverage — the odds are slim that he comes away with a win.
And the hastily drawn-up sanctions the US announced — targeting Turkey's defense minister and others — probably won't do much good. It was clear even before the details were released on Monday evening that sanctions "would be a political win for President Erdogan at a moment when he has been relatively weak," Cook wrote in his email. "He can use sanctions to rally Turks to the justice of his cause, playing on the considerable reservoir of anti-Americanism in Turkey."

There's also not much room for a diplomatic push from world leaders, Miles noted — not after the last eight years without an agreement over Syria.

"In short, it's all bad," Schanzer wrote. "And even worse when you consider that this was a move we did not need to make. There was no compelling reason to do this now. None whatsoever."

CORRECTION
The name of the Syrian Democratic Forces was misstated in an earlier version of this post.