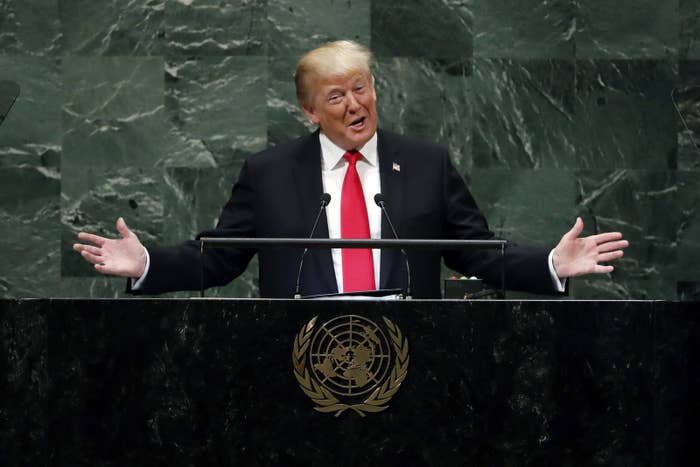 President Trump gave his second speech to the UN General Assembly on Tuesday that focused on emphasizing the US's right to act as it sees fit for its interests.
The United Nations had to break with its tradition of the US president being the second world leader to speak as Trump arrived late to the UN headquarters in New York.
The president's speech — much like last year's — focused on US sovereignty.

Trump began his speech touting his administration's achievements, saying, "In less than two years, my administration has accomplished more than almost any administration in the history of our country."
The audience of world leaders laughed, prompting Trump to say, "Didn't expect that reaction, but that's OK," eliciting more laughs from the diplomats.
Trump emphasized the importance of sovereignty of the US and the other nations at least 10 times in his speech.
"The United States will not tell you how to live or work or worship. We only ask that you honor our sovereignty in return."
He also spoke about his successful summit with North Korean leader Kim Jong Un, thanking him for "his courage and for the step's he's taken" in starting the process of denuclearization.
His conciliatory tone towards Kim was a far cry from his UN speech last year, where he threatened to wipe out North Korea over its nuclear program.
But he resumed his attack against Iran, saying its leaders "sow chaos, death, and destruction." This followed his tweet earlier on Tuesday where he said that he had no plans to meet Iranian President Hassan Rouhani. "I am sure he is an absolutely lovely man!" Trump tweeted.
He urged other countries to isolate the Iranian regime and to cut their imports of Iranian crude oil. He also talked about imposing imposing additional sanctions on Iran after Nov. 5.
"We cannot allow the world's leading sponsor of terrorism to possess the planet's most dangerous weapons," Trump said. "We cannot allow a regime that chants 'Death to America' and threatens Israel with annihilation to possess the means to deliver a nuclear warhead to any city on Earth. Just can't do it."

Trump came down hard against countries taking "unfair advantage" of the US in trade. He accused them of dumping their products, subsidizing their goods, and targeting US industries and manipulating their currencies to "to gain unfair advantage over our country."
"We will no longer tolerate such abuse," Trump said. "We will not allow our workers to be victimized. Our companies to be cheated. And our wealth to be plundered and transferred. America will never apologize for protecting its citizens."
The president also slammed the UN Human Rights Council — from which the US withdrew — calling it a "grave embarrassment." He also decried the International Criminal Court (ICC) saying that, "As far as America is concerned, the ICC has no jurisdiction, no legitimacy, and no authority.
"We will never surrender America's sovereignty to an unelected, unaccountable global bureaucracy," Trump said. "America is governed by Americans. We reject the ideology of globalism, and we embrace the doctrine of patriotism around the world, responsible nations must defend against threats to sovereignty, not just from global governments but also from other new forms of coercion and domination."
He also invoked sovereignty while talking about immigration policies and justifying the US pulling out of the global compact on migration.
"We recognize the right of every nation in this room to set its own immigration policy in accordance with its national interests," Trump said. "Just as we ask other countries to respect our own right to do the same."

On Wednesday, the often-unscripted president is due to preside over a meeting of the United Nations Security Council. The topic is set as "nonproliferation" but Trump is expected to focus his remarks on Iran. That has allies worried that he may wind up veering into a back and forth that leaves the Iran deal's supporters, like the UK and France, feeling wounded.

Ahead of his big speech, Trump spent Monday at a meeting where he got his counterparts to agree that illegal, addictive drugs are bad, meeting with South Korean President Moon Jae-In, and pointedly ignoring the news back in Washington.