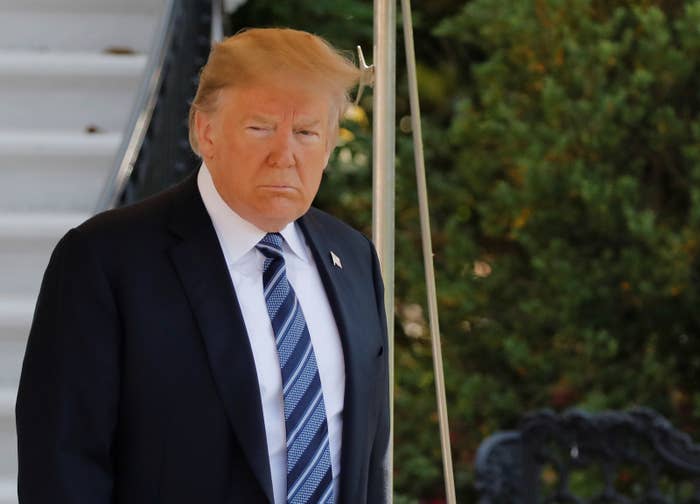 President Donald Trump said on Friday that the summit with North Korean leader Kim Jong Un may be back on, just one day after he canceled that meeting in a dramatic letter.
"We'll see what happens. We are talking to them now," Trump said when preparing to depart the White House for the Naval Academy's graduation in Annapolis, Maryland. "They very much want to do it. We'd like to do it."

The status of the as-of-now canceled June 12 summit in Singapore has been up in the air for days, as the US and North Korea have ratcheted up and toned down their rhetoric. Trump nixed the summit on Thursday morning after a belligerent statement the night before called Vice President Mike Pence a "political dummy" and threatened a "nuclear-to-nuclear showdown."
A statement issued early Friday North Korea time was more conciliatory. "We express our willingness to sit down face-to-face with the U.S. and resolve issues anytime and in any format," Vice Foreign Minister Kim Kye Gwan said.
Trump referred to Kim's "very nice statement" on Friday, saying "we'll see what happens. It could even be the 12th."
That view was echoed by Defense Secretary Jim Mattis on Friday. "We have got some, possibly some good news on the Korea summit, where it may, if our diplomats can pull it off, may have it back on even," he said, according to Pentagon pool reporters.
But other US officials were less sure that the June 12 summit date was still feasible, given the difficulties in planning alongside the North Koreans.
A delegation of North Korean officials reportedly failed to show up to a meeting with US officials in Singapore two weeks ago. "The North Koreans never showed up," a senior White House official told reporters on Thursday. "The North Koreans didn't tell us anything; they just stood us up."
North Korea Says It's Still Willing To Meet With The US Despite Trump's Decision To Cancel The Summit
None