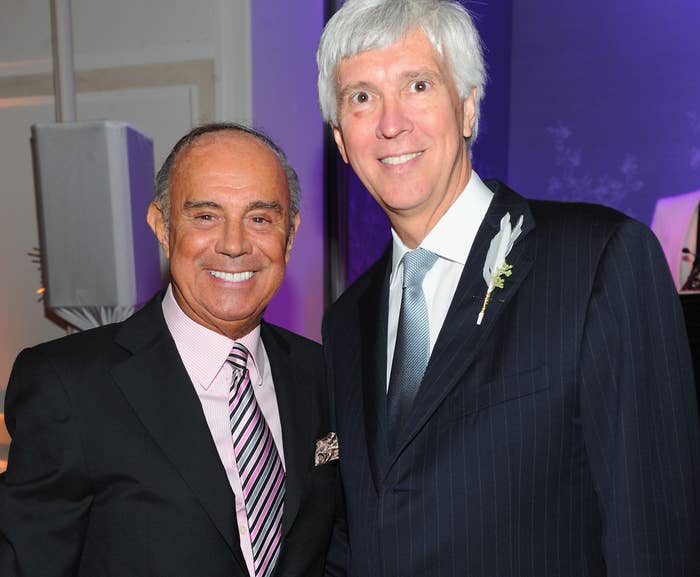 NEW YORK — A lawyer for the American Academy of Hospitality Sciences denied in an email to BuzzFeed News that its CEO, who celebrated New Year's Eve with President-elect Donald Trump, has ever had ties to the mob after a series of media reports suggesting he has ties to organized crime.
Joseph "Joey No Socks" Cinque was convicted of possession of stolen property in 1989 and, according to a 1995 New York Magazine article, had links to the Gambino crime family.
"Mr. Cinque is not and never was a friend of John Gotti, nor does he now have nor ever have had a relationship with 'the mob,'" Andy Langsam, a lawyer with the law firm Pryor Cashman who handles intellectual property issues for the AAHS, wrote in an email to BuzzFeed News.
Langsam's email came following the publication of an earlier BuzzFeed News article that linked the organization to several Trump-related domain names that had been purchased in Asia over the years.
Cinque has been referred to recently in headlines about his appearance with the Trump family at the Mar-a-Lago estate as a "small time-mobster" and "convicted felon with mobster ties." In May, Trump said that his relationship with Cinque, who could be seen in a video of the private New Year's Eve event standing extremely near Trump, was entirely based on the awards that the AAHS doles out.
"If a guy's going to give you an award, you take it," Trump told the Associated Press in May, denying awareness of Cinque's felony conviction. "You don't tend to look up his whole life story."

"You rely upon a totally faulty "article" of years ago (which itself had no evidence to support it, just hoped for conjecture for sensationalization) and have not a scintilla of evidence to support the same," Langsam continued.
The New York article's lede begins: "If you believe the New York District Attorney and other law enforcement sources, an ex-girlfriend, and several of his former friends, Joe Cinque is a small time mobster, a scam artist, and an art fence." It goes on to cite Anne Heyman, the then-assistant district attorney who presided over Cinque's case, as saying that an informant had spotted Cinque speaking with John Gotti, then head of the Gambino crime family, when the two happened to be in the same courthouse.
"Mr. Cinque was extremely poor as a young child in The Bronx and ran around not only without socks but often without shoes, too," Langsam explained. "He was called, as a youngster, mostly by his friends and even his mother, as Joey no socks, but to imply a connection to the Mob and that he has that nickname while a member of the Mob is wrong, libelous and offensive."

At no point in the New York article or the BuzzFeed News article was it stated that Cinque's nickname derived from the mob or that he was ever a member of the mafia.