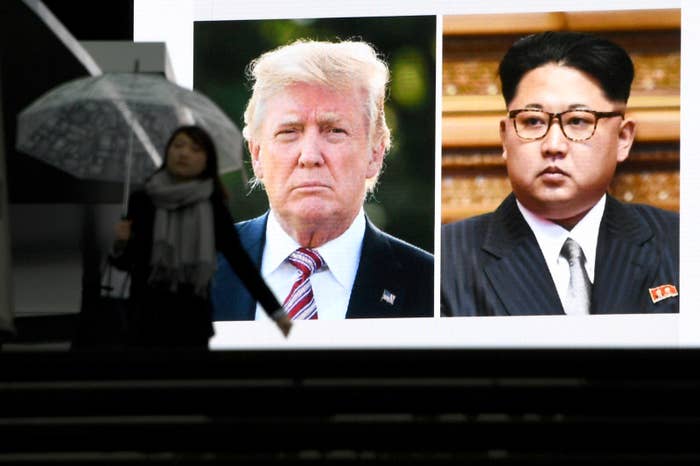 President Donald Trump will meet with North Korean leader Kim Jong Un in Singapore next month, the first ever meeting between a sitting US president and a North Korean ruler.
The summit, at which the two countries will discuss North Korea's nuclear program, is set to take place on June 12. North Korea currently possesses an estimated stockpile of anywhere between 20 to 100 nuclear weapons and is under US and international sanctions for its nuclear and missile testing.
CNN first reported that US officials had been instructed to prepare for a meeting in Singapore on Wednesday evening. Earlier in the day, press secretary Sarah Huckabee Sanders confirmed that a time and place had been set, but refrained from giving more details.
After weeks of speculation, Trump announced the meeting, in typical fashion, via his Twitter account:
Trump had previously floated both Singapore and the Demilitarized Zone (DMZ) that runs between North and South Korea as potential sites for the summit. The latter option seemed particularly appealing following Kim's meeting in the DMZ with South Korean President Moon Jae-in.

Earlier on Thursday, Trump and first lady Melania Trump welcomed home three US citizens who had been held in North Korea on charges of espionage or "hostile intent." Their release and subsequent trip home alongside Secretary of State Mike Pompeo was meant to be a gesture of goodwill ahead of the meeting between Kim and Trump.
News of the summit also comes just a few days after the US said it was leaving another nuclear agreement, this one with Iran and several other world powers. The White House has insisted that while the Iran deal was flawed and needs to be renegotiated, a deal with North Korea is achievable.
Trump said on Thursday morning, when meeting with the returned detainees, that his goal is still to "denuclearize that entire [Korean] peninsula."